More Top B-Schools Training MBA Students for Careers in Tech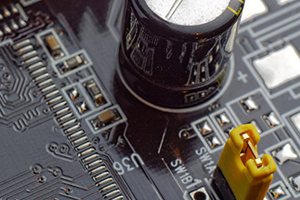 As promised follow-up to our piece earlier this month on top business schools for technology, today we'll examine an additional handful of schools that are similarly training MBA students for success in the burgeoning tech sector. Though they are sending a smaller percentage of their graduates to work at leading tech firms than the five we previously featured, the following schools are either not far behind, quickly gaining, and/or launching new initiatives specifically focused on training the next generation of tech leaders.
MIT Sloan School of Management
With technology in its very name, you would imagine that the Massachusetts Institute of Technology (MIT)'s Sloan School of Management should have a place on our list. Indeed, it was one of our top five last year, but it sent relatively fewer graduates from the Class of 2016 into the tech industry—29.3 percent—down slightly from 30.6 percent the year before. That slippage put it behind UT Austin's McCombs School of Business and bumped it off our list of top five.
But MIT Sloan still deserves consideration by anyone thinking of a career in tech for a whole host of reasons. For starters, though not quite the mecca of tech opportunities that Silicon Valley is, the Boston-Cambridge area is respectable runner up—home to a growing network of entrepreneurs and tons of startup incubators and accelerators.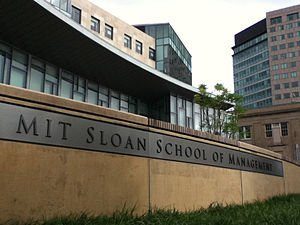 Sloan also shares a campus with one of the best engineering schools in the world, giving its students ample opportunity to augment Sloan courses with deeper dives into computer science. And earlier this month, it launched a new Business Analytics Certificate program "in response to skyrocketing demand from students and employers for rigorous academic content focused on data science," the school announced. Open to students in all MIT masters-level programs—including its MBA, Executive MBA (EMBA), Master of Finance (MFin), and Sloan Fellows programs—the new certificate program prepares students for career paths in data science and business analytics in the tech industry and countless others. Participants can choose from a wide range of electives designed to help them learn and practice using analytics techniques in operations, finance, marketing, human capital, healthcare, and sustainability.
"Every industry is waking up to the power of analytics, and companies need people who can use business data to make decisions and predictions that will bring value to their organizations," Georgia Perakis, MIT Sloan professor of management, said in a release announcing the business analytics certificate program. "Employers, such as Amazon, McKinsey, the Boston Consulting Group, and IBM Watson, among many others, are very interested in hiring our students for data science roles."
The new certificate program complements a Master of Business Analytics (MBAn) degree launched last year at Sloan, which has quickly become the school's most competitive degree. Applications more than doubled in the program's first year—from 300 to 800—resulting in an admissions rate of less than 4 percent, the school reports.
Adding these programs to its portfolio certainly stands to further enhance the reputation of MIT Sloan among leading tech recruiters. The STEM-inclined applicants the school attracts doesn't hurt, either. A staggering 48 percent of the Class of 2016 majored in engineering, science, or math in college.
Students in the MBA program can also choose to take part in an Entrepreneurship & Innovation (E&I) Track. Every student in E&I starts out in a course called "Introduction to Technological Innovation," designed to provide foundational knowledge needed for creating and building successful startups—whether tech-based or not. Electives offered within the track run the gamut from basic technology management to "Law and Cutting-Edge Technology" and the "Business of Robotics."
Each spring, students in the E&I Track head off on a Silicon Valley Study Tour (SVST), which takes them to the Bay Area to visit a range of firms in the life sciences, medical technology, software, information technology, advanced materials, and new energy fields. Those who successfully complete all their MBA coursework as well as the requirements for E&I receive a Certificate in Entrepreneurship & Innovation.
In addition to the MBAn program and certificate programs allowing MBA students to further specialize in technology, Sloan also features a dual-degree program called the System Design and Management (SDM) program. Offered in partnership with the MIT School of Engineering, the SDM program gives students who want it even greater technical depth to complement a breadth of management and leadership skills.
Outside of the classroom, Sloan offers tech-focused students a wide assortment of opportunities through its Data Analytics Club, Entrepreneurship & Innovation Club, MIT FinTech Club, MIT Sloan Coders Club and MIT Sloan Tech Club. These groups provide career preparation, networking opportunities, conferences and workshops.
There is also an annual MIT $100K Entrepreneurship Competition, which has given rise to a bevy of successful tech-focused companies, including content network service provider Akamai; Brontes Technologies, which provides proprietary 3-D intraoral imaging technology; e-business solution provider C-Bridge Internet Solutions; and Silicon Spice, a telecommunications chip maker acquired by Broadcom for $1.2 billion.
With so many ways to hone technical skills, it's not surprising the big tech firms come calling on Sloan's Cambridge campus. Top hirers for the Class of 2016 included Amazon, which snapped up 23 Sloanies, Google, which hired nine, and Microsoft, which took eight. The median starting salary for Sloan graduates heading into the tech industry was $120,000.
UCLA Anderson School of Management
Another school that got bumped from last year's top five list as the percentage of students it sent into tech shrank slightly was UCLA Anderson School of Management. Though down from the previous year's 31 percent, it sent a respectable 28.3 percent of its Class of 2016 graduates into the industry.
Anderson is home to the Easton Technology Management Center, an institute devoted to "developing leaders who shape the future of technology." Easton offers technology courses and field studies; hosts conferences, workshops, and lectures; and supports technology-related research. Anderson students can also choose to pursue a specialization in technology leadership, taking electives that include technology management, intellectual property, and new product development.
There are 16 faculty members in the school's Decisions, Operations and Technology Management (DOTM) area, and their areas of research focus include technology management, high-tech marketing, computer science applications, and new product and service design. DOTM faculty teach two technology-related core MBA courses—Data and Decisions and Operations Technology Management—and more than a dozen related electives. Students can also pursue a "primary sequel" in technology management, which offers a deeper dive into the management of high-technology firms, including acquiring, creating, and using technology and knowledge assets. Beyond that, they can also opt for several more highly specialized courses.
Beyond the classroom, the student-led High Tech Business Association organizes Tech Treks, a career night, and a case competition, as well as multiple conferences and workshops. Anderson's combination of technology coursework, experienced faculty, and student activities helped Class of 2016 graduates land jobs at companies including Amazon, Apple, Intel, Adobe, Google, and Microsoft. The median starting salary for Class of 2016 grads heading into tech was $123,000, with 82 percent receiving additional signing bonuses and 75 percent gaining stock and equity options.
Kellogg School of Management
Northwestern's Kellogg School of Management has firmly secured a spot as a school to watch in terms of growing tech hiring. With the Class of 2016, the percentage of students heading into technology jumped to 22 percent, up from 15 percent a year earlier. And unlike the schools mentioned above, which have yet to release Class of 2017 employment statistics, Kellogg's latest stats came out earlier this month, revealing additional gains. One in four of this most recent graduating class—a full 25 percent—headed into tech.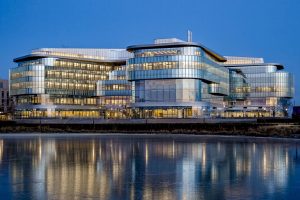 Amazon hired 32 Kellogg grads, making it the third largest recruiter in 2017, behind only McKinsey and Boston Consulting Group (BCG). But Amazon was far from the only tech firm to hire at the school. According to Liza Kirkpatrick, senior director of the full-time MBA program at Kellogg's Career Management Center, more than 50 unique tech employers hired Kellogg students this past year in a range of functions, including product management, sales, marketing, business operations, supply chain, product development, and others.
Multiple factors have contributed to Kellogg's gains in tech hiring, including tech firms' increasing recognition of the value of the MBA skill set, more students coming into Kellogg with tech backgrounds, and efforts on the part of the Kellogg Career Management Center team to develop relationships with tech firms. As a school, Kellogg has also placed more of an emphasis on students visiting and networking with West Coast tech firms.
As far as curriculum is concerned, the Program on Data Analytics at Kellogg (PDAK) features a range of foundational, competitive advantage, deep dive, and experiential courses. Taken together, these courses comprise Kellogg's data analytics "pathway," an integrated, cross-functional sequence of courses designed to address student and recruiter demand for data analytics fluency. Kellogg also features a range of faculty experts in the area of technology information management, including specialists in blockchain, information technology, information systems, and technology infrastructure. The school is also home to the Center for Research in Technology and Innovation, which provides education, advisory, and advocacy services and initiatives related to technology and innovation.
Advances in Technology Hiring, Curricular Offerings at Other Schools
Though trailing the aforementioned schools in terms of the percentage of graduates pursuing post-MBA careers in technology, both the University of Michigan's Ross School of Business and the University of Virginia's Darden School of Business also warrant mention here. At Ross, one in five graduates—20.4 percent—in the Class of 2016 headed into the technology industry, and Amazon hired 31 full-time MBA graduates and 29 summer interns to become the largest recruiter for both classes.
UVA's Darden School of Business sent 17 percent of its 2016 MBA grads into tech and 20 percent of its Class of 2017 students into internships at technology firms, representing a steady increase in recent years. Darden also last March announced the launch of a new MBA+MSDS dual-degree program, which grants a Master of Data Science degree from UVA's Data Science Institute and an MBA from Darden in 24 months. The program welcomed a pilot cohort this past summer, and Darden is currently accepting applications for the full program, which will launch in 2018.
Finally, NYU Stern School of Business and Cornell's S.C. Johnson Graduate School of Management are also worth considering when targeting future careers in tech. The tech industry drew 16.8 and 12 percent, respectively, of 2016 grads from each school. Both schools also have placed considerable focus on preparing their graduates for careers in tech through the launch of new programs and, in Cornell's case, a new Cornell Tech campus in New York City.
Amazon hired more Stern graduates in the Class of 2017 than any other company, marking the first time that a technology company topped the list of leading employers. In the past five years, technology placements have more than doubled, and they jumped almost 7 percentage points in the past year alone. Stern also last spring announced the launch of a new specialized one-year Tech MBA program and is currently accepting applications for its inaugural class.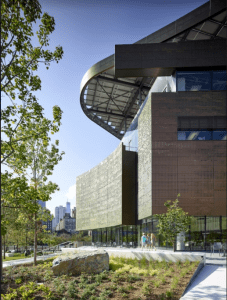 Cornell Tech's Bloomberg Center, photo credit Iwan Baan
And Cornell in September opened its stunning new Cornell Tech campus on New York's Roosevelt Island, which will serve as the permanent home of the one-year Cornell Tech MBA program that launched in 2014. The new campus will also benefit students in the Ithaca-based two-year MBA program, who can take part virtually in classes in New York via technologically linked classrooms, attend weekend workshops, or opt to spend a semester or their entire second year at Cornell Tech. And for those who choose to remain in Ithaca for both years, the latest addition to the school's signature series of Immersions—intense, hands-on semesters in a specific industry or career interest designed to help prepare students for their summer internships—is the Digital Tech Immersion.
As technology firms increasingly recognize the value of the MBA skill set within their organizations—and business school students increasingly are drawn to the expanding opportunities in the industry—more leading schools are also likely to expand curricular offerings that combine data science expertise with foundational graduate management education. We'll keep you posted!
If you liked this article, let Clear Admit know by clicking Like.