9 Tips for a 700+ GMAT Score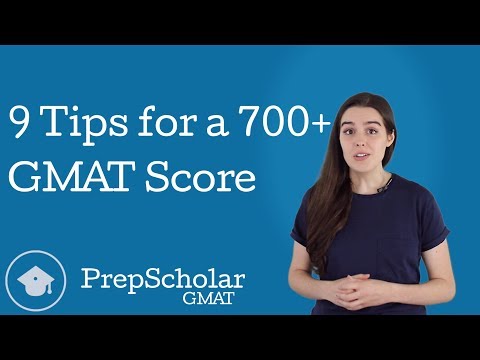 A lot of GMAT test takers aim for a 700+ GMAT score. A good GMAT score can open doors to top schools, yield standout applications, and provide opportunities for merit scholarships.
However, according to data from the Graduate Management Admissions Council (GMAC), the makers of the GMAT, only 12% of GMAT test takers score a 700 or above. So how can you get a high GMAT score?
In our first ever PrepScholar GMAT video, we walk through the top nine tips for how to get a 700+ on the GMAT. We'll cover both general GMAT strategy and more specific GMAT tips and tricks for a 700+ GMAT score. For instance, Tip #6 explains
why some test takers score worse on their exam than on their practice tests
how you can avoid doing the same by preparing for test day, not just test content. 
We also go into detail about the best way to study for GMAT concepts and the best way to prepare for GMAT-specific features. Additionally, we explain what makes the best GMAT study materials for cracking the GMAT. Watch the video to learn more!
We'll be making three new videos each month to help you prepare for the GMAT. Like the blog, the videos are FREE and intended to help supplement your GMAT prep. You can subscribe to our new PrepScholar GMAT YouTube channel to stay updated on our latest video resources! We'll also post here on the blog for each new video.
Happy studies, and good luck cracking 700!
The post 9 Tips for a 700+ GMAT Score appeared first on Online GMAT Prep Blog by PrepScholar.
If you liked this article, let PrepScholar GMAT know by clicking Like.