Creating a Strong Support Group in Undergrad for B-School: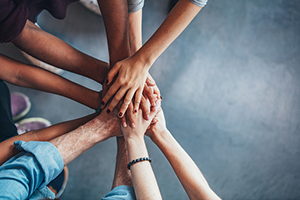 This article by Elana Goodwin is brought to you by Uloop and Kaplan.
If you are thinking of going to business school in the future or starting in the fall, you will want to head there with not just undergrad college friends at your back, but also a true support group that will be there for you while you take on grad school.
No matter what year you are in school, it's not too late to make the sort of friends that will be a strong support group for you in business school—and here are some ways you can do that.
Join clubs
Whether you're a freshman or a senior, joining campus clubs is a great way to not only meet people but meet people who have some sort of interest in common with you. Colleges typically have more than a hundred clubs you can choose from and going to their meetings, being an active member, and conversing with other members will help you turn some of those members into friends.
Consider joining clubs based on your religion, ethnicity/nationality/race, interests, major, etc. You may find making friends and creating a support group is easiest at the clubs where you have a shared background with other members, so explore clubs based on some intrinsic characteristic or interest of yours to maximize the number of friends you'll likely meet there.
Meet your neighbors
Getting to know the people who live by you is a simple way to turn neighbors who you might just wave to when you see each other into actual friends. If you're living in a dorm, knock on some doors on your floor and talk to the students living inside. Get to know them, invite them to grab a meal with you or to hang out, and become friends. Nurture that friendship even if you don't end up staying neighbors after the semester or year and you'll be on your way to turning them into people who will be part of your support group in business school.
If you live in an apartment or house off-campus, knock on other doors in the complex or at neighboring houses and introduce yourself. Consider throwing a watch party or holiday party and invite other students on the street to come over and get to know each other that way.
Attend events
Going to events, especially those geared toward helping students get to know each other will help you make friends and add to your support group. If you live in a dorm, go to the hangouts, floor parties, dorm dinners, etc. If you live off campus, off-campus living groups sometimes host events so students not living on campus have a chance to get to know others in the same boat. Otherwise, there may be a sort of "reunion" gathering for your dorm that you should attend so you can catch up with people you may have fallen out of contact with and reconnect.
Going to class, while not quite an event, will help you meet people and gain friends, too. Before class, make conversation with your seatmates, ask them questions about themselves, and start to get to know one another. Perhaps you're in a class where students organize a group study session before tests; if so, attend those and bond with your classmates, then take it a step further and hang with those people for non-academic related stuff.
Additionally, there are often events hosted by the department your major is in. Go to some of those (especially the ones giving out free food) and make conversation with people you know from classes, clubs, etc., and start becoming friends, rather than friendly acquaintances.
Keep in touch
Of course, it doesn't matter if you make really good friends in undergrad and expect them to be there for you in business school as your support group if you don't keep in touch both while you're in school and after graduation. While at school, if you have college friends you don't often get to see for whatever reason (different class schedules, work, living far away, life, etc.) make sure you schedule some time to meet and catch up.
During the summers, after graduation, or to catch up with friends who don't attend the same school as you, stay in touch using social media, email updates, weekly Skype or phone calls, group texts, etc. It's important not to let friendships fall by the wayside because you get busy with life; you'll want those friends to act as your support group in business school and if you haven't talked to them in a while, they may not be as supportive as you like.
So keep these four tips in mind to be on your way to building a strong support group of friends that will be integral to you in undergrad, business school, and beyond.
For more college news, and to search for off-campus housing, tutors near campus, and jobs for college students, go to Uloop.com. 
The post Creating a Strong Support Group in Undergrad for B-School appeared first on Business School Insider.
If you liked this article, let Kaplan GMAT know by clicking Like.