With Cornell Tech, New York, Cornell, and Johnson Are Placing a Big Bet:
New York City and State elite came out in droves yesterday for the celebratory dedication of the stunning new campus and facilities on Roosevelt Island known as Cornell Tech. It's been just seven short years since aides to then Mayor Michael Bloomberg came up with the idea to solicit proposals for ways to solidify New York's place among global hubs of high-tech innovation. That somewhat audacious request has been transformed into a reality that marries enormous brainpower from both academia and industry, spectacular buildings, and a unique new campus. And it's a marriage that promises to do great things not only for New York's tech industry, but also for MBA students who study both at Cornell Tech and those on the Ithaca campus of Cornell's Samuel Curtis Johnson Graduate School of Management.
Cornell University partnered with the Technion Israel Institute of Technology to form one of 17 teams throwing their hats into the ring with competing visions for what this future tech hub on Roosevelt Island might be. The Cornell Tech proposal won the competition, a $100 million gift from Bloomberg Philanthropies, and 12 acres of land on which to bring it to life.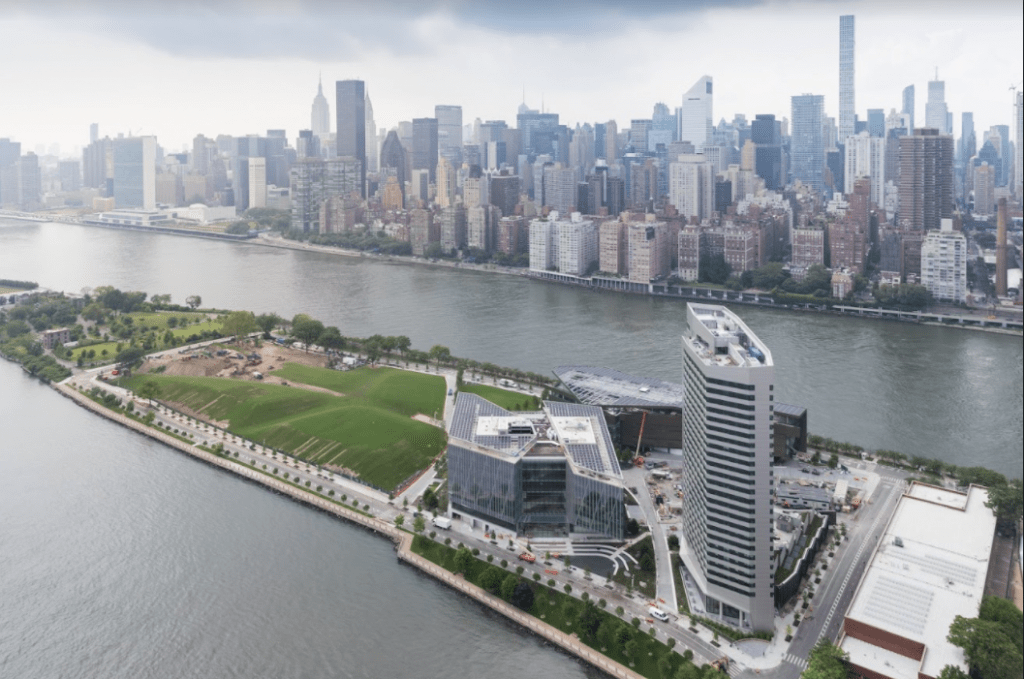 Arial shot of the new Cornell Tech campus on Roosevelt Island; photo credit: Iwan Baan
Yesterday's celebration marked the official opening of the first three buildings on the Cornell Tech Roosevelt Island campus, where 30 faculty members and approximately 300 graduate students are already hard at work. The first of those buildings is the Bridge, whose exterior literally reflects the Queensboro Bridge and whose intended goal is to bridge academia and industry by bringing cutting-edge companies in to work alongside Cornell academic teams. Tech and investment firm Two Sigma Ventures, Citigroup, and chocolate manufacturer Ferrero International S.A. were the first companies to jump at the opportunity to take part. Also now open are the House, a 26-story residential tower with 500 rooms for Cornell faculty, staff, and students that is among the most sustainable residential towers every built, and the Emma and Georgina Bloomberg Center, an academic building named for Michael Bloomberg's daughters that aspires to be among the largest net-zero energy buildings in the United States. When fully complete over the next few decades, the $2 billion, 12.4-acre campus is expected to support more than 2,000 graduate students and hundreds of faculty and staff.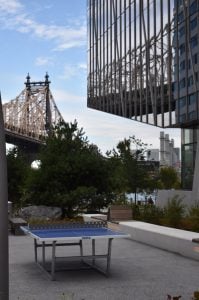 Queensboro Bridge reflected in Cornell Tech Bridge Building
Betting Big on NYC Tech Sector
The City and State of New York are placing a big bet that this new campus will serve as an engine of job and economic growth while also positioning New York to compete with Silicon Valley and other leading global tech hubs. "Cornell Tech in many ways helps bring New York back to the future," Bloomberg said to the assembled crowd, which overflowed the enormous tent erected for the occasion and had to be simulcast in one of the campus's new buildings. From the steam boat to the telegraph, movies to ATMs, pacemakers and lasers to MRI machines—New York has incubated some of the greatest technological advancements this country has ever seen, the former mayor continued. "Technological innovation played a central role in New York City becoming a global economic capital—and it must continue to play a central role for New York to remain a global economic capital," he said.
Cornell—and the Johnson School—are placing a bet of their own that tech in New York City is the future. "Any investment is a bet, but this is a very good bet," Johnson Dean Mark Nelson tells Clear Admit. It certainly helps to have the support of New York City and State, not to mention many generous alumni who have chosen to give to the enterprise. "They are not stupid," Nelson notes. Not only that, 38 businesses have already been spun out of Cornell Tech and they've only just gotten on campus. (Since the Cornell Tech MBA program launched in 2014, it has been run out of Chelsea office space donated by Google.) So while there's downside risk with any investment, "I think we'd be crazy NOT to take this opportunity," Nelson says.
Cornell Tech to Benefit Ithaca MBAs
But what the Johnson dean really hopes to drive home is the fact that what the school is doing at the Cornell Tech campus is also good for its MBA students in Ithaca. Johnson has approximately 20,000 square feet of dedicated space in the new Bridge Building, including tiered classrooms, breakout rooms, and workspaces for faculty and staff. Johnson will use this space to hold classes for all of its degree programs as well as for executive education programming. Already this fall there are planned weekend courses in design thinking and product design, among others, and in the spring there will be seven-week intensive courses in fintech and digital marketing that benefit Johnson students from Cornell Tech and Ithaca. Nelson anticipates that these types of opportunities for students in the Johnson residential MBA program to attend programming at the Cornell Tech campus will only grow over time.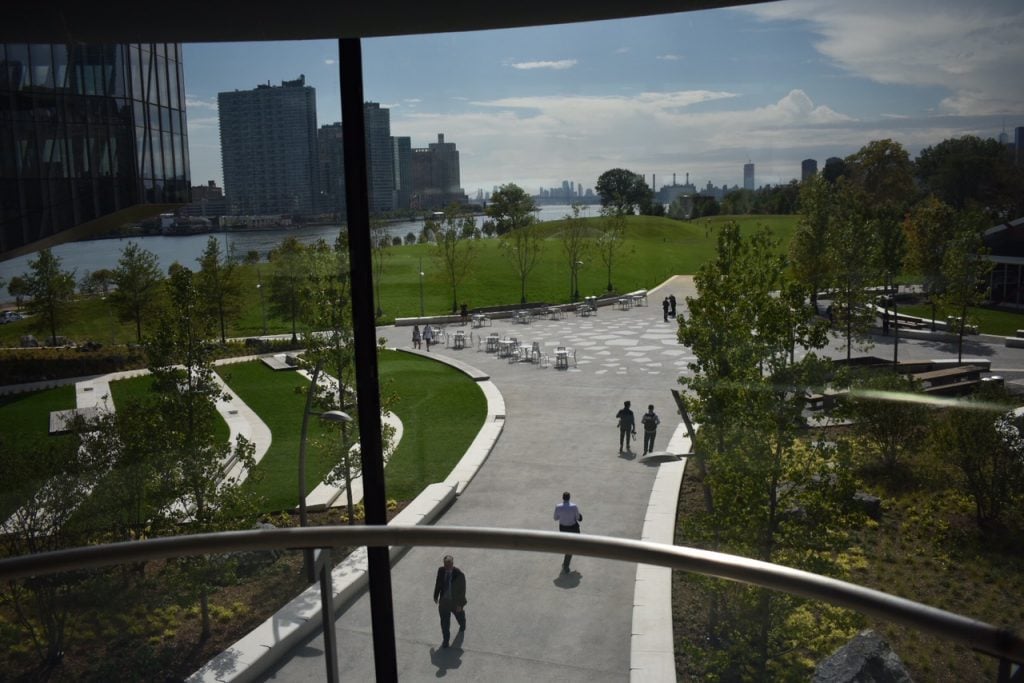 View looking out from the Bloomberg Center
Not only that, Johnson students in Ithaca will have ample opportunity to take part in Cornell Tech curriculum as it unfolds on Roosevelt Island. Classrooms in the Bridge Building have been built to connect with classrooms in the newly constructed Breazzano Family Center for Business Education in Ithaca so that a professor standing in one location can call on a student in another location as easily as if she were in the room.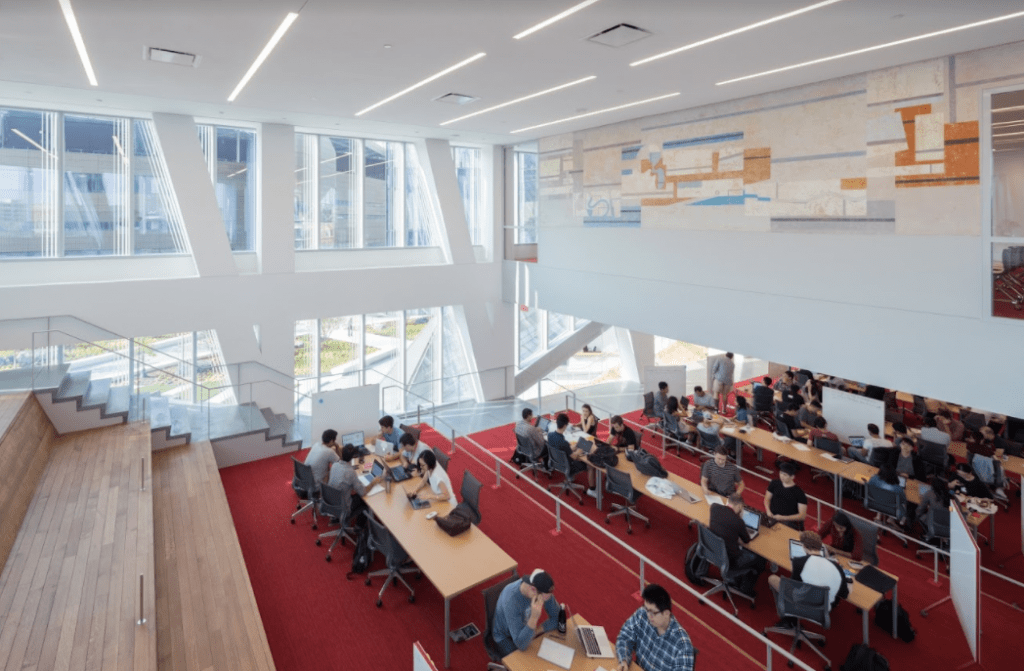 Studio space inside the Bridge; photo credit: Iwan Baan
Furthermore, the innovative Studio Curriculum that forms the centerpiece of the Cornell Tech curriculum has already inspired innovation in the Johnson curriculum, he notes. As part of the Studio curriculum, students conceive of an idea, prototype it, create a business plan, and compete for seed funding while also doing consulting projects as part of interdisciplinary teams. Back in Ithaca, the latest addition to the school's signature series of Immersions—intense, hands-on semesters in a specific industry or career interest designed to help prepare students for their summer internships—is the Digital Tech Immersion. "The centerpiece of the practicum for that immersion is to work on a consulting project as part of an interdisciplinary team," says Nelson. "That was inspired by this," he says, gesturing to the Bridge Building classroom he's seated in. "And I think there are going to be more and more of those curriculum enhancements over time."
Even now, Ithaca-based MBA students have the opportunity to fully immerse themselves in the Cornell Tech campus by applying to spend either half or all of the spring semester of their second year living and studying on Roosevelt Island.
Unique Two-Campus Experience for Students
"I think one of the most exciting parts of it all is this remarkable opportunity to provide a two-campus experience to students," Nelson says. "We now can offer this additional opportunity that we could never offer before.  New York has always been really important to us, but to have this base of operations and the innovation that is occurring here is amazing."
Nelson concedes that part of the charm of Johnson and Ithaca is the tight community that forms because students don't melt away into the surrounding city. "That creates a feeling of community and a palpable teamwork that then carries over to their experience as alumni," he says. "These Cornellians that are fiercely dedicated and supportive after graduating—part of that is the experience they had in Ithaca."
But at the same time, Johnson wants to be able to provide the experience of being part of an amazing city like New York to those who want it, Nelson says. "Calling this 'the best of both worlds' is a real truism," he says. "Johnson Cornell Tech students start their program with a summer core in Ithaca.  Ithaca-based Johnson students can take courses on the Cornell Tech campus.  You have the amazing tight-knit Ithaca experience but then students can have the opportunity to enjoy what is happening at the Cornell Tech campus. That's really special. I don't know of any other school who has anything like that."
There are other schools, of course, that offer students the opportunity to spend a semester on a satellite campus. The University of Pennsylvania's Wharton School, for example, features a Semester in San Francisco designed to give students interested in technology closer proximity to Silicon Valley. And there are also schools that are helping forge connections with New York City. Harvard Business School recently launched a New York City Startup Studio to provide space for entrepreneurial graduates to convene and work.
But when you set foot onto the Cornell Tech Roosevelt Island campus, you can't help but feel like they've taken those ideas to another level. And as Nelson points out, key to what the school is doing at Cornell Tech is the fact that they have faculty resident on campus.
Faculty Clamoring to Come to Cornell Tech
The new Cornell Tech campus has also had a huge impact—already—on the faculty Johnson can attract. "The intellectual fire power coming on line because of this opportunity is really remarkable," Nelson says. "We have already attracted faculty from Columbia, Michigan, INSEAD—we are getting some real stars," he says. "That is the market speaking. That's people voting with their feet and saying I want to be part of this." To Nelson this point is extremely important because he considers the capability of the faculty so much of what makes a university.
One-Year Cornell MBA Class to Triple Within Five Years
Finally, there will also be growth within the accelerated, one-year Johnson Cornell Tech MBA program, now in its fourth year. Previously housed in Google's Chelsea offices, there's been a limit to how many students can take part. Last year's cohort had 51 students, and this year's has 62. But within five years, Nelson envisions that class as much as tripling, to 175 give or take.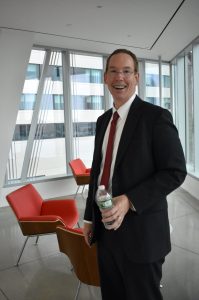 Johnson Dean Mark Nelson
Having said that, growth will not come at the expense of quality. "We have been growing carefully because we want to focus on quality," he stresses. "We want to ensure that the students we admit will not only have an extremely fulfilling experience in their MBA program but that they will also place well upon graduation," he says.
He envisions that many Johnson Cornell Tech MBA graduates will continue to go the corporate route—taking product management roles with huge tech firms, for example—but that there will also be growth in the number of students who strike out as entrepreneurs immediately upon graduation thanks to the opportunities they have as part of the studio curriculum.
In this way, the number of businesses that get their start at Cornell Tech will only continue to soar, he predicts. "Five years from now we will have a track record of companies coming out of Cornell Tech," he says. "And this is realizing the vision that gave rise to Cornell Tech. We are seeing new businesses designed for the digital age forming out of the Cornell Tech experience and creating jobs and prosperity for New York and the world beyond," he notes. Of the 38 businesses that so far have launched, 94 percent have remained in New York.
"Cornell Tech is not only an academic exercise," Nelson notes. "This is designed to be a business catalyst." While early returns are already really positive, Nelson looks forward to seeing the next Google or Amazon or LinkedIn come out of Cornell Tech. "Looking at the intellectual fire power of the students and faculty here, I have no doubt it will occur."
Collaboration, Art, Sustainability Baked into the New Buildings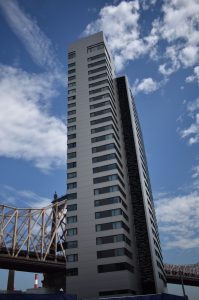 The House, tallest Passive House high-rise in the world
Not unlike the Global Hub recently unveiled at Northwestern's Kellogg School of Management, the new Cornell Tech buildings have quite intentionally used space and design and materials to drive collaboration.
"That's why there are very few walls in the building," Bloomberg said as part of yesterday's event. "There are no private offices for professors and that is a feature, not a bug," he continued, drawing laughs from the crowd. "The more students and professors interact with each other, the more opportunities there are for discovery."
Bloomberg also noted the incorporation of art throughout the buildings. Among them is an art installation in the café inspired by the first major book written on computer programming. "When students look up at the ceiling of the cafeteria, maybe between bites of a sandwich, we want them to know that they can change the world as well," the former mayor said.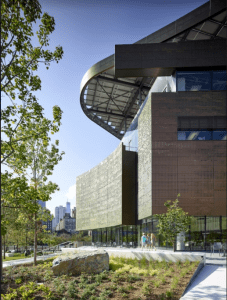 Cornell Tech's Bloomberg Center, photo credit: Iwan Baan
And sustainability has led design at every turn. The Bloomberg Center aspires to be among the largest net-zero energy buildings in the country, with all of its power generated on campus using a range of site-specific strategies to cut overall energy demand and use renewable energy wherever possible. The House, too, promises to be the largest and tallest residential Passive House high-rise in the world, which means that it has been designed to meet the strict Passive House international building standard that slashes energy consumption while also created a healthier and more comfortable living environment for residents. Especially significant in the wake of recent devastating hurricanes in Texas and Florida—and with Hurricane Sandy's New York devastation still top of mind—the entire campus has also been carefully constructed above not only the 100-year flood line, but also the 500-year flood line.
A Great Time to Be Dean
For Nelson at Johnson, Cornell Tech is just one of many incredible developments unfolding right now. "From a people perspective, I've got these amazing faculty coming on board and I've got these wonderful alumni that have contributed $150 million—scalable up to $300 million," he says, referencing the January 2017 matching gift from alumnus H. Fisk Johnson and SC Johnson. "From a places perspective, we have this remarkable Bridge facility but we also just built the beautiful Breazzano Center in Ithaca's Collegetown, and they are being built at the same time so they can talk to each other," he continued. "And from a program perspective we have what's happening at Cornell Tech, with new curriculum opportunities for our students down here, and there's always new courses being developed in Ithaca, including some that's being inspired by what's taking place down here. How often does all that come together?"
At a recent state of the school address to students, Nelson found himself grasping for a visual to offer students. "I ended up showing a picture of the recent eclipse," he says. "How often does everything click at that one point in time so that it can be a defining moment?" he asks. "I feel like this is a defining moment for us—so it's a fun time to be dean."
If you liked this article, let Clear Admit know by clicking Like.