MBA News: Admissions Expert Shares Advice for B-School Applicants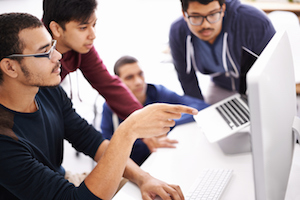 Get your questions answered from an MBA admissions expert, turn defeats into learning experiences for your applications, and find out why business school grads are turning to tech. Here's our latest roundup of business school news.
Your MBA admissions questions answered
On an individual level, few people know the MBA admissions and business school landscape better than John Byrne, the founder and editor-in-chief of Poets and Quants, a favorite blog of ours. In fact, it was 30 years ago, as a young managing editor at Bloomberg Businessweek, that he first suggested the idea of business school rankings. In this article, Byrne answers some commonly asked questions that aspiring business school applicants have.
On Harvard Business School, Byrne says: "If you are lucky enough to get into Harvard Business School, it's pretty much a complete no-brainer to go. An MBA from Harvard is the quintessential business credential."
On other elite MBA programs: "Whether you go to Stanford, Wharton or Booth (which rankings in the last five years have favored over Wharton), you will be going to a school that offers a world class MBA degree."
On MBA specializations: "The MBA itself is a degree in general management. It's not a degree in a specific discipline or specialty but rather an education in all the core basics in business from accounting and finance to strategy and marketing."
Check out the entire article for more valuable insights. (Poets&Quants)
Learning from challenges
Nearly every business school applicant begins the MBA admissions process with experiences that didn't turn out the way they wanted. Believe it or not, this can work to your advantage in the admission process, as long as you detail in your essays and/or interviews how you've learned and grown.
As one admissions expert explains, "If you failed, take responsibility and don't blame another person or outside force. Never bash others or your work environment—avoid negativity of any kind. MBA programs seek students who can see themselves clearly and improve and adapt when necessary." (U.S. News & World Report)
Grads look to the tech world
These days, some business schools send more graduates to jobs in the tech industry (think Google, Amazon, and Facebook) than to jobs in the finance industry. This is indicative not only of how the employment landscape and economy are changing, but also of MBAs' shifting attitudes and work desires.
"Technology is more than just information technology. The term should be broadened to include science and enterprise as well," says Anirudh Dhebar, a professor of marketing at Babson College and the faculty lead for the Managing the Technology-Intensive Enterprise (MTIE) track for Olin MBA students. "Over the last several years, we've been seeing more intense applications of science and technology changing the way businesses conduct their operations."
"Tech touches every part of our lives and is therefore such a necessity," adds Naomi Sanchez, the assistant dean of MBA Career Management at the Foster School of Business. (BusinessBecause)
Full-time or part-time MBA?
One of the biggest decisions aspiring MBAs have to make is whether to go to business school full-time or part-time. Some students, we should point out, do not have the luxury of choosing, as financial demand and family demands may compel them to only go part-time. But if you have the choice, how do you go about deciding?
"If being fully immersed in your experience in business school is incredibly important to you, a full-time program obviously optimizes that," says Isser Gallogly, Associate Dean of MBA Admissions at New York University's Stern School of Business.
He adds, "With part-time, you're obviously keeping your job, keeping your income, so there's less opportunity cost, but on the flip side, you have less time to go to business school and get engaged and involved." (Business Insider)
Put your best foot forward when it comes to MBA admissions. Sign up for one of our GMAT prep options and hit your highest score.
The post MBA News: Admissions Expert Shares Advice for B-School Applicants appeared first on Business School Insider.
If you liked this article, let Kaplan GMAT know by clicking Like.