Picking Order of Sections on the GMAT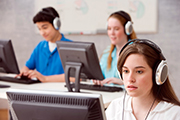 In a recent announcement, GMAC (the folks who create the GMAT) announced an important change to the test. What you have to know hasn't changed, and what you have to do on test day hasn't changed—but the order in which you do these sections doesn't have to be the same as it has been!
Selecting Section Order
For decades, the GMAT had a very fixed format: first, the AWA; then the IR; then after an optional break, the Quant section; finally, after a second optional break, the Verbal Section. That was it, no choice.
This will change on July 11, 2017. Starting on that day, all GMAT test takers worldwide will have a choice of one of three possible orders. Yes, theoretically there would be a possible 4! = 24 possible permutations, but right now, the GMAT is just allowing three of those. Here are the three orders:
Order 1: AWA & IR, first break, Quant, second break, Verbal
Order 2: Verbal, first break, Quant, second break, AWA & IR
Order 3: Quant, first break, Verbal, second break, AWA & IR
Notice that Order #1 is the traditional order, the order fixed on all GMATs before July 11 of this year. Starting on July 11, 2017, you will get to choose one of these three.
Making Your Choice
So, if you are about to take the GMAT, and you will be faced with this choice, what does this mean? Is there one choice that's ideal for everyone? Of course not! It very much depends on your preferences, your relative strengths, and your needs.
For example, I can do math even when I'm tired and tapped out, but I need to be sharper to do verbal, so I would probably choose order #2. That's me, but my friend Chris might save Verbal for last, the traditional order, because Verbal is his strong suit. My general advice is that if one section is a huge challenge for you, maybe you should get that section out of the way first: with this in mind, order #2 might be better for many non-native English speakers, while order #3 might be better for American math-phobes. As always, as Socrates found, it's very hard to improve on the Delphic maxim of "know thyself." In your practice, experiment with some orders, and see what feels good.
One thing I definitely would recommend: get all your thinking or experimenting done long long before you walk into Pearson to take your GMAT. Your preferred GMAT section order is definitely a decision that should be done and set well before the time you sit down to take the GMAT.
Preparing for the GMAT
The choices of section order should be made long before you walk into your GMAT. Preparing for the GMAT also should involve learning all the content and strategies for all the sections on the test. That's precisely where Magoosh can help you! Magoosh can help you attain mastery on all four sections of the GMAT!
The post Picking Order of Sections on the GMAT appeared first on Magoosh GMAT Blog.
If you liked this article, let Magoosh GMAT know by clicking Like.