Does GMAT Integrated Reasoning Matter?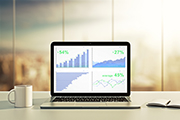 In 2012, when the GMAT was revised to include the Integrated Reasoning (IR) section, business school applicants and online GMAT forums conjectured as to whether schools were even going to look at the IR scores. After all, the section was so brand new that even top-ranked business schools like Stanford, the Wharton School, INSEAD, and Kellogg acknowledged, at least to some extent, that they were not going to look at IR scores.
In those early days of the revised GMAT, IR seemed to be a mystery to both admissions staff and GMAT test takers alike. So, what about now? Does GMAT Integrated Reasoning matter in preparing for GMAT Test Day?
Solving the Integrated Reasoning mystery
Since that time, schools have amassed comparative data on test takers' IR performance and how that performance aligns with what those schools are looking for. Even the schools that once claimed the IR score did not figure heavily in their decision-making have now devised a structure for how to incorporate the new scoring data into admissions. In addition, test-preppers now have a panoply of resources that have demystified GMAT IR.
Simply put, IR is no longer "new" or a mystery, but is a standard part of the GMAT that supplies MBA admissions committees with valuable information on how candidates "work-smarter-not-harder"—the way a business leader would. IR gives you the opportunity to prove to schools that you have what it takes.
School yourself on b-school admissions
Anything that appears on the GMAT confers a chance to better position your  application. Just because a dean at a top-ten business school said five years ago that IR was a mystery does not mean that admissions teams don't scrutinize your overall GMAT score.
What's more, not all business schools are the same. You owe it to yourself to research and find out how IR (and Analytical Writing Assessment, for that matter) figures into admissions at each of your individual prospective programs. Some business school websites detail how they regard the various sections of the GMAT. You can also find out by contacting the school's admissions counselors via email or phone.
Even though some admissions committees continue not to consider IR scores in their decision-making process, they do not use IR scores in the established decision-making process, they still see your IR score; hence, there is a chance that low IR results could affect the deliberations of admissions officers evaluating your application.
Your chance to shine
In short: Your GMAT Integrated Reasoning score matters. IR is one of many opportunities to advance your candidacy. Even if an MBA program does not place any particular emphasis on IR, strong IR results can only help your candidacy. A solid score can boost your admissions chances—and can certainly hurt those chances if you blow it off as inconsequential.
However, that raises another question: if the IR score does not figure as heavily as the Quantitative and Verbal scores do with business schools, how should you prioritize it in your GMAT prep?
Prepping for IR and cognitive behavior
The GMAT is unlike any test you've taken in academia. It doesn't assess knowledge, but rather how well—under stress—you execute the most efficient solutions to business-like problems.
In that regard, GMAT IR is identical to the GMAT Quantitative and Verbal sections in that you use a college-level command of grammar, reasoning, vocabulary, and math to negotiate critical thinking puzzles amidst the constraints of the clock and the online testing scenario. Similarly, IR offers a business-oriented, problem-solving scenario in which you must manipulate spreadsheets and statistical information in order to deduce inferences that answer the questions asked.
Thus, the primary way to grow in IR is to first refresh yourself on the grammar and math you haven't seen in years to strengthen your cognitive prowess in the Quantitative and Verbal sections. Once you have rehearsed the pattern-recognition, translation, and work-smarter behaviors demanded by the Quant and Verbal sections to the point that you are raising your scores in those sections, then apply yourself to the different medium presented by IR. Here's one great way to approach your GMAT prep:
Drill yourself back to a daily familiarity with the math and language concepts demanded by the Quant and Verbal sections.
Apply that knowledge to the patterned ways that the Quant and Verbal sections require you to use those concepts.
Practice those applied behaviors until they're second nature, and your Quant and Verbal scores rise.
Acquaint yourself with the unique medium and format of the Integrated Reasoning section. Get used to the repeated ways in which IR presents information and questions and the patterned methods to efficiently attack the problem solving it demands.
When you see your IR practice scores rise, take full-length practice tests so that you encounter IR in its "natural habitat." That way, you'll then see the continuity between the cognitive behaviors demanded by IR and all the other sections of the GMAT.
Want to see how you stack up against IR and the entire GMAT? Take a free practice GMAT with experts to guide you.
The post Does GMAT Integrated Reasoning Matter? appeared first on Business School Insider.
If you liked this article, let Kaplan GMAT know by clicking Like.