5 Things to Consider Before GMAT Test Day: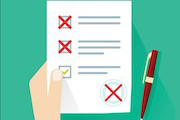 So you've decided that business school is for you, and you've taken the first step towards your graduate degree: you've signed up for the GMAT exam! Some folks might argue that's the toughest part. Others might say it's the preparation: do you sign up for test prep or commit to self study? Both are significant projects that, if executed properly, will result in a score that you can brandish on social media and brag about to business schools. There are, however, a handful of smaller things to consider and prepare for that you might not have thought of yet. Read on and make sure your test day runs as smoothly as possible.
1. Double check your identification.
When you registered for the exam, you had to create an mba.com account and then proceed with test registration. Like most people, you probably glossed over much of the fine print and legalese. It's very important, though, to ensure that the identification you bring to the test center EXACTLY matches the name you registered under. If it doesn't, this could prove to be a costly mistake. Candidates are routinely turned away and prohibited from testing if their identification doesn't match the name on the exam registration. Basic guidelines can be found here, but when in doubt give GMAT customer service a ring.
2. Do a test run.
There are more than 600 GMAT test centers around the globe that test takers can choose from. If you're lucky enough to be in an area that has multiple centers, how do you pick where you're going to spent approximately 4 hours on your test date? The knee-jerk response might be the center closest to you, but before you assume this is the path of least resistance, it's important to do some planning. Look at the address and do a test run. If you're planning to drive, is there parking? If so, do you have to pay? Is there a max time limit? (It would truly unfortunate if you had to spend your 8 minute breaks looking for parking, but more on breaks in a bit.) Is it accessible via public transportation? What happens if public transportation isn't available on your test day? Is there construction that might create unwanted background noise? Is the center open on weekends? Afternoons? You should consider all of these things. The GMAT exam is tough enough. The circumstances, noise, and parking shouldn't make it any tougher.
3. Have a break strategy.
We just mentioned that moving your car because your meter is up is NOT a good way to spend your break. Before you start thinking that those 8 minutes are a luxurious stretch to rest your brain, think again! Eight minutes between sections is not a lot of time, and you'll want to have a strategy to make the most out of your break (and not lose time on the next section!) Think about whether you'll want a snack or need a bio (e.g. restroom) break after the intro, AWA and IR section. Maybe you want to save that PB&J sandwich for the homestretch between quant and verbal. Regardless, 8 minutes is going to fly by, so having a roadmap for that break will save you the time you would spend making difficult decisions about how to use it.
4. Pick your schools.
You're able to send your GMAT scores to 5 schools from the test center at no additional cost. This is probably one of the most overlooked benefits on test day. Until mid-2014, if you didn't cancel your scores at the test center and selected schools at the beginning of your session, they were guaranteed to see your scores. Now with score choice, you have the option to cancel your scores at the end. So why not take advantage of the 5 free score reports? Like most things in life, there are fees attached if you choose to send them later ($28USD per score report at last check) so take some time before test day to identify up to 5 programs you're interested in applying to.
5. Leave the books & phone at home.
There are a lot of things you need to remember to bring to the test center—identification, snack, water, etc. But there are also several things you cannot bring to the test center (or access during your session). First, if you've spent proper time preparing in advance of the test, you won't need your study materials. There's absolutely nothing you will learn by reviewing your notes during an 8 minute break that will help you on the test. Moreover, if you do access your study materials on a break, your day will end there with an incomplete and a security violation on your permanent record. The same is true for your cell phone. Yes, they're practically an extra appendage these days, but if you're caught checking to see which Kardashian is getting married, your day is over and you'll earn nothing more than a security violation on your permanent record (oh and your $250 test fee is gone too!) So read the GMAT Handbook ahead of time to see what else you can or can't bring and plan wisely!
As you can see, there's a lot to think about before test day! Fortunately, you don't have to process this all at once. If you need a productive procrastination break during a study session, take a few minutes to start tackling one of these items. Spending just a little time on planning will ensure that test day runs smoothly—and hopefully ends with your ideal score!
If you liked this article, let Veritas Prep know by clicking Like.