MBA News: Average GMAT Scores Keep Rising in MBA Admissions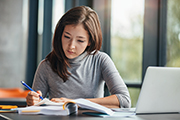 A new study finds that average GMAT scores at top MBA programs keep rising. Perseverance and planning win the MBA admissions race. Watch trends on the U.S. business school landscape. New data reveals compensation packages for MBAs who choose to work at startups. Here's the latest in our roundup of business school news.
GMAT scores continue to climb
Average GMAT scores at top MBA programs are on the rise. Over the past year or so, we've reported on a phenomenon sweeping many of America's leading business schools. And some of these point jumps were in the double digits, which is pretty remarkable for only a one-year time frame. As MBA admissions and business school expert John Byrne explains:
"More telling than year-over-year increases, however, are the five-year trends on average GMAT scores. Among the top 25 U.S. MBA programs, the biggest gains have been racked up by the University of Washington's Foster School of Business and Northwestern University's Kellogg School of Management. Foster hiked its average by 21 points since 2012 to 688 last year. Kellogg raised its average GMAT by 20 points over the last five years to 728—two points higher than the University of Chicago's Booth School of Business."
Are applicants getting "smarter"? Or are business schools becoming more selective? There are a few theories. The bottom line for prospective students: You need to bring your A-game on Test Day.
The road to MBA admissions success
Remember that the business school admissions process is a marathon, not a sprint. From start to finish—preparing for the GMAT, visiting schools, doing interviews, waiting for the final decision—the whole thing can take close to a year. Keep these strategies in mind as you make your important decisions:
Make sure you give yourself enough time to prepare for the GMAT or GRE (depending on if the school you are applying to gives you the option of taking either). Kaplan advises test takers to spend about two to three months and 100–120 hours reviewing material and preparing regularly. Top GMAT scorers spend 120+ hours, on average.
Decide where you want to attend. That means lots of online research, visiting campuses, talking with students and current alumni. But don't go overboard. As one expert cautions,  "Don't apply to more than six schools. This is an intense and time-consuming process. Applying to too many schools leads to burnout and diminishing returns."
Understand and obey deadlines. In MBA admissions, sometimes the early bird catches the worm, so aim for Round One. "Early applications show serious interest and planning. In this round, you may have the greatest statistical chance, since you're only being compared to the current candidate pool," says one expert. (U.S. News & World Report)
Business school trends in the United States
The United States with its hundreds of business schools and dozens of top-ranked programs remains the epicenter of the MBA world for international applicants. But with the political climate changing, tuition and fees rising, and Europe and Asia being home to some real gems of business schools too, the question is, "For how long?"
"We are interviewing international candidates at some of the top global consulting and banking firms in their home country," aid Jennifer Ninh, Director of Recruitment of Full-Time MBA Programs at the University of South Carolina's Darla Moore School of Business. "They are wondering if they give up their job and pursue what is usually the 'golden ticket'—as one candidate called a US MBA—will it all be for nothing?" (BusinessBecause)
Startup compensation
Many business school students hold aspirations that don't necessarily jibe with the traditional areas like finance—where Wall Street bulls, while well-established and offering lucrative compensation packages, may not fit with everyone's career goals and working styles. For some, working at a startup is an exciting opportunity to help a company get off the ground from its very inception. New self-reported data from Transparent Career gives an idea of how startup MBAs are doing in the pay department. Keep in mind that the information is self-reported, so not necessarily complete and thorough.
As you'll see in the data, the younger the startup, the lower the compensation.  "My theory is that large, late-stage 'startups'—generally companies with funding of $25 million or above—are giving away large amounts of RSUs to entice top talent to take a pay cut," said Transparent Career Co-Founder and COO, Kevin Marvinac. You can find the full report here. (Poets&Quants)
Want to hit your highest GMAT score? Sign up for a free practice test and review to get a detailed analysis of your performance.
The post MBA News: Average GMAT Scores Keep Rising in MBA Admissions appeared first on Business School Insider.
If you liked this article, let Kaplan GMAT know by clicking Like.