How Is Your GMAT Score Calculated? – Part III: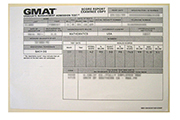 In the last two articles (see part 1 and part 2), we outlined how the GMAT is scored and discussed what an adaptive exam is.
However, the number of questions you answer correctly combined with the the level of questions answered incorrectly do not tell the whole story. There are several things you should avoid doing and several tricks you should take advantage of.
Here are some tips on how you can avoid being penalized on the exam:
You will be penalized if you leave out answers at the end, so brush up on your time management skills.
You will also be penalized if you guess the last bunch of questions (i.e. you ran out of time and now are running for your life to finish the test!) By blindly guessing questions in a row you are taking the added risk of making a few mistakes in a row, which is also a no-no in the GMAT.
Here's what you can do to be at an advantage:
Answer all questions!
Try to avoid going too slow in the beginning so that you do not need to guess at the end and/or make a string of errors. Work on those time management skills!
Avoid going too fast so that you do not make careless errors. Again, work on those time management skills!
If you liked this article, let Economist GMAT Tutor know by clicking Like.