GMAT Geniuses: Real Life Success Strategies Q&A with Marty Murray: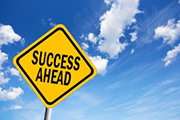 Want to know how GMAT geniuses achieve top scores? In this series, 2013-2014 MBA Watch School Champion PW interviews fellow BTG members who have top GMAT scores about their personal test preparation tactics. As Vince Lombardi once said, "Success comes before work only in the dictionary." Studying for the GMAT certainly is hard work, and you can boost your chances of success by taking a peek at some tried and true study tips. Stay on track and get motivated to Beat The GMAT once and for all!
Our tenth feature on the GMAT Geniuses Q&A series has been a fixture on the Beat the GMAT website since February of 2014, with more than 300 posts to date in the forums. Hailing from the New York City Metro Area, Marty Murray scored a perfect 800 on his second attempt in taking the GMAT. Although he is not looking to attend business school at this time, Marty shows us that it is possible to achieve a score of 800 if you set your mind to it. He offers a wealth of tips, strategies and takeaways in this Q&A—read on for all of the details for how hard work and thinking "outside the box" might be able to push you towards a higher score.
Also, if you would like to be featured in the GMAT Geniuses series in an upcoming article, please don't hesitate to contact!
Part 1: BACKGROUND
Q: Can you tell us a little about your background?
A: I have lived in the relatively high intensity New York area for most of my life. Someone once said something about my having had 72 different jobs—72 is a bit of an exaggeration, but along with doing other things, I have taught in inner city schools, played music as a fairly serious professional and run a hedge fund with a friend. More recently, I have been involved in projects related to health and sustainability. I have generally sought to do things that involve making the world a better place to live. One way I can do that is by being involved in education, which is part of the reason I got into coaching people who are preparing to take the GMAT. That brings up another thing. I did not take the GMAT in order to use the scores as part of an application to business school. I took it for various reasons related to my GMAT coaching activities.
Q: Would you classify yourself as someone who is stronger in Verbal or Quant?
A: I'm not sure,  but guess I might be stronger in Verbal because the Quant section was somewhat of a challenge for me—I find that once I get to the Verbal section on the GMAT I can almost relax and just be careful. Still, through having prepared for the test, I did manage to get rather comfortable with Quant too.
Q: What score did you achieve on the GMAT? (Overall/Quant/Verbal/AWA/IR)
A: 800/51/51/5.5/7

Note: Marty allowed us to take a peek at his official score report issued by GMAC!
Q: How much time start-to-finish did you spend preparing for the GMAT? 
A: Years ago I prepared a little for the GMAT, and I took a break before taking it up again recently. This latest preparation marathon went on, with some slowdowns at times, for about a year. However, I was not doing typical GMAT preparation because my goal all along was to score a perfect 800. Most of my score increase happened in the first few months of preparation and getting to 800 took the rest of the time.
Q: When did you take the test?
A: I last took the test in March 2015.
Q: Where did you take the test?
A: I took it at the testing center in White Plains, New York, USA.
Q: How many times did you take the test before you were satisfied with your score?
A: Twice.
Part 2: Test Day Tips
Q: Any tips for how to be best prepared during the day of the GMAT at the testing center?
A: Before your testing day comes, read up on the rules and how things work at the test center. I even went so far as to look up images of test centers online so that when I arrived, the center would seem familiar and I would not be nervous—it worked. Beyond that, I think it is important to be well fed and well rested on the day of your test.
Q: What snacks did you bring with you? Did you drink coffee beforehand?
A: I am fruitarian so I brought some fruit and nuts to eat during the breaks; tomatoes (yes, they are a fruit) work well as an energy source for me while cucumbers seem to somehow make my thinking clear. So, I was eating tomatoes, cucumbers, bananas and nuts during breaks. Some of those things are a little messy though, and so actually I don't recommend eating tomatoes, for instance, because eight minutes goes by VERY quickly and I was stressed by having to clean up before I went back to the test. I definitely did not drink coffee; I get too wired as it is.
Q: How did you combat nervousness? Did you take all of the breaks?
A: I took all of the breaks and then some. I did some meditation on the way to the testing center, and I got to the location early. Then I hung around the building looking out the window and stuff so I could be really calm when I walked into the test center.
Also, during the weeks before the test day, I meditated on my feelings towards the test and worked on dissolving any tension and stress that came with the image of the test.
In addition to taking the allowed 8 minute breaks, I was getting as close as I could to sleeping in my chair during the instruction screens, but I went overtime doing this once or twice, and by doing that I cut into my test time. Now I, and you, know …
Q: Did you study for the GMAT the day before the test? Or did you just relax?
A: Funny question, because in a way I can relax by studying. To a degree, I am practically a GMAT gaming addict. Anyway, I didn't do much preparing the day before my test because I wanted my system to be well rested. So, I just did a few questions to stay in game mode. Also, on the day before the test I continued to meditate and visualize. In order to be warmed up, I also did some questions the morning before I took the test.
Part 3: STUDY PLAN
Q: Did you have a plan for how to study? How did you formulate the plan? What section did you start with?
A: My plan was go hard at getting better at Quant, which was tough for me in the beginning, and to push my Verbal scores the rest of the way to 51. I accomplished this by practicing a lot and by learning a little more in terms of content for Quant, and mostly concentrating on the SC section for Verbal.
Since my overall plan was to start with Quant, I first focused on topic areas that would build up my base knowledge, going through one section after another, spending more time on the areas where I was struggling with the concepts. The plan was to cover pretty much all of the Quant concepts that show up on the test, no matter how long it took, and I fit in Verbal work here and there.
Q: How much time did you spend studying each week? Did you make a timeline/schedule for yourself? Were you able to stick to the schedule you set out?
A: I studied as much as I could stand and find time for. Sometimes that would mean four hours or more a day. Other times, it would mean twenty more questions at midnight if I felt like it.
I didn't set out with a structured timeline for preparing for the GMAT, but I did have a sense of how long it would take me to achieve certain things. For example, if I knew that I wanted to work on a half dozen weak Quant areas + get better at IR + learn how to handle seven key Sentence Correction concepts + get some more practice in CR, I could estimate how long all that would take . Generally, I was able to match my actual times spent to my estimates.
Q: Did you study alone or with a group?
A: I mostly studied alone, but I kept in touch with others who were also preparing for the GMAT and we had fun trading strategies and stuff and motivating each other. Also, I have spent a fair amount of time on various online forums and that can feel a bit like studying with a group. Once I attended a Beat the GMAT "GMAT Avengers" session, and that was cool, and those sessions seem to be good venues for interacting and getting other perspectives.
Q: Were you employed full time while studying for the GMAT?
A: For much of the time when I was preparing for the GMAT, I was super busy with other things. Lately, I have cleared much of my schedule to focus on GMAT related activities.
Q: When did you schedule your GMAT? Some people set their test date before they start studying, as a way to set a final "deadline" for studying. Others decide to schedule their appointment only after they feel ready. What is your perspective?
A: I scheduled my test once I was close to my target score and had visibility regarding when I would be able to hit it after preparing some more.
Q: How did you combat procrastination? What kept you motivated?
A: To combat procrastination and to stay motivated I got into the habit of doing certain amounts of GMAT practice every day, or at least every other day. Once it became habitual, it was almost more difficult to not do it than to do it. Also, I kind of found studying to be fun, and much of what I did to prepare involved playing question banks as if they were video games. So, because of my mindset and the way I was approaching the preparation, I felt that keeping at it day after day was relatively easy.
Q: If you did any re-takes, how did you formulate your re-take plan? How long did you prepare before scheduling your next GMAT appointment?
A: For the retake I did, I didn't so much plan what to do as I assessed what needed to change about my skill level, my understanding of concepts, my strategies and other key aspects of what I was doing. Once I figured out what I needed to change in order for me to achieve a higher GMAT score, I went about finding ways to accomplish that change piece by piece. After the first test, I prepared for about two months and then scheduled another test about two months out from that date.
Part 4: STUDY MATERIALS
Q: Did you decide to join a GMAT preparation course? Do you think it is worthwhile to invest in a course rather than purely focusing on self study?
A: I attended a few classes years ago as part of a GMAT teacher training program and I found that they were useful. I also found that studying on my own has worked well. What's worthwhile in terms of GMAT preparation depends on the degree to which you already know the material and also depends on your personal goals, your financial situation, your preferred ways of operating/studying and the time frame you have to work with.
In my case, among other considerations, I already had much of the test covered and mostly had to focus on developing skills in certain areas. So, while a typical course with its broad coverage of material could have been helpful for someone just starting out, joining one did not make sense in my situation.
Q: How did you select study materials? What were your criteria for selection?
A: For the round of studying preceding my GMAT retake, I used only materials that were available in electronic form. Given that constraint, if I felt the materials were going to teach me something I could use to rock the GMAT, I would use them. Some of the materials I used were sketchy but I was still able to learn from them; others were world class. Just remember that there are so many great resources out there; even one test prep expert blog post or a video can be hugely useful. The materials I used most were GMAT question banks. My basic criteria for selecting which question bank to use were the number of questions that were available and the overall quality of the questions.
Q: Did you incorporate online resources with print materials?
A: Everything I used to prepare for my retake, including the Official Guide, was either an online resource or a download.
Q: What GMAT preparation websites did you frequent? Please indicate if you paid for online resources.
A: While I have used dozens of different resources, the ones I have used the most were the Veritas Prep Question Bank and the Quant part of the BellCurves question bank. Some other great resources have been the GMAT social networks. I would do web searches for specific things like different question types I was having trouble with and read through forum discussions of just what I needed to learn.
Beyond that, in no particular order I used (among others): Khan Academy, blog posts by people from Veritas Prep, Manhattan GMAT, Magoosh, and other test prep companies, various CATs online and videos on YouTube. I did not pay for any online resources with money, but I have often offered makers of resources detailed suggestions such as edits of their materials, and in return some of them hooked me up with great resources that people usually pay for, such as practice CATs.
Q: What book(s) do you think contained the most helpful information for your study needs?
A: The only book (in electronic form, by the way) I have really used is the Official Guide.
Q: Did you create flashcards? Take notes? Have a friend test you on words/formulas?
A: Not really, I did not use those study methods mentioned above because I personally prefer to learn structurally. So, for one thing I rarely to never used formulas and I didn't really take notes for the Quant prep I did. When I learned a topic, I would learn the concept from every angle and really see how it worked. At that point, the concepts were practically unforgettable, and if I did need to refresh my memory, I could always do a web search.
For Verbal, I did take a look at some pre-made online flashcards a few times to get some idioms and other sentence correction specifics down.
Q: Please tell us about how you went about studying for the different aspects of the test – did you focus on the AWA, IR, Quant and Verbal separately? Or did you just follow the flow of the book(s)/resources that you had access to?
A:For the AWA I looked up some essays, suggestions and outlines online. Then I wrote a few essays, as part of practice tests mostly, to get used to putting the essay together during the test.
I found that IR and Quant supported each other to a slight degree, but for the most part I worked on each section separately.
Generally, what I chose to work on was not based on any book or outline. Rather, it was based on my own assessment of the test and of my knowledge, skills, stronger areas and weaker areas. For instance, I would look at my results on CATs and, based on what I saw in terms of things like concepts I didn't understand and questions I got wrong or took forever to answer, I would choose topics and concepts to work on. I also used my reactions to questions. If I practically got sick just seeing a question, generally that reaction indicated I had found something to work on.
Overlapping sets problems, for instance, were taking me FOREVER. I had gotten the impression that they were easy, and maybe not important, but then I realized that in doing one overlapping sets problem I could easily use 7 of my 75 precious minutes. So I got to work at becoming more adept at handling that type. What a difference that made!
Once I had chosen what to work on, a relatively simple concept or problem type might take several hours to get down, while a more complex one might take me a few days to fully understand.
Often I used resources that were not created for GMAT preparation, resources such as Grammar Girl and math guides written for high school students. Those resources, mostly found via web searches, were great sources of insight, often providing bits of information that were key to my really understanding concepts. When you are preparing for the GMAT, search engines can be your friends.
Q: Approximately how many practice questions did you do for each section?
A: AWA – 5 (mostly as parts of tests)
IR – 60
Quant – 1900
Verbal – 600
Q: Did you take mock tests? How often? Did you try to simulate the allocated timing and structure of the test or did you just practice the sections that you needed to work on?
A: I took mock tests at varying intervals, sometimes a month or more apart, sometimes days apart, depending on what I was seeking to achieve by taking them. In a few cases, I simulated the actual GMAT experience by doing all the sections (including AWA), while some other times I would only do the Quant and Verbal sections or only IR, Quant, and Verbal.
I also did a number of Quant only CATs because my timing in Quant was not great and to change that I was using any trick I could come up with. That strategy definitely helped me improve my Quant timing, as I got very accustomed to handling 37 Quant questions in the allotted 75 minutes.
Q: Do you have any other advice or general takeaways for the readers?
A: One thing I tend to do is play with questions until I get the correct answers, since I need to have processes via which I can get to the right answers when taking the test. So, when I was preparing I would often spend ten, twenty, or more minutes on a question rather than give in and just look up the answer.  If I actually did not know a concept then maybe it would make sense to just find out how to answer the question and gain insights that would help in the future. However, if I actually know the concepts that are necessary for answering a question, then usually I don't see any reason to go look at the explanation provided. There won't be any explanations available on the actual GMAT! So, I trained myself to get used to coming up with a way to get the answer myself somehow. After finally getting the correct answer by myself, I can then look at the explanation to see how someone else would solve it, possibly via a much more efficient method.
The attitude and approach I took paid off, both in Quant and in Verbal. For instance, sentence correction questions can seem impossible sometimes, but I generally take the attitude that there has to be some way to hack my way to the credited answer, and my having so much experience doing just that makes it likely that I will succeed on the actual test.
I have mentioned meditation in my answers here, and doing that seems to have been much of the reason I hit my target score. I have also seen others make great progress via changing their attitude towards the GMAT, resolving internal conflict and using meditation and other psychological approaches to get the scores that they want.
Overall, I feel that increasing your score involves finding things you can change. You can learn a new concept, turn weak areas into strong areas, improve your time management, meditate to become more in tune with yourself, eat better, sleep better. Each change you make puts more points on the board.
If, for instance, you were to want a 50 point score increase, maybe accomplishing that would take getting better at handling four types of Quant problems, getting more accurate with CR and learning to remain calmer. If achieving a 200 point score increase were your aim, accomplishing that could take finding and changing dozens of things.
There is always something you can change or do better—so that means that you can always increase your score.
Part 5: Tips on how to beat the GMAT
Q: How did the Beat the GMAT network help you in your preparation?
A: When I was working to learn about Quant concepts, I would do searches and find in Beat The GMAT forums and articles extensive discussions of just what I was working on.
For Verbal, I learned so much from what people were posting in the forums, little key things that all added up to my becoming a GMAT Verbal maven. I learned about things such as concepts and strategies, and I also picked up on what I needed to work on to get more adept at getting to the correct answer.
Overall, I found that BTG was wicked useful since you can hang out with people who are into rocking the GMAT and have a good sense of what it takes to do that.
Q: How is it helping you with your post-GMAT activities?
A: I do GMAT coaching, so I am not sure when "post GMAT "will be for me, but anyway I am still using Beat the GMAT to make contacts, to learn new things about the test, and to stay up-to date with trends and GMAT news.
Bonus! Follow-Up Meditation Tips from Marty:
I am working with someone who wants to totally rock the GMAT, and we are using meditation as part of our program. I thought you might be interested in this list of meditation topics and images I sent him. It's just a partial list and he and I have already discussed others.
The idea is to change within by meditating on topics and seeing how one reacts or what comes up, and then working on adjusting what one finds.
"Do it right the first time."
Accuracy
Efficiency
Tests in general
Teachers
School
The image of the GMAT screen
A test center
Business School (seems like a great idea, but you may be resistant to it somehow)
Doing things super fast
Visualize your getting all, 100 percent of the questions on all sections, correct, on all three GMAT sections in a row. It's possible!
Hitting your target score and seeing it on the screen
People all over the world resolving their conflicts and living in harmony (This is good for creating harmony within yourself.)
You going into prisons and teaching EVERY prisoner, EVERY SINGLE ONE, how to rock the GMAT and they ALL score 800 and they all change their ways and get let out and all the prisons are torn down forever (This is a way of connecting with forgotten or buried parts of yourself and bringing out the best in all parts of yourself. I really like this meditation topic.)
Other articles in the series:
GMAT Geniuses: Real Life Success Strategies Q&A with sourabhsur
GMAT Geniuses: Real Life Success Strategies Q&A with thor5517
GMAT Geniuses: Real Life Success Strategies Q&A with nhungnguyen147
GMAT Geniuses: Real Life Success Strategies Q&A with hsharif
GMAT Geniuses: Real Life Success Strategies Q&A with A2
GMAT Geniuses: Real Life Success Strategies Q&A with NB1234
GMAT Geniuses: Real Life Success Strategies Q&A with gmA t
GMAT Geniuses: Real Life Success Strategies Q&A with ganeshrkamath
GMAT Geniuses: Real Life Success Strategies Q&A with Eugene Bhatt
If you liked this article, let Pei Wen Chou know by clicking Like.