3 Steps to Your Best Score: Take Control of Your Test-Taking Experience: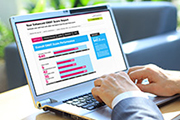 You just received your GMAT score and now you're wondering what's behind the numbers. What do they mean? How do you know how you really performed? The new GMAT® Enhanced Score Report (ESR) puts you in control of your performance by giving you an in-depth review of your scores and insight into your test-taking skills. The report will help you better prepare for your admissions interviews and give you some idea of what you might need to work on before arriving at business school.
And should you choose to take the GMAT exam again, the GMAT® ESR gives you the ability to use your results to improve your performance. Getting your best GMAT score is not always about what you know. It's also about feeling confident on the day of your exam. Now you have another tool to put you in the driver's seat.
What is the GMAT® Enhanced Score Report?
The GMAT® Enhanced Score Report is a detailed analysis of your performance on the GMAT exam by question type, area of focus, and pacing, providing you with actionable information to help you better understand your performance on the exam and its potential impact on your graduate school applications. It will help you speak to admissions staff about your skills, improve your skills before arriving in the classroom or, help you focus your preparation efforts for a future sitting of the exam. Whatever decision or direction you decide to take, you will benefit from understanding how you performed, how you ranked, and how you managed your time for each question type. The bottom line is that your GMAT® ESR gives you control over your performance and its impact on your applications and business school experience.
3 Steps to Your Best Score
The GMAT® Enhanced Score Report is the latest tool from the Graduate Management Admission Council® (GMAC®), maker of the GMAT exam, designed to help you toward your best score yet—before, during, and after the exam.
Step 1: Use the Free GMATPrep® software
Kick off your preparation with our free GMATPrep® software so that you can identify the areas you need to focus on most. GMATPrep® features its own Enhanced Score Report so you can strengthen your performance and build a study plan that's focused on preparation, practice, and improvement so there are no surprises on the day you take the GMAT.
Click here to download the Free GMATPrep® software
Step 2: Preview your score before sending to schools
Find out your scores immediately after you complete the GMAT exam with Score Preview, so that you can decide whether to report or cancel them. With Score Preview, you get even greater control over you test-taking experience. With this tool, you don't have to guess how you did or accept less than your best.
Step 3: Evaluate your performance
You finally completed the GMAT exam, but you have a feeling you can do even better. Your GMAT Enhanced Score Report gives you detailed analysis of your performance—by question type, area of focus, and pacing so you can refine your studies and do even better the next time around.
If you liked this article, let OfficialGMAT know by clicking Like.