Your MBA and Parenthood: Balancing Business School and Life: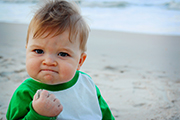 Balancing business school and life can be challenging at the best of times, but when you add parenthood to the equation, "challenging" can describe the good days. Does that mean it can't (or shouldn't) be done? Of course not!
Getting more information is key. Even if you don't have or plan to have any kids while you're in business school, you will definitely learn and work with many people who do. After all, most MBA candidates are farther along in their lives and career paths than your average graduate school student.
There are those that argue against having children while still in graduate school, but as some say, there may never be a "right" time to start a family. Surprisingly, becoming a parent while in business school does have its bonuses. A full-time school schedule is often more flexible than a traditional work schedule.
GradHacker pulled together a to-do list of what exactly you need to find out, line up, and get ready if you are considering or planning on having a child in graduate school:
Contact your university's family resource center. Most universities have one, and they are committed to helping the university community be a family friendly environment. Some of their services include finding childcare, assisting with financial aid, and connecting you with other student parents.
Arrange for childcare ASAP…and work your butt off while others are caring for your kid. Research all of your childcare options, from public preschool to university preschools to Head Start. Once your child is enrolled, make sure you to take advantage of those free hours, so you can have a family life once they get home!
Set goals/deadlines at the beginning of each semester. Set goals for the day, week, month, semester, etc. Make a schedule. Stick to it as though your very life depended on it—this will help you keep your work and life balanced and as low-stress as possible.
Plan a menu/prepare snacks. You can make meals in advance and freeze them; keep lots of healthy snacks on hand so you don't have to spend all of your free time cooking—instead spend it with your kid!
Use the TV as a babysitter without guilt. There's a lot of hate out there about relying on TV for your children, but it works.  Sometimes you should swallow your pride and get your paper done…by letting your child zonk out in front of Dora the Explorer for a couple of hours.
Exercise. Exercise gives you something to do that is just for you—not always much of an option as an MBA parent. It will make you feel better about pretty much everything.
Ask for help. Maybe you have a partner. Maybe you have a friendly neighbor. Maybe you have a good friend or nearby relative. Ask them for help when you need it. And help them out when they need it in return. It takes a village. It really does.
Involve your family in the university community. There are often a ton of free/cheap things to do on a college campus or in a college town. Gardens. Museums. Libraries. And colleges love to do community outreach type stuff, which is often child-oriented. Take full advantage of these opportunities.
Connect with a faculty mentor. Professors have lives, too. They used to be graduate students. Many of them understand how hard it is to find the school/family balance. And a lot of them had similar life experiences to you.
Disregard this list and make up one that works for you. There are no universal rules for grad school/parent success. There are lots of ways to be a good parent, and student parenting is one of them. Sometimes there might be guilt associated with stress and lack of time/money. But that is part of being a parent in general, not just being a grad school parent. Do the best you can. Our children matter most. We all know this. But if an MBA is what you want, come up with a plan and make it happen. And feel great about it.
Knowing is half the battle. Take a GMAT practice test for free and see where you'd stand on Test Day.
The post Your MBA and Parenthood: Balancing Business School and Life appeared first on Kaplan GMAT Blog.
If you liked this article, let Kaplan GMAT know by clicking Like.