MBA Resume Tip: How to Translate Experience into Accomplishments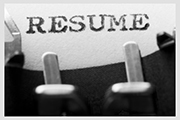 This guest post comes to us from Igor Khayet, founder of MyResumeShop.
You've had some great experiences working for a corporation, a non-profit, or the government, but how do you translate that onto your resume in an effective way? There are two major decisions that need to be made: choosing what is most relevant from your experiences and deciding how to translate this information into "resume language."
Three Steps to Choosing Key Information:
Put yourself in the mindset of the admissions committee. Depending on the school, there may be slight variations in emphasis, but all programs are interested in finding out about your leadership skills, work and academic accomplishments, ability to handle coursework, and "fit" for the school. To test if you have achieved these goals, have someone look at your resume and write down the 3 key traits that your resume shows. Does this correspond with your intentions?
The resume is about trade-offs. When you add something to the resume, you will need to remove something else (one page maximum). Therefore, you should constantly be asking yourself the question of what is the most relevant information between two options. This will help you make decisions as your write.
Despite the fact that the resume is made up of sections (Education, Work Experience, Additional Information), and experiences within each section, the resume should be viewed holistically. If in one particular job you have shown presentation and research skills, you should attempt to show additional skill-sets in other experiences. The resume is not viewed in sections but as a single document that showcases the value you bring to the school.
Translating Experience into Achievement Bullets
Once you've decided which information and experiences to include on your resume, you'll need to translate those experiences into "resume language." In most cases, this will require you to translate years of work experience into concise, informative "achievement bullets."
A great achievement bullet is succinct (3 lines maximum, but usually 1-2 lines), and answers three primary questions: the context of the situation, your personal achievement, and the impact it had on the organization. Applicants usually spend way too much time on context and very little time on the important part: their personal achievement and impact. Let's take a look at an example:
Created risk model for expansion of overseas business unit; global prepaid business accounts for 25% of company's net revenues with 5% annual growth.
Even though the bullet is well written and includes numbers, it says very little about the action or impact and spends the majority of space discussing the business unit (which is of little importance). Remember that the 25% and 5% have nothing to do with the person's actions, but simply the size of the department. Here is an updated bullet.
Created financial model to analyze operational, market, and credit risk for expansion of the $8B global prepaid business; methodology incorporated in company risk models.
The new bullet uses the same amount of space, but the focus is on how the model was built, what it includes, and how the model was used afterward (incorporated in company risk models). There are only four words that relate to the business unit ($8B global prepaid business).
With every achievement bullet you write, remember this example. If it helps, count the total words and then count how many of those words are being used to describe things that have no relevance to your actions or accomplishments.
Finally, remember that writing a great resume takes a considerable amount of time. If you only give yourself a few hours, this will be reflected in the quality of the work.
Igor Khayet is the President and Founder of My Resume Shop (www.myresumeshop.com).  He is a former Admissions Interviewer for the Yale School of Management and a member of the Professional Association of Resume Writers & Career Coaches. Connect with him on Facebook: www.facebook.com/myresumeshop and Twitter: twitter.com/myresumeshop
If you liked this article, let Knewton know by clicking Like.