Learn How to Write a Killer Business School Essay
by
, Sep 2, 2010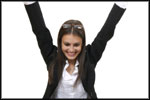 I was reading some blogs the other day when I came across this fascinating post called My MBA Essay Gauntlet on the Random Wok blog. Mark, the blog's owner, is planning on applying to Haas, Wharton, UCLA, Ross, Stanford and Harvard. After analyzing all the essay questions for these 6 schools, Mark realized that he'd need to write 29 essays and 13,400 words if he wrote all required and optional essays!
Of course, meeting the word requirements is not the most important thing. Rather, you need to write a killer set of essays that both tells your personal story and speaks to your audience, which can be quite different at each school. In order to help you get the inside scoop on what the top business schools are looking for,Beat The GMAT is proud to announce the Write Like An Expert Series - a 9-part online video workshop series where admissions experts will help you learn what each of the top business schools are looking for.
Write Like an Expert: Breaking Down This Year's Top B-School Essays
Experts from Accepted, Clear Admit, mbaMission, Stacy Blackman Consulting and Veritas Prep will conduct 1 hour online workshops where they walk through each of the essay questions for the top business schools. Each workshop will be dedicated to one school - the schedule is below.
During the first half of each workshop, the admissions expert will discuss the school's essay questions in detail. During the second half of each workshop, the admissions expert will answer questions that you submit live via our website.
Please be sure to submit an RSVP if you'd like to attend any of the Write Like An Expert Business School Essay Workshops so that you can reserve your seat. We'll send you reminders before each session.