Manhattan GMAT Number Properties GMAT Strategy Guide, 4th Edition: Book Review:
The following book review was written by Dana Jinaru.  Dana is currently a finance student in Europe and also serves as a moderator for Beat The GMAT.  On May 13, 2009 she scored a 770 on the GMAT.
Here is Dana's analysis of  the Manhattan GMAT Number Properties Guide.
Overview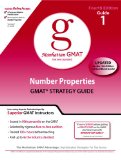 The Manhattan GMAT Number Properties Guide is the first in the series of five MGMAT guides devoted specifically to the quantitative part of the GMAT. This book in particular deals with divisibility, the properties of positive and negative numbers, powers of real numbers and the order of operations. The authors of the book do a great job in covering these topics, building up from the basics to the harder topics.
The book is structured in two parts, a basic-intermediate part and an advanced one (which you are advised to attempt only if you've already clearly understood the first). Besides the theoretical review, the first part features 100 "in action" problems (mostly similar to Problem Solving questions, but some with no answer choices), while the advanced section contains 66 of these problems.
Pros
Extensive theoretical review of number properties, possibly the most exhaustive that I've read so far. The authors also put these concepts to work in various problems that are explained in great detail (I've seen one question explained in more than two pages!)
Provides access to 6 online computer adaptive tests, considered to be among the best in the industry in terms of accuracy of the scores. The code you use to register online also allows you to practice using an extra 25 questions on the topic
Each of the two sections (basic-intermediate and advanced) has a handy list of problems from the Official Guides that test the concepts discussed so that you may practice in a targeted manner
Features quite a few challenging problems – even some that are explained in the theoretical part of the book caught me off-guard! As such, I think the book is a great resource for some advanced practice
Cons
This is probably one of the most "intimidating" books in the whole series of 8 MGMAT guides. The book earns points for its comprehensiveness, but at times it seems that they supply rules and tips that are only rarely tested on the GMAT. If you already have a firm grasp of the basics and you're just buying the guide as a refresher or advanced resource, then you've probably stumbled upon a gold mine. However, if you're an English major who's been out of school for 6-7 years, then I think you might want to schedule around two-three weeks to go from cover to cover!
While Data Sufficiency does get its own chapter and there are quite a few examples of Data Sufficiency in the book, I believe they could have done an even better job on the topic. The book seems to focus too much on rephrasing DS questions, which is not a bad idea at all; however, it seems to have missed a few details about this question type (i.e. never confuse a "No" answer with insufficient information). More practice questions would have also been a plus
Bottom Line

An impressive collection of both theory and practice, the Manhattan GMAT Number Properties Guide gets five stars for its completeness of the subject coverage. However, test takers be warned: this is no easy book, so be sure to pick it up well in advance of your test day!
If you're interested in purchasing the Manhattan GMAT Number Properties GMAT Strategy Guide, 4th edition, click here.
Read more book reviews in the Beat The GMAT Book Recommendations section.
If you liked this article, let Dana Jinaru know by clicking Like.