Veritas Prep Daily GMAT Challenge – Critical Reasoning and Combinatorics!: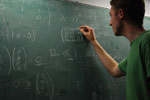 Each day this week, we will be challenging the Beat The GMAT community with a Verbal and Quant question that we consider especially difficult. The first 10 people to provide the correct answer to either question in the comments section will win a Veritas Prep GMAT prep book.  Make sure to submit your answer(s) by 5pm PDT today to be eligible for the contest.  Winners will be announced in tomorrow's Veritas Prep post.
Combinatorics  Challenge Question
If the President and Vice President must sit next to each other in a row with 4 other members of the Board, how many different seating arrangements are possible?

(A) 120
(B) 240
(C) 300
(D) 360
(E) 720
Critical Reasoning Challenge Question
In North America there has been an explosion of public interest in, and enjoyment of, opera over the last three decades. The evidence of this explosion is that of the 70 or so professional opera companies currently active in North America, 45 were founded over the course of the last 30 years.

The reasoning above assumes which one of the following?

(A) All of the 70 professional opera companies are commercially viable options.
(B) There were fewer than 45 professional opera companies that had been active 30 years ago and that ceased operations during the last 30 years.
(C) There has not been a corresponding increase in the number of professional companies devoted to other performing arts.
(D) The size of the average audience at performances by professional opera companies has increased over the past three decades.
(E) The 45 most recently founded opera companies were all established as a result of enthusiasm on the part of a potential audience.
Solutions from Yesterday's Challenge Problems
Reading Comprehension Challenge Problem Solution
Read the problem first.
With Reading Comprehension passages, like this one that appears in the Veritas Prep Reading Comprehension book, it is important to note that the passages are often intentionally dense and technical.  Your task in reading them is not to be an expert on the subject matter, but to set yourself up to answer the questions correctly.  Those questions tend to focus much more on the author's intent and the structure of the passage than they do on the subject matter itself.  Accordingly, as you'll learn in the Veritas Prep Reading Comprehension lesson, your goals when reading each paragraph should be to:
Determine what the author is trying to accomplish
Reference briefly the scope of the content for future reference
Take paragraph 2, for example.  Here, the author leads by saying that the previous hypothesis worked fairly well, HOWEVER under further investigation it simply didn't hold up.  Then, scientists adopted a second theory, called the nebular hypothesis.
If you've noted that much – which is made much easier by focusing on keywords like "however" that signal transition and organization – you're in terrific shape to answer further questions.
When questions do ask about details, they're quite often still dealing with the way that those details are organized.  Having that two-point checklist for each paragraph will be helpful for you in determining which section to revisit (the above question asks about the details of the nebular hypothesis, which we've noted is detailed in the second half of paragraph two).  From there, see what the question asks you to do – often times, detail-oritented questions will ask about a cause-effect relationship, in which case you need to be careful to supply the correct half (if it asks for a cause, the effect will be a tempting wrong answer choice).
This question asks for the cause of the protoplanetary disc.  Knowing that the nebular hypothesis is detailed toward the bottom of the second paragraph, you can skim for an easy-to-find word like "protoplanetary" to know where to read for that relationship. Here, it can be found in the sentence "The resulting angular momentum would have morphed the nebula into a protoplanetary disc."  The word "resulting" in that sentence should be a nice signal for you – the angular momentum that created the disc is the result of what comes prior, so a read of the preceding sentence or two should supply the answer.  The previous sentence says that "…when a cloud reached a critical mass, it collapsed under its own gravity."  With those two sentences, we know that a cloud collapsed under its own gravity, and the resulting angular momentum created the protoplanetary disc.  Scanning the answer choices, that is exactly what choice B says, making it the correct answer.
When approaching Reading Comprehension passages and questions, remember that your job is to approach these topics as a manager and not as a subject matter expert.  Reading for the organization of each paragraph, and for any details contained in questions, will allow you to read effectively, efficiently, and in a manner in line with how you'll read in the business world.
Congratulations to the following people for correctly answering the question:
Vibhavender Y, Ank,  Sarathy Srinivas, Govardhan, Jeri, Pavan, Neil, Praveen, Amit, and Sachin Deshpande!  We will be sending you a message shortly requesting information about where to send your book.
Data Sufficiency Challenge Problem   Solution
Read the problem first.
Like many Data Sufficiency questions, this question, which appears in the Veritas Prep Data Sufficiency lesson book, will test your ability to consider the entire array of possible numbers, and how each might impact the answer to the overarching question (in this case, is
?).
Here, it seems logical to most examinees to take statement 1 and divide both sides by x, leaving:
x = 9
With this rephrasing of the statement (which is INCORRECT – more to come on that!), the answer to the question would be a definitive "NO", as x is not less than or equal to zero.  As you'll learn in the Veritas Prep Data Sufficiency book, this means that the answer would need to be A or D, given that statement 1 is sufficient (again, we'll debunk this shortly).
Moving on to statement 2, you'll see one of the GMAT's greatest trickery devices at work.  First, analyze the statement, which is a clever one.  It says, conceptually, that:
Taking the absolute value of x is the same as multiplying it by negative one.
When you see a negative sign in front of a variable or a parenthetical statement (e.g. 3 – (x + 2)), you'll be well served to insert a coefficient of 1 next to the negative for ease of understanding that step.  Here, -x may look fairly abstract (does that mean that x is negative?), but -1 (x) is clearer; you're taking whatever x may be and multiplying it by negative one.
In this statement, then, you'll likely note that positive numbers do not work:  the absolute value of 7, for example, is 7…which is not the same as -1(7).  But for negative numbers, it does work:  The absolute value of -7 is 7, and so is -1(-7).
Here is where you can employ a quite useful strategy, covered in the Veritas Prep Data Sufficiency lesson, called "don't contradict yourself".  If you've determined based on statement 1 that x is 9, but statement 2 tells you that it cannot be positive, you've done something wrong – the two statements WILL NOT contradict each other!  Now that we realize that we've made a mistake, we can go back to check our work, and find that:
0 satisfies both statements.  In statement 1,
is the same as 9(0), and in statement 2 the absolute value of 0 is the same as multiplying 0 by -1.
Often times, Data Sufficiency questions rely on your ability to consider the numbers that don't come to mind as often – namely negative numbers, nonintegers, and 0.  If you can keep yourself aware of the possibilities for those numbers to be in play, you'll avoid many of the traps that the GMAT authors lay for you.
Here, let's return to the statements, now considering 0 as an option.  In statement 1, because x could be 0, we can't simply divide by it (dividing by 0 is undefined).  Instead, we need to take the statement:
or
Because x could be
(0) and it might not be
(9), the statement is insufficient.
With statement 2, we know that x cannot be positive, but it could be negative or 0.  That directly matches the question stem, so statement 2 alone is sufficient, and the correct answer is B.
Congratulations to the following people for correctly answering the question:
Ank, Sarathy Srinivas, Vibhavender Y, Jeri, Neil Zieses, Amit, Nicole, Govardhan, Pavan, and Praveen!  We will be sending you a message shortly requesting information about where to send your book.
Free Trial Class TODAY: Join Brian Galvin, Veritas Prep's Director of Academic Programs and one of our highest-rated GMAT instructors, today Thursday July 1 for a 3-hour Combinatorics & Probability GMAT lesson.  This is lesson 12 of Veritas Prep's 14 lesson Complete Course! RSVP TODAY.
This week only – 50% off Veritas Prep GMAT books: Just for this week, take 50% off Veritas Prep GMAT books. Use discount code VPBooks10.
If you liked this article, let Brian Galvin know by clicking Like.