Manhattan GMAT Reading Comprehension GMAT Strategy Guide: Book Review:
The following book review was written by Dana Jinaru. Dana is currently a finance student in Europe and also serves as a moderator for Beat The GMAT. On May 13, 2009 she scored a 770 on the GMAT.
Here is Dana's analysis of the Manhattan GMAT Reading Comprehension Guide.
Overview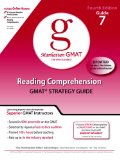 Reading Comprehension (RC) is possibly the only question type that you'll see in all major standardized tests: SAT, GMAT, LSAT, GRE, and so forth. Unfortunately, reading comprehension is also one of the hardest areas to improve as a test taker, simply because RC is closely linked your overall ease in reading and to your general English fluency. Even so, the Manhattan GMAT Reading Comprehension Guide does provide some useful strategies for attacking this question type.
This book was the first GMAT guide that is dedicated exclusively to GMAT Reading Comprehension. As such, it filled the need for a quick reference on this verbal section. The Manhattan GMAT RC guide is especially useful for non-native speakers of English, but could benefit native speakers as well by improving their accuracy and speed when dealing with this particularly time-consuming question type.
Pros
One of the few guides on the market that is entirely dedicated to Reading Comprehension. The alternatives to the Manhattan GMAT RC book would be general or verbal strategy guides, but they are usually not as detailed as this book (with the possible exception of the PowerScore Verbal Bible—however the PowerScore book contains markedly fewer practice problems). More recently though, Veritas Prep also launched an RC guide
Really good lessons on theory/concepts.  Manhattan GMAT's friendly approach earns them points by making the learning process quite pleasant
Provides access to 6 online computer adaptive tests (considered to be among the best in the industry) and 25 extra practice questions. As opposed to the SC guide, this book contains quite a few practice questions: 44 in total, with good explanations and a reasonable difficulty level
Offers detailed note-taking tips.  This is actually one of the main focuses of the book, which is a plus compared to the PowerScore Verbal Bible.
Cons
I would have loved to see more about connectors and their role in passages in a separate section of the book. Tips regarding this topic sometimes pop up, but they're not grouped together
The system that Manhattan GMAT uses to classify various passages and questions is a bit superficial, so to speak. For instance, the length of a passage is not necessarily what makes it difficult, in my opinion. The analysis of different question types is not as complete as it could have been
Bottom Line


As the only book to cover exclusively RC, the Manhattan GMAT Reading Comprehension Guide is a welcomed addition to the series of question-specific books available for the verbal section of the GMAT. It scores well for the number and quality of problems and note-taking strategies, but it could use some work on its classifications and theoretical review.
If you're interested in purchasing the Manhattan GMAT Reading Comprehension Strategy Guide, click here
.
Read more book reviews in the Beat The GMAT Book Recommendations section.
If you liked this article, let Dana Jinaru know by clicking Like.