The Princeton Review Cracking the GMAT 2010 Edition: Book Review:
The following book review was written by Dana Jinaru.  Dana is currently a finance student in Europe and also serves as a moderator for Beat The GMAT.  On May 13, 2009 she scored a 770 on the GMAT.
Here is Dana's analysis of The Princeton Review Cracking The GMAT book.
Overview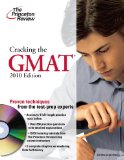 The Princeton Review Cracking the GMAT book is, like the Kaplan GMAT Premier Live Online book, a general GMAT strategy guide. However, apart from the natural similarities (such as separate chapters for the 5 types of problems you will see on the GMAT plus an essay section), the two books follow markedly different "paths to knowledge".
As advertised from the beginning, The Princeton Review Cracking the GMAT is not a guide that emphasizes building subject-matter skills in the quantitative or verbal fields, but rather focuses on what the authors call "cracking the system" – tips and tricks to help you score higher with an obvious preference for process of elimination (POE) and picking numbers. Personally, I do not fully support such strategies for the GMAT (I consider them more as backup plans).  Here's why: POE cannot and will never replace actually knowing the answer to a question, it will just improve your chances of getting it right. Picking numbers is also quite risky: I sometimes see this strategy discussed in online forums; people try to pick numbers, but particularly at an advanced level they pick the wrong set of numbers and everything falls apart.
The book is a pleasant read though, and I personally found the small info boxes on the sides of pages to be quite entertaining and interesting. The authors use "the average test taker" for examples of do's and don'ts. However, I didn't like the authors' tone for describing the GMAT – I felt an overall negative vibe about the test, which was not the case when I read the PowerScore CR Bible for instance. An example would come from the Reading Comprehension chapter: "No one in her right mind would ever read one of these passages of her own free will. They are almost always boring." I strongly disagree with this view, since I personally enjoyed most texts, particularly those dealing with the social sciences. My advice is to think of the GMAT as a sort of mind game you have to beat, an interesting little challenge. I assure you that feeling positive about the GMAT will make the experience a lot less painful.
Pros
A good introduction to the GMAT, an easy read to make you understand what the test is about, how it's scored, and what to expect on test day
If your quantitative skills are not fresh, definitely give this book a chance.  It covers math basics pretty well. Again, the fact that it's an easy read will probably help you reconnect with junior high and high school math
Questions are structured in "bins" according to difficulty, which means you can focus on your particular level when you practice
The book comes with a registration code you can use to gain online access to four CATs (computer-adaptive practice tests). However, I felt that these practice tests were a bit easier than the actual GMAT
Cons
If you're shooting for a higher score (above 600), this book won't help much. You will need other resources to help you reach your goal
At just over 280 questions, this book has fewer and easier practice questions as compared to other guides (like Kaplan Premier Live Online). Also the explanations could use some more work, particularly in verbal. I personally get really upset if the best explanation for why an answer is wrong is "because it's out of scope"! This will definitely not help a test taker understand where her error in reasoning was!
The focus on strategies such as POE and number picking means that you'll have some potentially useful tools for G-day, but such strategies might backfire. Cracking the GMAT does not provide an in-depth analysis of question types and their respective approaches
Bottom Line
After going through The Princeton Review's Cracking the GMAT book, all I can truly say is this: the book is good, but only for a certain level (that is, up to mid-600s). As a basic guide, it shines; as a tool for getting into that top 10 MBA, I do not think it delivers. If you do not already know your starting level, I advise you to do the following: go to MBA.com, download the free GMATPrep software, and take practice test #1 (save #2 for the last days of your prep!).  If you score significantly below 600, consider investing in this book. If you score higher than 600, you'd best search for a different resource since you'll need a more rigorous program to get to a higher percentile score.
If you're interested in purchasing The Princeton Review Cracking the GMAT book, click here
.
Read more book reviews in the Beat The GMAT Book Recommendations section.
If you liked this article, let Dana Jinaru know by clicking Like.