The PowerScore GMAT Critical Reasoning Bible: Book Review:
The following book review was written by Dana Jinaru.  Dana is currently a finance student in Europe and also serves as a moderator for Beat The GMAT.  On May 13, 2009 she scored a 770 on the GMAT.
Here is Dana's analysis of PowerScore's GMAT Critical Reasoning Bible.
Overview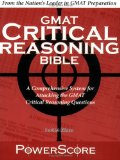 The PowerScore GMAT Critical Reasoning Bible (or the CR bible, as you'll see it commonly referenced in online forums) is published by the renowned LSAT-prep gurus, PowerScore. The LSAT and the GMAT have two question types that are somewhat similar: Reading Comprehension and Critical  Reasoning (known as 'Logical Reasoning' in the LSAT). This book comes in as an abridged form of the company's massively successful Logical Reasoning Bible.  This CR bible has a solid reputation as a comprehensive guide to one of the most puzzling question types on the GMAT.
The CR bible covers the topic of GMAT Critical Reasoning with incredible depth and detail. Questions are neatly organized according to "families" in order for the reader to understand the various logical connections between question types. The book deals with ten types of Critical Reasoning questions, all remarkably well analyzed, in ten separate chapters (by the way, PowerScore offers a free chapter to BTG members). The CR bible even addresses many rarely-tested CR question types; although I would love to see a separate chapter for boldface critical reasoning questions in a future edition (boldface critical reasoning questions are considered among the toughest question tested on the GMAT). One could argue that this book will also help in case you're having trouble with Reading Comprehension. I personally found the 'Main Point' chapter particularly enlightening and relevant to reading comprehension.
Pros
Detailed analysis of Critical Reasoning question types means that you will have a quick reference guide at hand should you ever feel the need to review for one topic or the other
Practice questions, although few, are the closest I've ever seen to actual GMAT questions (in terms of style). Explanations are also top notch, with great analysis of why a wrong answer is wrong. In my opinion, understanding why an answer is wrong helps you avoid common traps and is almost as useful as understanding why the correct choice is right
After reading the CR bible, you will be able to see why the GMAT is so popular with business school admissions. The process of "creating" a Critical Reasoning question is carefully explained, a fact which made me realize the amount of talent and effort that goes into making just one GMAT question. The author of the book clearly shows due respect to the GMAT test and its creators, which inspired me
If pressed for time, the book offers a quick strategy for studying the most important question types
Cons
At around 50 practice questions, the CR bible needs to be supplemented with other resources, such as the Official Guide or the Official Guide for Verbal Review
Unlike most prep books, this book does not come with a CD or online access to CATs (computer-adaptive practice tests)
The book only features two boldface questions (this question type is described in the 'Method of Reasoning' chapter)
Bottom Line
The PowerScore Critical Reasoning Bible is definitely worth the money if you feel you're having trouble with Critical Reasoning and Reading Comprehension. Its strategies and tips, if carefully studied and applied, will surely translate in an increase in your score.  I attribute much of my 11-point verbal raw score increase (from 36 to 47) to this book.
If you're interested in purchasing PowerScore's GMAT Critical Reasoning Bible, click here
.  To view a free chapter of this book, click here.
Read more book reviews in the Beat The GMAT Book Recommendations section.
If you liked this article, let Dana Jinaru know by clicking Like.