The Official Guide for GMAT Verbal Review, 2nd Edition: Book Review:
The following book review was written by Dana Jinaru.  Dana is currently a finance student in Europe and also serves as a moderator for Beat The GMAT.  On May 13, 2009 she scored a 770 on the GMAT.
Here is Dana's analysis of the Official Guide for GMAT Verbal Review, 2nd Edition.
Overview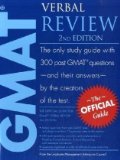 The Official Guide for GMAT Verbal Review, 2nd Edition, is a welcomed addition to the Official GMAT Review "family" of books. Since most test takers score lower in the verbal section than in the quantitative section,  you should not be surprised to learn that this is one of the most popular resources available for GMAT preparation.
As compared with other books with 100% verbal focus, the verbal supplement has the unequaled advantage of bringing you 300 official, retired questions. I cannot stress enough the importance of having real GMAT materials to practice: their quality and style is unmatched in the test prep industry! In terms of number of problems, the book contains:
104 Reading Comprehension
83 Critical Reasoning
113 Sentence Correction
Pros
The verbal review offers 300 additional official questions at a decent price, so if you're having trouble with verbal you should definitely consider investing in this book
As is the case with the Official Guide, explanations are neatly and clearly formulated. Each question is amply analyzed, with proper space given to the correct answer, the incorrect options and the reasoning behind the choice
Questions are arranged in order of difficulty should you wish to focus on harder material
Cons
One would expect a supplement to be centered around harder questions, but this is not the case. The overall level of difficulty is comparable to that of the Official Guide (largely easy and medium difficulty questions)
The strategy/tips section of each chapter is subpar, meaning that you will need an extra book or two for concepts. Consider the Sentence Correction section – its strategy section is only 7 pages long, while the GMAT tests for enough English language grammar rules to fill a whole volume!
If short on time, it is wise to go through the Official Guide for GMAT Review, 12th Edition, rather than to buy this book
Bottom Line
If you've finished the Official Guide and still feel the need for more practice, or have taken a diagnostic test and feel you're still having trouble with verbal, then this is the book for you. Note however that you should not simply go through official questions without a guidebook at hand, since this would mean using up valuable material without building a solid foundation of knowledge of common patterns and structures. Consider the Official Guide for GMAT Verbal Review as an extra opportunity to strengthen your verbal muscle!
IMPORTANT NOTE: If you already have the first edition of this book, there's no point in buying the second edition. The second edition contains 81 new problems (less than a third of total).  It's not worth paying more money just to see these problems. Here's a complete list of new problems:
Reading Comprehension: 1–6, 18–23, 45–49, 64–70, 91–97 (5 new passages and 31 new questions)
Critical Reasoning: 1, 3, 6, 9, 13, 17, 21, 25, 29, 33, 37, 40, 45, 48, 51, 54, 59, 62, 65, 70, 74, 78, 81 (23 new questions)
Sentence Correction: 1, 5, 8, 11, 14, 17, 22, 27, 31, 36, 42, 45, 53, 57, 61, 65, 69, 73, 79, 84, 88, 92, 96, 100, 104, 108, 112 (27 new questions)
If you're interested in purchasing the Official Guide for GMAT Verbal Review, 2nd Edition, click here
.
Read other reviews for the Official Guide series:
Read more book reviews in the Beat The GMAT Book Recommendations section.
If you liked this article, let Dana Jinaru know by clicking Like.