The Official Guide for GMAT Review, 12th Edition: Book Review:
The following book review was written by Dana Jinaru.  Dana is currently a finance student in Europe and also serves as a moderator for Beat The GMAT.  On May 13, 2009 she scored a 770 on the GMAT.
Here is Dana's analysis of the Official Guide for GMAT Review, 12th Edition.
Overview
The most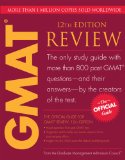 important piece of information that you need to know about the Official Guide (often called the OG on forums) is that it contains real, retired GMAT questions. As such, material released by the GMAC (the creator of the test) is utterly priceless, since replicating the exact structure and "feel" of real GMAT questions is something that test prep companies have yet to accomplish.
The book is not exactly "travel size", but this should be regarded as a plus, since it stems from the fact that the book features 907 questions and quite generous answer explanations (particularly in verbal). The problems are structured as follows:
48 Quantitative and 52 Verbal in the Diagnostics Test
230 Problem Solving
174 Data Sufficiency
139 Reading Comprehension
124 Critical Reasoning
140 Sentence Correction
Pros
A great, all-in-one resource for official questions, excellent for training your eye to spot commonly-tested patterns. This is the reason why I believe that it's worth investing some energy even in lower difficulty questions (unless pressed for time)
Detailed explanations in verbal: this is something that I have not seen mentioned often, but I believe is of crucial importance. In all three sections, explanations follow a similar style: an overview of the question and a solid analysis of ALL the answers, not just the correct one. Understanding why your answer is wrong is sometimes even more important than getting it right
Questions are arranged in order of difficulty, so if you have little time at hand and feel sufficiently confident about your knowledge, you can just focus on the last questions of each section
Good value for your money: at just over 20 dollars on Amazon.com, getting over 900 retired questions is a bargain
Cons
The OG is not a strategy guide, it's a "workout list". Each section contains a review of the subject, but this is not nearly enough to get you through the test, especially if your math skills are a bit rusty. You will need to rely on other resources for this!
While verbal explanations are generally high quality, quantitative explanations are not as great. Some test takers (particularly advanced ones) will often find themselves opting for a quicker or easier way to solve the given problems. I will however note that more often than not, the OG explanations do not feature number picking. While this is sometimes a faster way to solve a problem, its use is confusing for some GMAT hopefuls
This book is intended to be a guide for the general test taker, so be prepared to see mostly easy and medium difficulty problems. If aiming for a top score, you'll need to supplement your prep with harder material (such as LSAT sets for critical reasoning). As mentioned before though, do not neglect the easy stuff, since it gets you in the right mindset for the official style of questions. Besides, it's usually the very easy questions that throw off advanced students!
Bottom Line
Official Guide for Review, 12th Edition is a must have, no matter your level. Even though you will have to spend some extra money on a good strategy book, getting the OG is crucial for your prep. As you go through various GMAT-related material, you will begin to notice the difference between an official question (clear-cut answers, great structure) and an unofficial question (structure is sometimes lacking, answers not as well defined). Because the "feel" of official questions is markedly different from that of test prep developed questions, I recommend saving/carefully reviewing some problems for the very last days before your test.
IMPORTANT NOTE: The 12th edition was released in the sprig of 2009 and contains roughly 300 new questions as compared to the previous, orange-color 11th edition of the OG. As such, if you already have the older version, it is not necessary to spend the extra money on the newer one. If you do have a choice between the two, go for the most recent edition; if not, the 11th is just as good.
If you're interested in purchasing the Official Guide for GMAT Review, 12th Edition, click here
.
Read other reviews for the Official Guide series:
Read more book reviews in the Beat The GMAT Book Recommendations section.
If you liked this article, let Dana Jinaru know by clicking Like.