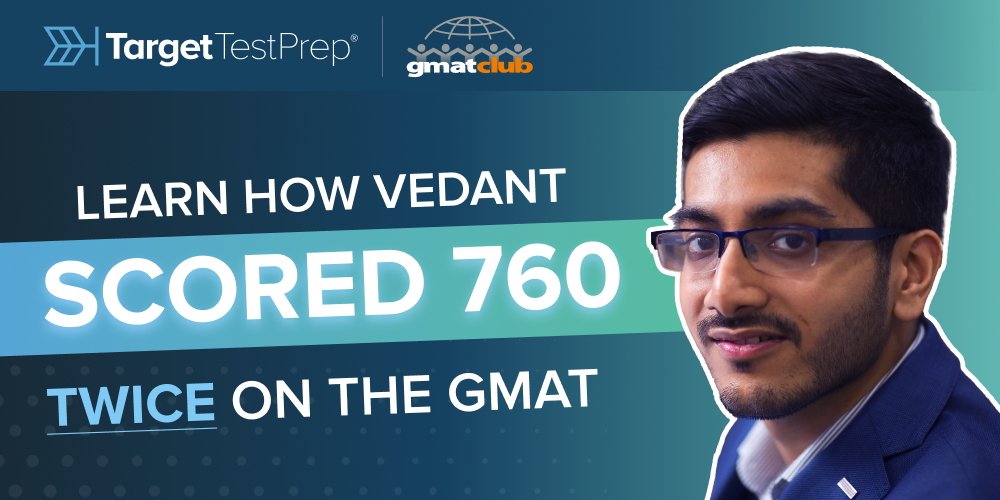 "TTP, frankly, exceeded all my expectations."
- Vedant Jain, TTP student
Who says lightning doesn't strike twice? With the Target Test Prep GMAT Course, Vedant earned a GMAT score of
760 (Q49/V45) twice … in one week
!
"TTP is all you really need to get a 99th percentile score," Vedant says. "Everything is perfectly organized, with all the relevant data and metrics at your fingertips, so you can focus on the actual learning and practicing. It's an all-in-one solution and a pleasure to use."
In this live interview
, Vedant discusses his GMAT study plan and techniques and how TTP's course helped him achieve a massive 760 GMAT score not once but twice.
Using the science of spaced learning and strategic repetition, TTP's revolutionary GMAT course maximizes knowledge retention and makes studying simple and fun. See the results for yourself with a
5-day full access of TTP for just $1
, and check out
Vedant's incredible story here
.
"The GMAT can be very daunting. TTP makes it simple."
- Vedant Jain, TTP student
Let's do this!!
Warmest regards,
Scott