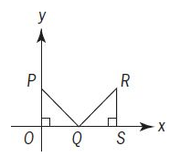 In the rectangular coordinate system above, if ΔOPQ and ΔQRS have equal area, what are the coordinates of point R?
(1) The coordinates of point P are (0, 12).
(2) OP = OQ and QS = RS.
The OA is
C
.
For statement 1, can't a Pythagorean triplet apply? That way A is also sufficient. (12,13,5)
B) is sufficient on its own too, giving us triangle 1 with (0,0) (0,12) and since two sides are equal, (12,0)for the coordinate Q.
And since we have (12,0) we get 24,0 and the last coordinate of R
Could someone explain why
D
is wrong? And what is the error in the above logic?