In the figure below, AB is the chord of a circle with center O. AB is extended to C such that BC = OB. The straight line CO is produced to meet the circle at D. If ACD = y degrees and AOD = x degrees such that x = ky, then the value of k is?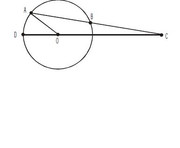 A. 3
B. 2
C. 1
D. None of the above
The OA is
A
.
I'm really confused by this PS question. Experts, any suggestion about how can I solve it? Thanks in advance.