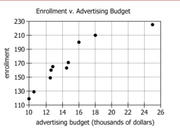 The graph shows the relationship between a child care center's advertising budget and its annual enrollment over the previous 10 years.
Based on the information provided, from each drop-down menu, select the option that completes each statement in the most accurate manner.
During one of the years depicted in the graph, the total revenue was $1,890,000, or $9,000 per child. In this year, the advertising budget was...
Options : 10,000, 12,000, 16,000 or 18,000
can someone help explain why the answer is 18,000