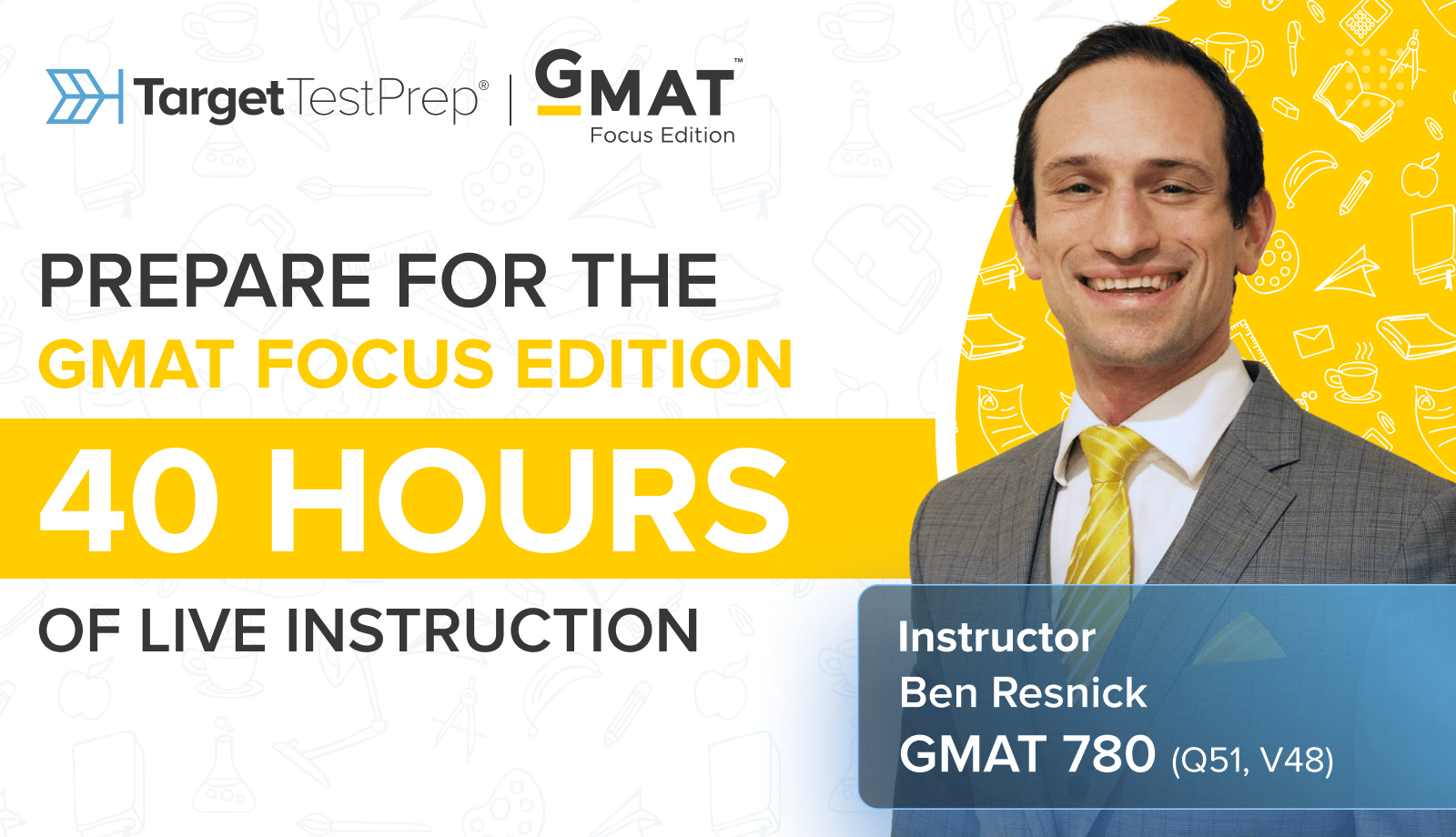 Hello, my friends at Beat The GMAT!
If you're preparing for the GMAT Focus Edition but don't want to spread your study timeline over several months, Target Test Prep has a solution for you: GMAT Focus LiveTeach.
Until September 30, you can get 15% off Target Test Prep's GMAT live online classes. Enter the code FLASH15 at checkout to take advantage of this special offer, and take the next step toward GMAT success.
With
40 hours of live instruction
from 780-scoring GMAT instructor Ben Resnick, you can accelerate your test prep timeline and prepare yourself for the new challenges the GMAT Focus Edition has in store.
TTP LiveTeach gives you more than just expert in-class instruction. We give you all the tools and support you need to work toward your score goal outside of class as well.
Top 6 Reasons to Join the LiveTeach Online Program
Expert Instructor
: Ben Resnick has been teaching the GMAT for nearly a decade, logging thousands of hours coaching students from around the world to achieve breakthrough score improvements. Having earned a
780 (Q51/V48)
on his own GMAT, he knows exactly what it takes to succeed on test day. In fact, he stays fresh on all things GMAT in part by continuing to take the exam regularly and has scored above 760 on the GMAT five times!
Personalized Attention
: The LiveTeach program features a small class size, allowing the instructor to provide more personalized attention to each student. You'll get targeted guidance that addresses your unique learning needs and ensures a better understanding of the material.
Interactive Sessions
: The LiveTeach virtual classroom allows you to interact in real-time with your instructor and classmates. Engage in group discussions, ask questions and get instant feedback, and stay motivated to learn alongside your peers.
Flexible Learning
: LiveTeach classes are designed to fit seamlessly into your busy lifestyle. Attend classes from anywhere using your laptop, tablet, or phone. Then, connect with your classmates and teacher anytime in an exclusive Slack community for your class. Whether you're learning on the go or in the comfort of your living room, you never have to miss a class.
Collaborative Learning
: Studying for the GMAT Focus doesn't have to be a lonely experience. LiveTeach classes encourage collaboration among peers through group activities during each session and discussions on the class Slack channel, creating a support network as well as opportunities for peer-to-peer learning and sharing experiences in your GMAT Focus journey.
Recorded Sessions
: All LiveTeach classes are recorded, allowing you to revisit the material at your convenience. You'll be able to easily access the class recordings online to review complex topics, refresh your memory on past lessons, or catch up on missed classes.
As a LiveTeach student, you'll master even the most intimidating GMAT Focus concepts and optimize your performance on test questions in a matter of weeks.
But your learning doesn't stop when class is over. With a subscription to the TTP online self-study course included in your LiveTeach registration, you'll get access to the new TTP GMAT Focus platform, including expanded Data Insights material, which is launching soon.
The next round of classes
starts Monday, October 9
, and seating is limited. So,
book your spot before they're all taken
!
Feel free to reach out to me at
[email protected]
with any questions.
Warmest regards,
Scott