The Ultimate Business School Guide
Schulich School of Business (York University)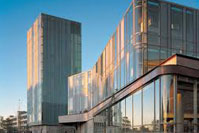 4700 Keele Street
Toronto, Ontario
Canada
-

people following this school
-

people applying to this school
Your Status for This School
Honor Roll
Members Accepted by Schulich
Most Active Schulich Commenters
2012/2013 ESSAY QUESTIONS
Why is the master's program a critical next step toward your short-and long-term career goals? (500 words)
The Schulich School of Business is Canada's Global Business School. Each applicant has a set of unique experiences and perspectives which contribute to the program. How will your background enhance and broaden your learning and that of your classmates in Schulich's diverse environment? (500 words)
Complete 2 of the 4 following questions or statements:

If you could change one decision you made in your life, what would it be? How would your life be different today? (250 words)
Describe a situation you have experienced while in a professional/personal setting that you deemed an ethical dilemma. What was your involvement in the situation and how was it resolved? (250 words)
Comment on the barriers you encountered that impacted your team's ability to realize its full potential. (250 words)
Comment on why innovation is critical to success. (250 words)

Optional Scholarship and Award consideration Essay: Describe your involvement in activities outside of work. How have they contributed to your personal achievements and enhanced your self-development? (500 words)
Optional Essay: Is there any other information or areas of concern in your academic or personal history that you believe would be helpful to the Admissions Committee in considering your application?