The Ultimate Business School Guide
Johnson at Cornell University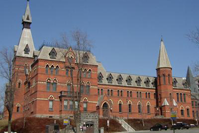 Sage Hall Cornell University
Ithaca, NY 14853-6201
-

people following this school
-

people applying to this school
Your Status for This School
Honor Roll
Members Accepted by Johnson
Most Active Johnson Commenters
2012/2013 ESSAY QUESTIONS
CAREER CHOICE ESSAY: How would you characterize your career since college?(300 word maximum)

This is not your job description or complete history of your work since graduating (we already ask for that in the online portion and can see this on your resume). You need to choose the most important elements that show your initiative, contribution, leadership and results achieved.
CAREER GOAL ESSAY: Tell us about your short and long term career goals.(400 word maximum)

Please show you have a clear direction for your goal post-MBA. Good essays will emphasize what an applicant wants to do while at Johnson and how you will use this experience to accomplish your goal.
CHARACTER ESSAY: Please choose one of the following to write about (400 word maximum for chosen question):

You are the author for the book of Your Life Story. Please write the table of contents for the book. Note: Approach this essay with your unique style. We value creativity and authenticity.
Describe a situation taken from your personal or professional life where you failed and tell us what you learned.
What does diversity mean to you and how will you contribute to the diversity of our community at Johnson?
Essay Tips - Articles
by John Byrne on June 27th, 2012
Essay Tips - Videos
Cornell Johnson MBA Essay Analysis - 2012-2013 Season - Write Like an Expert 2012

by Admissionado on August 28, 2012