The Ultimate Business School Guide
Columbia Business School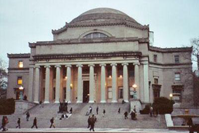 3022 Broadway
New York, NY 10027
-

people following this school
-

people applying to this school
Your Status for This School
Honor Roll
Members Accepted by Columbia
Most Active Columbia Commenters
2013/2014 ESSAY QUESTIONS
Short Answer Question: What is your immediate post-MBA professional goal? (100 characters maximum)
Essay 1: Given your individual background, why are you pursuing a Columbia MBA at this time? (maximum 500 words)
Essay 2: Columbia Business School is located in the heart o the world's business capital - Manhattan. How do you anticipate that New York City will impact your experience at Columbia? (maximum 250 words)
Essay 3: What will the people in your Cluster be pleasantly surprised to learn about you? (maximum 250 words)
Optional Essay: An optional fourth essay will allow you to discuss any issues that do not fall within the purview of the required essays.
Essay Tips - Articles
Essay Tips - Videos
Columbia Business School Essay Analysis 2013/2014 Season - Write Like An Expert

by Rachel Beck, mbaMission, on August 20, 2013