The Ultimate Business School Guide
Columbia Business School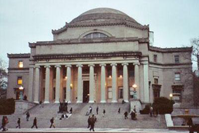 3022 Broadway
New York, NY 10027
-

people following this school
-

people applying to this school
Your Status for This School

"Columbia Write Like an Expert - Chat Party" - Thu, Aug 28 @ 4-6pm (EDT)

Join us for an un-moderated chat party in which we break down this year's Columbia application essays. This session will follow the WLAE live webinar for which you can RSVP now!
Honor Roll
Members Accepted by Columbia
Most Active Columbia Commenters
2014/2015 ESSAY QUESTIONS
Short Answer Question: What is your immediate post-MBA professional goal? (75 characters maximum)
Essay 1: Given your individual background, why are you pursuing a Columbia MBA at this time? (Maximum 500 words)
Essay 2: Please view The Center video. How will you take advantage of being "at the very center of business"? (Maximum 250 words)
Essay 3: What will the people in your Cluster be pleasantly surprised to learn about you? (Maximum 250 words)
Optional Essay: An optional fourth essay will allow you to discuss any issues that do not fall within the purview of the required essays.
Essay Tips - Articles
Essay Tips - Videos
Columbia Business School Essay Analysis 2013/2014 Season - Write Like An Expert

by Rachel Beck, mbaMission, on August 20, 2013