GMAT Tip: Wait, Do I Need the GRE, Too? – Part 3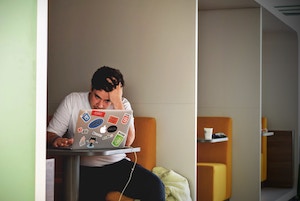 In our last two posts (Part 1 and Part 2) we've covered overlaps between the GMAT and GRE for those students who find themselves in the situation of requiring both exams for dual degree programs.
In this post, we'll address how to dominate all things essays.
First and foremost—this is not a creative writing exercise.
Let us repeat—being Ernest Hemingway or Hunter S. Thompson is not required to score the highest score, a 6, and these essays. ETS and the GMAC are looking for something more along the lines of Paul Krugman, but with less flair and in fewer words.
The GRE has two essays that you are required to complete—the Issue Essay and the Argument Essay. You are given 30 minutes to complete both essays, which come at the beginning of the examination.
The Argument Essay is very similar to the GMAT AWA in that you are asked to assess and interpret a provided argument in 30 minutes.
The Issue Essay is a bit more unique—you'll be given a very broad question such as—As people rely more and more on technology to solve problems, the ability of humans to think for themselves will surely deteriorate.
Each set of directions following the issue prompt will be different, so it is essential that you take a moment to read and consider what you are being asked to interpret. For this particular essay, the directions are to:
Discuss the extent to which you agree or disagree with the statement and explain your reasoning for the position you take. In developing and supporting your position, you should consider ways in which the statement might or might not hold true and explain how these considerations shape your position.
One unique  component of the GRE essays is that ETS provides a topic pool unique, very much unlike the AWA, which is a complete surprise. Don't get too excited—while it's good to read through the topic pool and, of course, utilize them for practice, the are a couple hundreds topics. The likelihood that you'll remember the topic you receive is pretty slim … unless you've had a ton of time on your hands!
Beyond that, the rules for good essay writing on graduate level exams is to recognize that you must be methodical, organized, clear, and direct in your approach. While both value variations in sentence structure and vocabulary, the biggest key is clarity—they are looking for your points to be obvious and stated well.
When sitting down to do the essay, first read the prompt, then spend a few minutes developing an outline. Jumping right into writing your essay is never a good idea—you'll lose track of your points, get repetitive, and run out of time.
As you jot down your outline, think of what first comes to mind. What's the "easiest" side to prove? What supporting evidence will you use?
A five paragraph essay is not always necessary, but generally, turns out as a great template for most test takers. Starting with an introduction—which just needs to state your choice of side and what you plan to talk about—moving on to three body paragraphs, and finally to the conclusion, will give you the word count and enough room to state your points sufficiently but concisely.
From there, start to type your essay, fleshing out your points and evidence with a variety of vocabulary and sentence constructions. Make sure you leave 3-5 minutes at the end to read your essay, eliminating typos and grammar mistakes as you catch them. There is no spell check or grammar check with these essay platforms. You'd be surprised how often you'll rely on auto-correct. You don't necessarily need 100%, but points can be counted on for an excessive or distracting amount of errors.
A final tip on doing these essays is practice, practice, practice. There are online grading options for all three essay types—the Issue, Argue, and AWA—that cab provide valuable feedback and guidance. Beyond that, simple familiarity with the essay, understanding timing and approach, goes a long way to scoring well.
If you liked this article, let Veritas Prep know by clicking Like.