UCLA Anderson Breaks Ground on New Innovative Building
On October 19th, UCLA Anderson School of Management broke ground on a new state-of-the-art building on campus: the Marion Anderson Hall. The hall was made possible thanks to an unprecedented $100 million gift from benefactress Marion Anderson in May 2015—$40 million of which was earmarked for the building. The groundbreaking ceremony was attended by Dean Judy Olian, Senior Associate Dean Al Osborne Jr., UCLA Chancellor Gene Block, and Marion Anderson Hall donors: Sam Tang (MBA '87), Donald and Sherie Morrison, Bob Wilson (BS '53), Luis (MBA '02) and Lindsey Serrano, and Heather Hasso.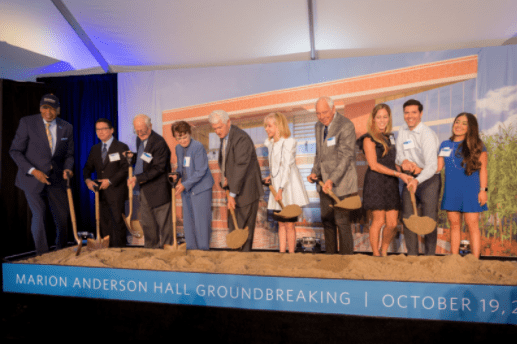 Left to right: Senior Associate Dean Al Osborne, Jr., Sam Tang (MBA '87), Donald Morrison, Sherie Morrison, UCLA Chancellor Gene Block, Dean Judy Olian, Bob Wilson (BS '53), Lindsey Serrano, Luis Serrano (MBA '02), Heather Hasso
The new building will offer more than 64,000 square feet and four floors of space and will include active learning classrooms, work spaces, an auditorium, and event/gathering spaces. Its design—created by Pei Cobb Freed & Partners, in partnership with Gensler, a global architectural, design, and planning firm—will help to foster student and faculty interactions while also bringing certain aspects of the business school under roof, including the MBA programs. It will also include the latest in classroom technology with a variety of learning and collaboration opportunities for students.
"Marion Anderson Hall is so much more than a new building," Dean Judy Olian said in a press release. "It's a continuation of a tradition started by the Andersons 30 years ago, when her husband John provided the historic naming gift for the school. Marion was fervent in her belief that education creates opportunity—for students and alumni, for their families and friends—and that that opportunity spills over into companies and communities."
As the first new addition to the Anderson complex since 1995, Marion Anderson Hall will provide much needed space for a community that has seen a 64 percent increase in students, 58 percent increase in staff, and 19 percent increase in faculty since 1995. It will also support the learning needs of 21st-century careers with best-in-class learning technologies while creating new opportunities for innovative pedagogy.
"The building—and all it will achieve—will be a living tribute to the vast legacy Marion leaves behind," continued Olian. "And it will be the physical gateway into the John E. Anderson School of Management, symbolizing the lifelong partnership between Marion and John. How wonderful is that?"
To learn more about the upcoming Marion Anderson Hall, watch the videos on the school website.
If you liked this article, let Clear Admit know by clicking Like.