LBS Alumni Gather for Worldwide Alumni Celebration in London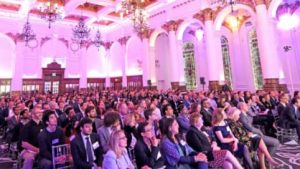 On September 28th, the same week that London Business School (LBS) officially opened its new Sammy Ofer Centre, LBS alumni from around the world gathered together for a Worldwide Alumni Celebration (WAC) event. This was just one of approximately 85 WAC events that take place around the globe in locations such as Madrid, Melbourne, Jakarta, Lima, and Los Angeles. The recent London WAC drew 300 alumni from multiple industries to discuss innovation in a new world environment.
The London WAC event was covered in a university press release, which discussed the three main speakers who kicked it off.
Sarah Wilkinson is an Executive MBA alumna and the CEO of NHS Digital, which provides national information, data, and IT systems for health and care services in the United Kingdom. She spoke about how innovation is no longer about solely adapting to change but also about the process of introducing new ideas, methods, and devices regularly. In her speech, she asked the audience: "What does it mean to create a business environment in which we can do this? How do we integrate strategy, how do we get employees comfortable with it, and how do we get our firms better connected to the outside world?"
Costas Markides is a professor of strategy and entrepreneurship at LBS. He spoke about the difficulties of innovation in large companies, highlighting factors such as limited attention spans and how the average U.K. executive spends 40 percent of his or her week dealing with internal issues.
Nuno Sebastião is the founder and CEO of artificial intelligence and machine learning firm Feedzai and a 2017 Accomplished Entrepreneur Awards winner. He spoke about his time as an Executive MBA at LBS and what it took to get his startup off the ground. "It was hard! Portugal asked for a bailout during that period [in 2011]," he said. "If you want to build something new, you have to innovate. I knew I needed to embed myself with people who think big. LBS gives you that confidence."
As for the audience, it was filled with a variety of alumni including Paul Oliver, the co-founder and CTO of financial services tech startup JP Hamel, who graduated from the Executive MBA program at LBS 15 years ago. When speaking about WAC as well as his experience as an alumnus, he said: "I have lifelong friends from LBS—half of them came to my wedding. Everyone is hungry for the same thing: immediate learning, a global network, and a stunning brand reputation. It was hard, but it pays off for the rest of your life."
Then, there was alumna Sónia Vieira, an '15 EMBA graduate, who said LBS alumni are "fearless and have a can-do attitude." While Trevor Tay, an '02 MBA grad, called LBS a "fantastic global institution."
"I hope you appreciate how important you are to the school," LBS Dean François Ortalo-Magné said to the assembled crowd. "You are our one non-tradable asset."
If you liked this article, let Clear Admit know by clicking Like.