How This Midwestern Transplant Is Going to Stanford GSB Tuition Free
Amanda Donohue-Hansen is not from the Midwest, but she went to Minnesota for college, fell in love with the region, and has remained there ever since. Nevertheless, she'll soon be packing her bags and heading back to her home state of California to attend Stanford Graduate School of Business (GSB) on a full fellowship. Her Cali family may be celebrating that she'll once again be within driving distance, but her Minneapolis friends and colleagues have nothing to worry about. She's coming back plans to return as soon as she earns her MBA.
Donohue-Hansen is one of three inaugural recipients of the USA MBA Fellowship, launched by Stanford in September 2016 to help support students who are passionate about generating economic development in regions of the United States underrepresented in the GSB MBA program. Up first, the Midwest.
Recipients of the fellowship attend Stanford tuition-free with one catch: They have to promise to return to work in the Midwest upon graduating. Only for Donohue-Hansen—who currently leads alternative plant protein ventures for food and agricultural giant Cargill, Inc.—the "catch" was not a catch at all. Passionate about food and agriculture and intent on staying in her adopted Midwestern home, Donohue-Hansen had begun to explore ways to take her career to the next level. "For someone interested in food and ag tech and innovation in business models, there is just so much happening in the Bay Area," she says. "For better or for worse it is more concentrated there than in the Midwest." And then she learned about the Stanford fellowship. "It was so well aligned with my interest to take those skills and learning and bring them back to the Midwest," she says. "It was kind of a string that pulled everything together for me."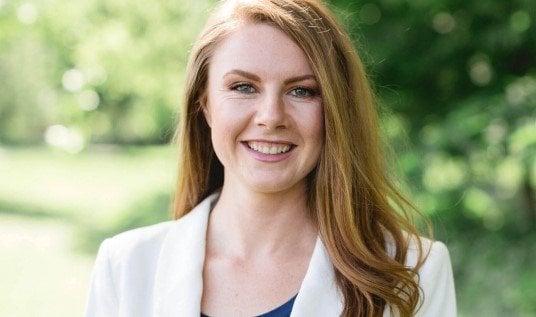 Amanda Donohue-Hansen
The first in her family to finish college, Donohue-Hansen graduated summa cum laude from the University of Minnesota, Twin Cities, where she snagged the Tomato Can Loving Cup, one of the highest honors awarded to undergraduate students. Her undergraduate degree—in nonprofit and international development—fostered her passion for food and agriculture, she says. "In development in general food and ag play huge roles—agriculture is both a core livelihood and a way for people around the world to sustain themselves." And through great study abroad experiences—including a semester spent in Ecuador, during which she moved by herself to a rural indigenous community in the mountains and worked to help diversify the community's food supply—she became more and more interested in food and agriculture as a means of economic development.
Despite taking every opportunity she could to study abroad during college, the Midwest is where she wants to be for the long haul. "One of the things I learned about myself is that I enjoy travel but I am very rooted in my home here in the Minneapolis area." What is it about the Midwest that stole her heart? It's actually a few things, she says. "What really stood out to me about the Twin Cities was this perfect blend of outdoorsy meets city." Minneapolis offers theaters, museums, restaurants—and then she can drive 20 minutes out of town to go hiking, canoeing, or kayaking. She also loves that Minnesota tends to have defined communities. "Growing up in Southern California—it was a bit sprawling with one town bleeding into another."
When she moved to Minnesota, she got lots of questions about how a California girl ended up there. Now, she's anticipating plenty of questions about how a Minnesotan ended up at Stanford GSB. "It's an interesting journey going from California to Minnesota, then back to California only to come back to Minnesota," she concedes. "But it's my story, and I love it!"
Donohue-Hansen will join two other USA MBA Fellows when she arrives on Stanford's campus in September. The second USA MBA Fellow is Taylor Seabaugh, a St. Louis product engineer and patent holder who volunteers in the public-school system and hopes one day to build a company that disrupts the materials market to address issues like climate change. And the third is Adam Verhasselt, another first-generation college graduate who left his Wisconsin dairy farm roots to graduate with distinction from the University of Wisconsin and go on to work in the commercial banking industry. Once he's earned his Stanford MBA, he hopes to drive innovation in Midwest industry companies.
"The Midwest is strategically important to the United States and global economy, and Stanford wants to contribute to its strength by encouraging students and alumni to foster economic development and pursue careers in the region," Stanford GSB Dean Jonathan Levin said in a statement. "Adam, Amanda, and Taylor have each demonstrated tremendous passion and commitment to the Midwest, and we look forward to seeing both their long-term impact, as well as the unique perspective they will bring to our student body."
Could You Be Stanford GSB's Next USA MBA Fellow?
Do you have passion for and commitment to the Midwest that could be further honed by two years in business school at Stanford? Learn more about this unique fellowship at any of several upcoming information sessions scheduled throughout the region:
Applications for the next round of USA MBA Fellowship recipients are currently being accepted in Round 1 (through Sept. 19, 2017) and Round 2 (through Jan. 10, 2018).
If you liked this article, let Clear Admit know by clicking Like.