What B-Schools Produced the Most Unicorn Founders
Billion-dollar startups, affectionately coined "unicorns," have become a benchmark that business schools around the world use to boast overall success. But which business schools actually produce the most successful startup founders?
Earlier this year, U.K. software research firm Sage compiled data on billion-dollar startups, which also included the schools from which company founders graduated. The research, unsurprisingly, found two business schools standing taller than the rest of the competition: Harvard Business School (HBS) and Stanford University Graduate School of Business.
HBS alumni produced 23 of these unicorn startups, as reported by Fortune. These companies include Blue Apron, one of the world's most popular food subscription services, and Cloudfare, a web-based performance and security platform. Stanford GSB was close behind with 19, which includes personal finance company SoFi.
Ten business schools managed to produce three or more graduates who would go on to spawn unicorns:
Harvard Business School – 23
Stanford Graduate School of Business – 19
University of Pennsylvania Wharton School – 9
INSEAD – 5
WHU – Otto Beisheim School of Management – 5
University of Southern California: Marshall – 4
University of California at Berkeley: Haas – 3
Columbia Business School – 3
HEC Paris – 3
Indian Institute of Management: Calcutta – 3
Looking beyond the impact of just business school graduates to any graduates from a given school, Stanford and Harvard—again—produced the most overall unicorn founders. When including all graduates, the third highest-producing school was the University of California, followed by the Indian Institute of Technology and MIT.

Data via Sage.co.uk
Another interesting data point among many others discovered by Sage was the years in which these startups were founded. By far the most prolific individual year was 2007—the year before the housing market crash. Twenty-nine eventual billion-dollar companies debuted that year, including DropBox and Hulu. 2015, the last year in which data for this research was compiled, had the lowest number of eventual unicorns (two) since 1998, although market valuation usually increases over the span of several years (often depending on when the company's IPO is introduced), according to research from HBS.
However, while only two companies founded in 2015 have reached unicorn status thus far, more previously created startups managed to reach the billion-dollar valuation threshold that year than ever.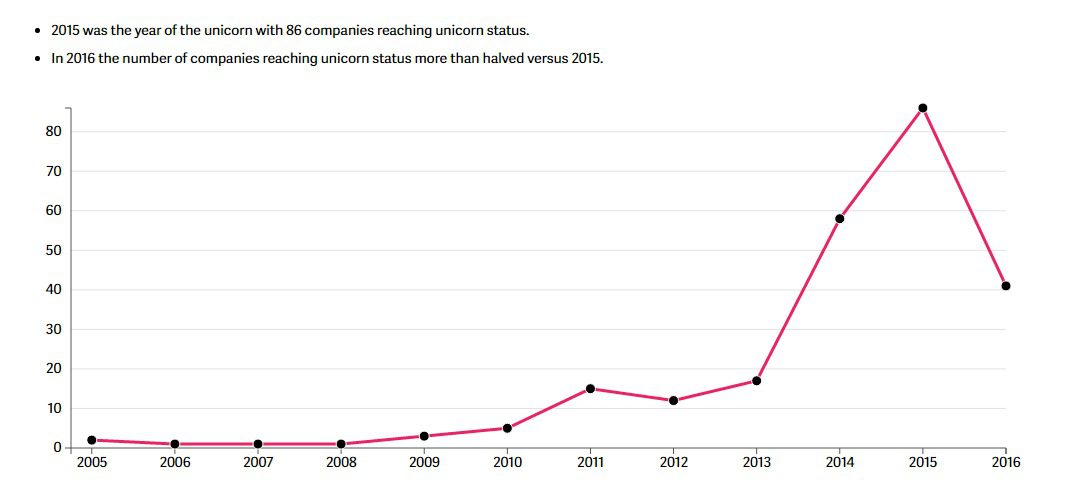 Data via Sage.co.uk
Uber is still the world's biggest startup, with a current valuation around $62 billion. Chinese financial service ANT Financial comes in second place, with a $60 billion valuation, followed by Facebook at $50 billion.
Read the rest of the unicorn research over at Sage.
This post has been republished in its entirety from its original source, metromba.com.
If you liked this article, let Clear Admit know by clicking Like.