Am I Too Old for an MBA?
If you're a potential business school applicant who is nearing—or already past—your 30th birthday, you may have spent some time wondering whether you should bother to apply. It's a question I get asked a lot—am I too old for an MBA? There's a persistent myth that 30 is some sort of a "magic number" beyond which admissions committees just don't really consider applicants.
Of course, you can't really blame candidates for worrying that entering their fourth decade means saying goodbye to business school. After all, the data does show that the majority of admitted students at top MBA programs are under 30: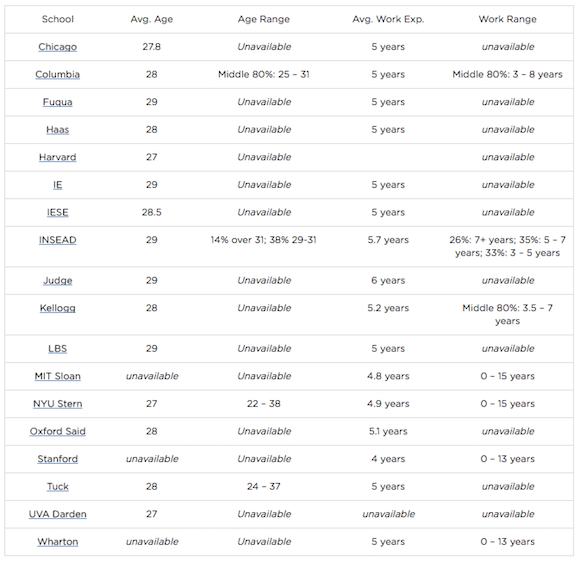 Is age really just a number?
Most top business schools don't make it easy to get a clear picture of the breakdown of ages in their incoming classes. However, while the information that is available makes it clear that most top programs have an average age in the mid to late twenties, the picture for older students isn't nearly as grim as that statistic might suggest.
Here at EXPARTUS, we have worked with many, many successful MBA candidates over 30. They attribute their success to many of the same elements that benefit MBA applicants of any age: clarity of purpose, a compelling personal brand story, an understanding of why now is the right time to apply, and a strong point of view that they can contribute to the class.
Getting the timing right
When it's time to decide which candidates are getting in, admissions committees always want to understand an applicant's story. A key part of understanding that story is looking at why now is the right time to apply to business school.
For many younger applicants, asking "why now" is almost a formality. They're following a traditional, common path, and "now" is the point in their career where it's expected that they'll pursue an MBA.
All applicants are asked the same essay questions, but if you're looking at an application for a 26-year-old who is working in finance and looking to go into investment banking after business school, you don't really wonder why she's pursuing an MBA now. It's the expected next step, and it's a story that admissions committees are very familiar with.
You've got some explaining to do
Fortunately, though, there are also many stories that adcoms are familiar with when it comes to MBA applicants over 30. Military experience is one common example. If you've spent several years serving in the armed forces, and are just now out of the service, then it's easy to explain why now is the right time for you to pursue an MBA. And of course, there are many businesses (and business schools) who actively seek out candidates with military experience.
There are some other backgrounds and industries—particularly for students with advanced degrees in rigorous scientific or technical fields—where it makes sense to an admissions committee for an applicant to be applying for an MBA after 30.
For candidates whose background doesn't make it quite so obvious, however, there is something of a higher standard to meet. The adcom will want to know why you are pursuing your degree now—and why it wasn't the right time before. If you're an MBA applicant over 30, you'll need to spend some extra time thinking through these issues, and making sure you can effectively explain them.
How 30+ applicants really get into b-school
Here's what it really comes down to: admissions committees want to admit students who will be successful, and who will contribute to their class. If you want to get into a top business school at any age, you need to convince the adcom that you fit those criteria.
How do you do that when you're over 30? By building an extremely competitive application, and going the extra mile to show the adcom you're committed to making an MBA work for you:
Show them you're still moldable: One of the concerns about going to business school after 30 is that you'll be more set in your ways, and less likely to adapt to new experiences and learning styles. A track record of getting out of your comfort zone, whether through career changes, traveling, or volunteering, can help show that you're not afraid of new learning experiences.
Have a top-notch background: An excellent GMAT score and a strong undergraduate GPA will go a long way toward demonstrating that you'll be able to handle the academic rigors of business school. These numbers tend to be more make-or-break for older students than they are younger ones, so you'll need to put in more work to make sure you're bringing the best results you can. Give yourself time to thoroughly prepare for the GMAT (and re-take, if necessary). And if your undergrad GPA was only ok, it's a good idea to take an additional class or two to show that you really can make it in the classroom.
Be purposeful: Adcoms are sometimes concerned that candidates over 30 are applying because they aren't sure what to do next, or they're somehow floundering in their career. Be sure to communicate in your essays and interviews why an MBA is the right next move for you—and specifically, why it is a better choice for you than an EMBA. Being purposeful in the school selection and casting a wide net are also important steps towards securing admission to a business school of your dream despite being on the older side of the school's average age.
Have a post-grad career plan: Finally, one of the things that concerns admissions committees about applicants over 30 is where they'll go after their schooling is done. Business schools have to report the hiring rates for their students post-graduation, and they also want to promote their graduates' success in order to market their program. The admissions committee is much more likely to take a chance on admitting you if you can show that you've got a realistic plan for your post-graduation career—meaning you've researched potential employers, know what internships and courses would be beneficial for you, and have put thought into the path toward your continuing career.
One last thing: I don't want you to take away from this article that being an MBA applicant over 30 is all disadvantages. Older students bring a lot of advantages to a business school as well, including a stronger sense of where they want their career to go, greater maturity, and a broader perspective on issues in the workspace.
You may have to do a little extra work to get into a top business school when you're over 30, but it will be worth it in the end.
The post Am I Too Old for an MBA? appeared first on EXPARTUS.
If you liked this article, let Expartus know by clicking Like.