An MBA Is a Great Path for Career Changers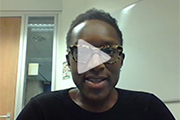 Submitted by Ngozi Amobi, Rotterdam School of Management, Class of 2017.
Hi, my name is Ngozi Amobi. I lived and worked in New York City for the 12 years preceding the start of my MBA. I had been through one career change, and decided that it was time for another. However, I wanted to be better prepared for that change, and provide myself more flexibility of choice in the next phase of my career. This is why I chose to pursue an MBA degree.
Dream career: Director of Communications for the Women's Tennis Association (this position does not yet exist).
Why Business School? I felt it would give me exposure to a wide array of business disciplines, for which I had no previous exposure.
Best GMAT® study tip? Do as many practice questions/exams as possible.
Before business school, I was: An accounting manager for a hospitality group in NYC.
When I'm not in class, you'll find me: On the tennis court (if the weather is kind).
Advice for anyone thinking about b-school? It is a great environment in which to hone in on what you may want to do next.
My remedy for pre-test nerves: Distract yourself.
On the day before your exam, you should: Relax. Do not do anything related to the exam.
How did you fit studying for the GMAT exam into your busy schedule? I studied on my own after work.
How well-prepared for business school do you feel, after studying for the GMAT exam? I think that studying for the GMAT, in conjunction with my work experience, prepared me quite well for business school.
In the video below, Ngozi talks about why an MBA might be the best path for a career changer.
If you liked this article, let OfficialGMAT know by clicking Like.