Starting a Career in Tech After Your MBA
When getting your MBA, it's easy to get caught up in the herd mentality. Don't be one of the 30% of MBA graduates who switch jobs a year after graduation because you didn't think things through. While many students choose careers in Finance and Accounting or Consulting, it's not your only option.
For example, tech is hot right now, which is why 12% of MBAs accepted a job in the industry in 2015.
Why Is Tech Hot?
According to GMAC, 52% of tech companies plan to increase the number of MBAs they'll hire in 2016. In fact, 9 in 10 technology companies will hire an MBA to fill positions in business development, marketing and sales, and more.
Beyond hiring, corporations like Facebook, Google, and Apple have taken over their respective markets and built strong user-bases that set them apart. Even more impressive, according to Fortune, it's two tech giants, Apple and Google, which are the most admired and valuable companies in the world.
Simply put, the technology sector is booming, and it has never been a more attractive place to work since the dot-com era.
Choosing a Career in Tech
According to Jeremy Schifeling, an MBA graduate out of the Ross School of Business and the founder of Breakinto.tech, there are only two things that really matter when choosing your career in tech post MBA.
The work that you're doing.
The environment that you're doing it in (people + culture).
1. The Work
So, how do you choose a career in tech after your MBA? The key is to match up your roles and skills with their corresponding functions in tech. Schifeling breaks down five skills outside of the tech industry and how they translate into a tech job.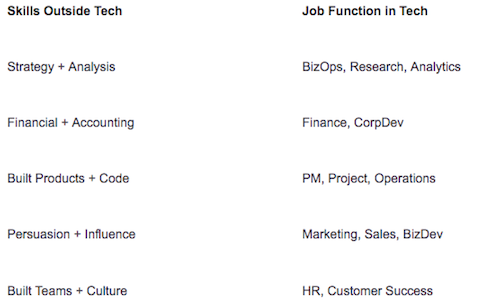 2. The Culture
Now that you know which tech job best fits your skills, it's about finding the right organization for you. There are a few things to consider within the tech industry:
The size of the company: Do you want to work for a corporate giant like Amazon or a small startup?
Time at the office: Unlike many other industries, tech tends to be a little more flexible. It's possible to get a tech job that lets you spend more time at home. Is that what you want or do you want to travel and spend your time in the office?
What MBA Skills Translate Best to Tech
The reality is that most of the skills you'll learn in your MBA will be crucial to the tech and startup industry, Adam Enbar (an MBA and Co-Founder & CEO of Flatiron School) told Quora. Nowadays, tech companies aren't necessarily successful because of pure technological innovation. Instead, tech companies are successful because they've learned how to use existing technology in smart and innovative ways to meet the needs of their customers.
The reason MBAs are so valuable is because most graduates are business leaders who know how to spot opportunities to apply technology in new ways. MBAs also have the skills necessary to develop sales and marketing programs, to help garner customers. Finally, an MBA has unique access to their school's network and brand, which provides opportunities for funding, mentorship, future employees, and more.
Best Tech-Focused MBA Programs
So, now that you've decided to go into Tech after your MBA, where should you go to school? CIO ranked the Top 10 Technology MBA Programs in America. We've briefly outlined the list below.
MIT Sloan School of Management: The School offers courses such as Fundamentals of Digital Business Strategy as well as Generating Business Value in IT.
Carnegie Mellon Tepper School of Business: MBAs can earn a Technology Leadership MBA alongside a Computer Science degree.
UT Austin McCombs School of Business: Students can concentrate their program in Information Systems.
University of Minnesota Carlson School of Management: They offer a technology-focused MBA concentration.
University of Arizona Eller College of Management: MBAs can choose the Management Information Systems (MIS) concentration.
NYU Stern School of Business: The School offers a specialization in Management Information Technology and Operations.
Stanford Graduate School of Business: The MBA program focuses on alternative education methods and electives in operations, information, and technology.
University of Maryland Smith School of Business: MBA candidates can concentrate in Information Systems, Operations Management, or Business Analytics.
The Wharton School: The MBA program allows students to focus on Operations and Information Management and specialize in Systems.
Arizona State University Carey School of Business: MBAs can concentrate in Information Systems.
This post has been republished in its entirety from its original source, metromba.com.
If you liked this article, let Clear Admit know by clicking Like.