Sound Off On This Year's MBA Applications!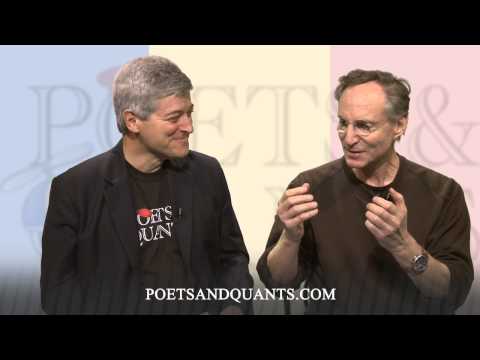 Now it's your turn to roar back and tell those adcom big cheeses what you thought of their MBA applications.
You sweated over the process in Rounds 1 and 2. You had to jump through numerous hoops to file your application on time.
Tell us in the comment section below what you think about both the process and the essays questions (which we've reprinted below for a select group of schools to help start the process).
Which essay questions did you like best and why?
Which questions did you think were just dumb and a waste of time?
Which admissions office did you find welcoming and helpful?
Which one did you find cold and off-putting?
HBSGuru.com Founder Sandy Kreisberg will orchestrate the discussion which is bound to be informative, entertaining, and laugh-out-loud funny.
Here are the essay questions:
Harvard Business School
You're applying to Harvard Business School. We can see your resume, school transcripts, extra-curricular activities, awards, post-MBA career goals, test scores and what your recommenders have to say about you. What else would you like us to know as we consider your candidacy? (No word limit.)
Stanford Graduate School of Business
What matters most to you, and why?
What do you want to do ­REALLY ­and why Stanford?
Answer one of the three questions below. Tell us not only what you did but also how you did it. What was the outcome? How did people respond? Only describe experiences that have occurred during the last three years.
Option A: Tell us about a time in the last three years when you built or developed a team whose performance exceeded expectations.
Option B: Tell us about a time in the last three years when you identified and pursued an opportunity to improve an organization.
Option C: Tell us about a time in the last three years when you went beyond what was defined or established.
(Answers for all of the essay questions cannot exceed 1,600 words total.)
Chicago (Booth)
My favorite part of my work is… (250 words.)
I started to think differently when… (250 words.)
The Chicago experience will take you deeper into issues, force you to challenge assumptions, and broaden your perspective. In a four-slide presentation or an essay of no more than 600 words, broaden our perspective about who you are. Understanding what we currently know about you from the rest of the application, what else would you like us to know? (600 words or four slides.)
UPenn (Wharton)
What do you aspire to achieve, personally and professionally, through the Wharton MBA? (500 words.)
Academic engagement is an important element of the Wharton MBA experience. How do you see yourself contributing to our learning community? (500 words.)
Northwestern (Kellogg)
What's the greatest obstacle you've overcome (personally or professionally)? How has overcoming this obstacle prepared you to achieve success now and in the future? (350 words.)
What have been your most significant leadership experiences? What challenges did you face, and what impact did you have? This is your opportunity to explain how you Think Bravely. (500 words.)
Part 1: What career/role are you looking to pursue and why? (250 words.)/Part 2: Why are Kellogg and the MBA essential to achieving these career goals? (250 words.)
MIT (Sloan)
The mission of the MIT Sloan School of Management is to develop principled, innovative leaders who improve the world and generate ideas that advance management practice. Discuss how you will contribute toward advancing the mission based on examples of past work and activities. (500 words.)
Describe a time when you pushed yourself beyond your comfort zone. (500 words.)
Columbia Business School
What is your immediate post-MBA professional goal? (100 characters.)
Given your individual background, why are you pursuing a Columbia MBA at this time? (500 words.)
Columbia Business School is located in the heart of the world's business capital­ Manhattan. How do you anticipate that New York City will impact your experience at Columbia? (250 words.)
What will the people in your Cluster be pleasantly surprised to learn about you? (250 words.)
Dartmouth (Tuck)
Why is an MBA a critical next step toward your short- and long-term career goals? Why is Tuck the best MBA program for you, and what will you uniquely contribute to the community? If you are applying for a joint or dual degree, please explain how the additional degree will contribute to those goals. (500 words.)
Discuss your most meaningful leadership experience. What did you learn about your own individual strengths and weaknesses through this experience? (500 words.)
Describe a circumstance in your life in which you faced adversity, failure, or setback. What actions did you take as a result and what did you learn from this experience? (500 words.)
UC-Berkeley (Haas)
If you could choose one song that expresses who you are, what is it and why? (250 words.)
What is your most significant accomplishment? (250 words.)
Describe a time in the last three years when you overcame a failure. What specific insight from this experience has shaped your development? (250 words.)
What are your post-MBA short-term and long-term career goals? How have your professional experiences prepared you to achieve these goals? How will an MBA from Haas help you achieve these goals? (750 words.)
Virginia (Darden)
Share your thought process as you encountered a challenging work situation or complex problem. What did you learn about yourself? (500 words.)
Michigan (Ross)
Introduce yourself to your future Ross classmates. (100 words.)
a. What about your professional experiences has led you to determine that business school is the right next step? (150 words.)/b. As you have researched MBA programs, what actions have you taken to learn more about Ross and what has led you to believe that Ross is the right MBA program for you? (150 words.)/c. What career do you plan to pursue after business school and why? (150 words.)
Describe a time in your career when you were frustrated or disappointed. What advice would you give to a colleague who was dealing with a similar situation? (400 words.)
New York (Stern)
Why pursue an MBA (or dual degree) at this point in your life? What actions have you taken to determine that Stern is the best fit for your MBA experience? What do you see yourself doing professionally upon graduation? (750 words.)
Option A: Describe two different and distinct paths you could see your career taking long term. How do you see your two paths unfolding? How do your paths tie to the mission of NYU Stern? What factors will most determine which path you will take? (500 words.)/ Option B: Please describe yourself to your MBA classmates. You may use almost any method to convey your message (e.g. words, illustrations). Feel free to be creative. (500 words.)
Yale
What motivates your decision to pursue an MBA?  (300 words.)
The Yale School of Management provides leadership education for broad-minded, rigorous, and intellectually curious students with diverse backgrounds; a distinctive integrated curriculum; connections to one of the great research universities in the world; and the broad reach of an innovative and expanding global network of top business schools. What motivates you to apply to the Yale School of Management for your MBA? What will you contribute to Yale and Yale SOM? (450 words.)
Carnegie Mellon (Tepper)
What is your professional goal immediately following graduation from the Tepper School? (250 words.)
What are your long term career goals? (250 words.)
What transferrable skills have you developed that are related to your professional goals outlined in Short Answer 1? Additionally, identify the skills that you will need to develop or enhance. Specifically, how will the Tepper MBA help you develop these skills? (500 words.)
Describe a defining moment in your life and explain how it shaped you as a person. (300 words.)
How will your presence in the Tepper MBA program benefit your fellow students? How will you contribute to the school as a student and as an alumnus? (300 words.)
UCLA (Anderson)
What are your short-term and long-term career goals, and how will an MBA from UCLA Anderson specifically help you achieve these goals? (750 words.)
UNC (Kenan-Flagler)
What are the 2 or 3 strengths or characteristics that have driven your career success thus far? What are the other strengths that you would like to leverage in the future? (500 words maximum.)
Please describe your short and long term goals post-MBA. Explain how: your professional experience has shaped these goals; why this career option appeals to you; and how you arrived at the decision that now is the time and the MBA is the appropriate degree. (500 words.)
What personal qualities or life experiences distinguish you from other applicants? How do these qualities or experiences equip you to contribute to UNC Kenan-Flagler? (500 words.)
Emory (Goizueta)
1. What is your short-term career goal and why is an MBA from Goizueta an important next step toward that goal? (200 words.)
If your initial career plans are not realized, what else are you considering? (200 words.)
2. The Business School is named for Roberto C. Goizueta, former Chairman and CEO of The Coca-Cola Company, who led the organization for 16 years, extending its global reach, quadrupling consumption, building brand responsibility, and creating unprecedented shareholder wealth. It is his legacy and the strength of his character that gives rise to our vision: Principled Leaders for Global Enterprise. We encourage you to watch this short video for inspiration in answering the question. The transcript of the video can be found here. How will you contribute to and make a lasting impact on the Goizueta Business School community as a student or alumnus? (300 words.)
3. Complete one of the following statements.
I am unique because…
My most memorable cross-cultural experience…
I am passionate about…
The best piece of advice I've ever received is…
(250 words.)
4. Please share with the committee and your future classmates an interesting or fun fact about you. (25 words.)
If you liked this article, let John Byrne know by clicking Like.