Emory's Goizueta School: Anatomy Of A Turnaround Few Knew Was Needed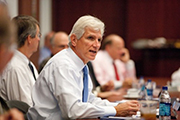 It was a March day in 2009 when several members of the senior leadership team at Emory University's Goizueta Business School walked into the dean's office for an urgent meeting.
Dean Larry Benveniste knew the news was bad. If his coiffed hair had not already been shock white, it certainly would have turned quickly.
"I could see the look on their faces," he recalls. "They had something to tell me I knew I wasn't going to like."
Goizueta Business School had fallen five places to 27th from 22nd the year before, its lowest U.S. News ranking in years. Only four years earlier, Goizueta had been ranked a solid 18th.
"Oh my," Benveniste thought. "But I knew this would be the worst because this was the in-between moment and our focus would begin to payoff and we would see better days ahead."
Goizueta posted the best placement stats of any top business school last year
True enough, that is exactly what happened. The school has since bounced back to a rank of 19th. More importantly, last year no 25 top school did a better job of placing its MBA graduates than Goizueta. Some 91% of the Class of 2012 had job offers by graduation and 98% had offers three months later. That was better than Harvard (95%) or Stanford (90%) or nearby Duke University's Fuqua School (93%).
The school, moreover, has shown the largest growth in reported salary and bonus among U.S. News' top 25 schools over the last four years and the only double-digit growth during that time: 18.6%. Average salaries rose to $103,463 last year from $91,074 in recession-plagued 2009, while average bonuses jumped to $25,549 from $17,710.
Behind the impressive numbers is the tale of a leadership group that made painful decisions to dramatically overhaul a school that by all surface accounts was doing just fine. When Benveniste arrived at Goizueta in 2005, succeeding Tom Robertson who moved to Wharton as dean, the school had just achieved its highest U.S. News rank ever, 18th.
A prestige MBA program with a small, intimate culture where everyone knows each other
Goizueta, named after the legendary CEO of Coca-Cola, was firmly in the top 20 and on the rise. It had a prestige reputation as a high touch, high quality, small and intimate MBA program where faculty put much emphasis on teaching and being accessible to students who knew each other by their first names. As Associate Dean for Full-Time MBA Programs Brian Mitchell puts it, "It's not just about being small. It's knowing what to do with small. Intimacy is not a natural condition."
Beneath the cozy culture and impressive numerical ranking, however, the new dean sensed trouble. The less visible gap between Goizueta and schools directly ahead of it, such as Carnegie Mellon and Cornell, was considerable, largely because Goizueta significantly trailed those schools on placement stats and starting salary numbers. "I had sensed we reached a plateau with the existing strategy and something had to change," says Benveniste. "When I came, everyone was asking how do we get to the next level. But there just just an enormous difference in the quality of institutions as measured by the value added between the group we were in and the group we are joining now."
A listening tour by the new dean, a finance professor who had come to Goizueta after an eight-year stint as dean at the University of Minnesota's Carlson School, yielded other key insights. Recruiters and alumni felt the MBA graduates coming out of the school could be better prepared, particularly when it came to using more rigorous analytical tools to solve business problems.
A task force reveals some surprising weaknesses that needed attention
A task force was pulled together in 2007 to survey recruiters, alumni and students. "There were some mildly surprising results," says Doug Bowman, a marketing professor and senior associate dean of external relations who led the task force. "The need for more rigor in the curriculum jumped out from both students and recruiters. One sound bite from students was, 'During my summer internship, the company presented me with a list of eight to ten projects and I didn't feel comfortable doing all of them. So I was self-selecting out of the more rigorous ones.'"
From corporate recruiters, the school gained another telling insight. "It was the idea of making sure MBAs could hit the ground running," says Bowman. "They essentially told us, 'We are paying these folks a lot of money. A few years ago, we could have a honeymoon period to allow them to get up to speed. We could even do some retraining. But no more.'"
And then there was the issue of culture. Over the years, faculty had noticed that students were becoming less engaged and less interested in the academics, instead viewing the MBA experience as a two-year job search. Similar issues have cropped up at other schools. Stanford, before more recent curriculum changes, had surveyed its students only to find that they believed their undergraduate education to be more intellectually demanding than their MBA schooling.
'We pulled the band aid off quickly and it was painful'
Benveniste wanted to restore academics as the key focus of the school and to change the curriculum in ways that would make Goizueta students more attractive to companies. The first move was to appoint a strong academic to run the MBA program. It was in 2007 that the dean flew to Brazil where half the Class of 2008 was on an international excursion to let them know that changes were coming.
"We pulled the band aid off quickly and it was painful," says Benveniste. "First of all, the sudden and intense focus on academics was a shock. We told students we want you to have fun, but alcohol is not the reason you are here. We raised all our expectations. We began expecting people to be prepared for class, to participate in class, to take their academics seriously.  The Class of 2008 was right in the middle of having one experience and then went to having a totally different experience under a completely different set of rules."
In the classrooms, the faculty upped the rate of cold calls, paid more attention to a grading curve that gave penalty grades to 10% of the students, and piled on more individual work rather than team assignments.
More cold calls, individual work, more analytical problem solving, and enforcement of a grading curve
"We weren't going to let people hang in the back of the room anymore and not be deeply engaged," says Rob Kazanjian, a management professor and vice dean of programs. "And we reduced the group assignments so you would no longer get the most experienced people sitting at a computer and doing the analysis while everyone else looked over his shoulder. We just said all five people have to do the work independently."
The school significantly increased the rigor of each class by asking professors to include a substantial data analysis project into every core course. "We made it a beefy part of the curriculum and the students' grades," says Bowman. The emphasis on heavier analytics had another benefit: it meant that professors in electives were able to spend less time teaching basics that should have been learned in the core.
Some of the boldest changes, however, came in a new curriculum that was rolled out in 2008. Instead of starting off the MBA program closer to Labor Day, the school began its program in the first week of August—a full month earlier—and then ran its incoming students until mid-December. "What used to be a semester now became a semester and a half worth of effort," explains Bowman. "We put the entire core curriculum into that first semester, freeing up the second semester for five electives before the summer internship. Instead of going on a summer internship in finance with the one elective, now you are on there with five. We really want to make sure they get that depth and knowledge."
Preparing students to hit the ground running for summer internships
The idea was to insure that Goizueta students, going out on their summer internships, would be ready to impress. One of the five electives, moreover, has to be one of several experiential courses that provide students with quasi-consulting projects—the kind of capstone course that most schools only provide in the second year. "It is designed to mirror practice, adds Kazanjian. "They gain access to executives in the beginning, the middle and then during a final presentation. So you have team dynamics, the pressure of a deadline, a real deliverable. It is practice for their summer internship."
Surprisingly, the faculty agreed to the changes—including coming in to teach the core in early August–with little major debate. "I anticipated it would be an issue," concedes Maryam Alavi, vice dean for faculty at Goizueta. "I thought people would say, 'My God, you are getting me started on Aug. 1? What about my vacation?' But I did not hear any complaints. It went very smooth and that really speaks to the engagement of our faculty. They really stepped up."
The faculty helped in other ways, receiving recruiter feedback on students that prompted changes in the classroom. "A marketing professor here attended a recruiter feedback session before starting his fall course and he actually adjusted his curriculum plan because of it," says Wendy Tsung, associate dean  of Goizueta's MBA Career Management Center. "He wanted to make sure he was teaching what the market needed."
Faculty has gone out of their way to put more focus on student outcomes
A similar example occurred in accounting for students headed toward investment banking internships. "On the finance side, students who want to go into investment banking really need a solid accounting foundation," adds Tsung. "But accounting as taught in a classroom is really different than it is applied in investment banking. So we now have someone in the practice of accounting who comes in and talks to students about how to use accounting in a practical way."
Bowman's task force also went back to track the success of Goizueta admits from previous years, re-examining everything from their applicant files and interview assessments against grades assigned to each graduate by the career management center. An 'A' grade went to MBAs who were highly successful in the program and had no trouble finding the job they really wanted. Many of them, in fact, had several opportunities.
The 'B' grades were largely assigned to the majority of graduates and 'C' grades were given to MBAs who didn't have a job offer, or landed a job they didn't want. "We would love to have a whole class of 'A's," says Julie Barefoot, associate dean of MBA admissions. "A 'B' was fine and a 'C' meant we could do better. There were more 'C's than we wanted."
Admissions interviews have grown in importance and become more rigorous as well
What the analysis showed was that the admissions staff did an exceptional job of assessing the applicants. More often than not, the 'Cs' performed were given harsher grades for their interviews, while the staff was very good at picking the As and the Bs. "The analysis showed we were pretty good on interviewing," recalls Barefoot. "So we put more emphasis on the interview. But we also needed to make the interview even more robust in terms of looking more at the characteristics of the people who career services rated an 'A' or a 'B.'"
Barefoot worked closely with the career management staff to overhaul the interview process, adding questions that allowed admissions to screen for such attributes as resiliency, flexibility, focus, and resourcefulness—traits that career management believes are critical to successfully placing an MBA into a desired job.
In all, candidates are graded on 12 dimensions, ranging from their reasons for wanting an MBA to their interpersonal skills. International applicants are graded on five additional categories, including English comprehension and fluency. While the weight of an admission interview will obviously vary by candidate, Barefoot says that at Goizueta it may have as much as a 30% to 40% weight.
The career management center director now sits on the admissions committee
And now career development Associate Dean Tsung, whose staff for full-time MBAs has more than doubled to 10 from just four, is a full member of the admissions committee so she can speak to an applicant's eventual employability. "We knew we had to do a better job of selecting candidates who would be successful in our environment with what we could offer them," says Barefoot.
To insure that the best raw talent was coming into the two-year MBA program, the school shrunk the size of its entering class to 135 in 2009 from 181 in 2007 and lowered the percentage of international students. Class size has since increased to 152 entering students but the dean believes the optimal size is 165.
The school found it difficult to place international students into jobs they wanted, especially as it became harder to obtain visas for them. Now Goizueta more closely manages the number of non-sponsored international students, and non-U.S. students account for 33% of the latest class, down 11 full percentage points from a peak of 44%.
Few centers allow MBAs deep dives into alternative investments, marketing analytics and social enterprise
Dean Benveniste has also bankrolled three new research centers—in alternative investments, marketing analytics and social enterprise—to give the school greater distinction in three fast growing areas. Unlike typical academic centers, however, Goizueta's are closely connected to the companies and organizations they serve. "To be successful, you need to have a general business education and a deep dive," he says. "What this has permitted is some very deep dives in unique areas."
The cumulative effect of those changes has been nothing less than dramatic. MBA students have received internship offers in nine of the past ten years. The so-called "conversion rate"—the percentage of students who return from their internships with job offers in hand—went from around 25% to nearly 60% last year. That is one reason why Goizueta was able to beat every other Top 25 business school in the U.S. in successfully placing its Class of 2012 into jobs and why average starting salary and bonus have risen higher at the school than any other major rival.
"We are now 14th in the country on starting MBA salaries," says Dean Benveniste. "That to me is the metric. That is amazing along with 91% placement at graduation and 98% three months after. But it isn't just a placement story. It's a big success story. When you do that with enormous jumps in salary and bonus, that's the story. You know you've done something when you have both of them going on at the same time."
'We've taken virtually the same pool of MBAs and significantly changed the outcomes'
Other then that discomforting moment when his leadership team walked into his office with bad news, Dean Benveniste has helped to engineer a major turnaround at a Top 20 school that often gets overlooked and under appreciated. "I have never seen a school respond to a fairly significant change in direction, from top to bottom, as this school has," believes Benveniste. "I just don't think it would be possible at a lot of other places. Everybody here lined up to do his or her part.
"I'm very proud of that because what we do is fundamental. It's not about throughput, getting good people and then graduating them into the world. It's about what we add when they are here. I think we've proven over the last five years that what we add is hugely significant because we have virtually taken the same pool and significantly changed the output. That can only happen for one reason: what has gone on in between."
If you liked this article, let John Byrne know by clicking Like.