2012 Dean of the Year: Harvard's Nitin Nohria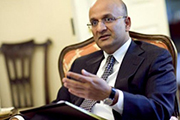 Harvard Business School Dean Nitin Nohria is Poets&Quants' Dean of the Year for 2012 for his empathetic handling of a tragedy and his bold leadership of the school
It was four days before last year's graduation at the Harvard Business School when Dean Nitin Nohria received the anguished phone call at his home on a Sunday afternoon. Two distressed MBA students had some rather tragic news: an MBA classmate had gone missing in Portland, Maine.
The evening before the three students had ventured into a popular bar in Portland Harbor for a pre-graduation celebration. Just before midnight, 31-year-old Nate Bihlmaier left the bar without his friends. Apparently over-served, Bihlmaier stumbled off the pier and accidentally drowned.
The full extent of the tragedy was unknown to Nohria when he convened a telephone meeting late that Sunday evening with key HBS leaders, including Youngme Moon, faculty director of the MBA program.
'A tragedy that none of us could ever imagine'
"We had a family that was in a tragedy that none of us could ever imagine and we felt we should be there," recalls Nohria. "This was the right thing to do. What could I ever do that was more important than this? My view was if I had gotten a call like that and my kid was in trouble I would drop everything and go."
So at 6 a.m. on Monday, Nohria and Moon got into a car and went straight to Portland to lend support and encouragement. Over the next two days, Nohria comforted family members and students, openly praised the integrity and intelligence of the missing student to reporters anxious to portray him as a spoiled rich kid, and pulled every string a Harvard Business School dean could muster to insure the search was a top priority. He called then U.S. Sen. Olympia Snowe along with a key contact in the U.S. Coast Guard, and he walked into the Portland police station to speak directly with the chief of police.
"'I know that you have other things to do but we have graduation in a couple of days and we need to get this resolved quickly," Nohria recalls telling the police chief. "'The only thing that would make me unhappy is if the speed of resolution was in any way shaped by how many resources we brought to it. I can understand there is always uncertainty. What wouldn't make me happy is if we didn't do all we could.'"
Finding the right balance in a delicate situation
When the body was pulled from the bottom of Casco Bay on Tuesday, Nohria had another delicate issue to wrestle. "You have one family that is in deep mourning and you have 900 families for whom this is the greatest celebration of their lives," he explains. "How do you thread the needle of honoring both? We couldn't allow the sorrow of this family to completely cloud the joy that other families had every right to feel. Yet, Nate's family had every reason to feel sorrow and we needed to honor their sorrow."
On graduation day, Nohria managed to do both while not trivializing either. At commencement, he named a scholarship in honor of Bihlmaier, presented his diploma to the student's pregnant wife and parents, and for the graduating students and their families celebrated what many regarded as a lifetime achievement. "I think we found a way to get through it in which everyone came together in amazing ways," he says.
Nohria's empathetic handling of the tragedy as well as his bold leadership of the Harvard Business School earn him Dean of the Year honors from Poets&Quants for 2012. As dean of the world's most powerful and influential school of business, Nohria has unflinchingly led the school into a new brave era.
Big changes at Harvard though nothing was broken
When he became dean in July of 2010, it would have been tempting for the leadership professor-turned-dean to go slow or to play the role of a mere steward at Harvard where nothing was broken. Instead, Nohria has aggressively pushed through an overhaul of an already world-class MBA program, adding experiential learning to Harvard's dominant case study method of teaching. He astutely used the convening power of the school to get into the center of the debate over U.S. competitiveness, leveraging the star power of HBS' faculty, its alumni and the Harvard Business Review to bring attention to a crucial economic concern. And he has been willing to openly confront controversial issues that most deans would sweep under the table, from sexual harassment to grading policies that had disadvantaged female MBA candidates.
And now Nohria is in the quiet phase of a capital campaign that is intended to raise an unprecedented $850 million to $1 billion for an institution that already boasts an endowment of $2.8 billion, the largest of any business school in the world. The last HBS campaign brought in $600 million between 2000 and 2005. The newest fundraising effort will officially launch in September.
"Our goal will be to use this campaign to gain greater support for the innovations we've put into the MBA program and to help us get the resources to raise the value proposition of the MBA," he says. "In part, this will be an effort to get our alumni to better understand what we're doing to remain a leader in business education. In our first century, we didn't need to be global. People came to us. And now as we think about the new century, we need to do things differently. These are all expensive things relative to what it used to be. For them to be sustainable in the long run, we will need more alumni support."
Five priorities set the stage for an ambitious agenda
Nohria's early accomplishments can be traced to the fact that he had built important coalitions at the school since becoming a teacher of leadership and management at Harvard in 1988.
An immigrant from India who came to the U.S. in 1984 to attend MIT's Sloan School of Management on a scholarship, Nohria quickly made an impression with his intellect and his work ethic. After graduating with his PhD in management from MIT, he joined the Harvard Business School faculty where he focused on human motivation and leadership issues.
By the time he was asked to become the first HBS dean from outside North America, Nohria had established himself as a heavyweight academic who had authored more than 50 journal articles, book chapters and case studies. He also earned his institutional chops, leading the school's organizational behavior faculty and had been senior associate dean of faculty development.
Self-effacing and soft-spoken, he's not exactly a dean from central casting
Self-effacing and soft-spoken, the 50-year-old professor is not a dean from central casting. As Nohria himself has noted, he's just five-feet, six-inches tall and bald. "Charisma is not the first word that comes to mind when people meet me," he has said.
Nohria's self-deprecation belies his bold ambitions for the school. As soon as he was announced as the incoming dean in May of 2010—two months before he assumed office–Nohria launched a "listening campaign" to inform his agenda. Conversations with faculty, alumni and students led to the setting of five priorities, which quickly became known as the five Is: innovation, intellectual ambition, internationalization, inclusion, and integration (see The Five Priorities of Nitin Nohria).
His first priority became innovation in Harvard's educational programs, including the crown jewel of the school, its MBA program. Against concerns that he was moving too fast, Nohria pushed through major changes in the MBA curriculum. The revisions lessened the school's dependence on its previously sacrosanct case method of teaching that has been the dominant pedagogy at HBS since the mid-1920s. The changes also impacted every one of Harvard's more than 1,860 MBA candidates and the vast majority of its 218-strong faculty.
The most significant innovation was a new first year course dubbed FIELD (Field Immersion Experiences for Leadership Development). It is based on small-group learning experiences that focus on leadership, global business, and entrepreneurship. Among other things, FIELD included a required eight-day global immersion experience during the January term and a requirement to think up and build a micro-business with seed capital from Harvard Business School. All told, Harvard spent $10 million to create and implement the changes (see HBS Preps 900 MBAs For A Massive Global Invasion and Harvard Coaxes 150 Startup Ideas Out Of Its MBA Students).
He gives school an "A" grade for its innovation in the MBA program
Asked to grade himself on innovation, Nohria gives the school an "A" for what it pulled off. "It's true that pieces of it have not been tried by others," he says. "There are people who have sent students out on global trips. There are people who do entrepreneurial ventures. I think doing it in a structured large-scale systematic way with faculty oversight at every stage of the process" is what made this different. "Not many schools send a faculty member and three staff members to support a group of six or seven teams with real debriefs that occur every evening and a real structure for what to do. It may sound immodest, but relative to how many people said to me, 'Nitin, you've got to be crazy to do this in less than a year,' it was a big success. If that doesn't get us an A, I'm not sure what would."
Yet, Nohria is hardly smug about the innovations. "That doesn't mean we got all of it right," he adds after assigning himself the top grade.  "About two thirds of it worked and a third needs to be improved. So this year we have been ruthless about cutting out what our students told us didn't work. We have a better narrative because we know how things connect and build upon one another."
He's especially pleased with what he calls "the arc" of the innovations that start with leadership fundamentals, moved into a global consulting experience overseas, the entrepreneurship challenge, and integration of all that has been learned through the launch of a micro-business. "If you get it two thirds right the first year and another 60% right the second year, then you are left with much less to improve. You can get yourself in the place of continuous improvement. So I think we had big progress in year one; we will go further down a steep learning curve in year two and my hope is that in year three we will get ourselves to the place where we no longer have to do innovation in big chunks but it becomes a part of the school—similar to our first-year courses which are being changed 15% to 20% every year. We'll get to that kind of rhythm."
A mashing of outward and inward research
Of course, MBA curriculum overhauls are nothing new. They've occurred at one school after another for years. But it is the scale and the broadness of the innovations that make the Harvard changes noteworthy. The same is true of Nohria's ambitions to enlist the school's intellectual capital in an unprecedented effort around U.S. competitiveness. It was the dean who first went to HBS superstar Michael Porter and strategy professor Jan Rivkin to suggest the idea that the two tackle the issue to both understand and improve the competitiveness of the U.S.
"It felt to me that as we were thinking about internationalization and globalization we were forgetting that America is an important part of the globe," explains Nohria.  "The turn outward, which we were doing so much of, needed to be mashed with a turn inward. It was almost as if we took for granted that we knew America, and all we needed to understand is what was happening everywhere else in the world. My view was this is not a moment to take the success and the continued success of America for granted. We have to invest in it and we have a deep stake in the continued success of America because it is hard to be a great university in a B-grade country."
This research-led effort has deeply engaged a dozen professors at the school and involved as many as 20 members of the faculty. Their research has been informed by a global survey of nearly 10,000 Harvard Business School alumni that drew headlines all over the world. An entire issue of the Harvard Business Review also was turned over to the topic. And the school has brought the discussion off campus to well-attended alumni gatherings in New York, San Francisco, Chicago, Washington, D.C., Detroit, and Charlotte, N.C.  Nohria says he will ultimately invest up to $5 million on the project.
Surveying Harvard alumni on an intellectual issue for the first time
What's especially striking about the initiative is the way Norhia summoned the school's varied intellectual assets to make an impact on a critical topic that has long been a victim of political rhetoric. "This is the first time we surveyed all of our alumni on an intellectual topic and we began to realize this amazing strength we have," says Nohria.
"If you wanted to get a sample of people to find out what is going on in business, is there a better sample? It is hard to imagine what is a better sample than our alumni. We have 50,000 people out there. Every day they are making choices about whether they want to invest in America or not. Out of the 10,000 people who responded, we had 2,000 who reported on decisions that they made in the last year on location activities. I can imagine very few other samples that allow you a real window into how people are thinking about America as a destination to do business in versus other places. So we leveraged that."
Harvard then used the survey's results to take the debate into the field. The competitiveness forums have drawn four to five times the more typical alumni events the school sponsors. In New York, some 700 alumni came to the forum, the largest alumni gathering ever in the city. "In each case, it is trying to get local leaders who care about this topic engaged with the school and to get the message out," he adds. "We'll bring local business leaders to share the stage along with the faculty.
Will now tackle women and leadership and healthcare
"We are still on a learning curve on this one, too. If you say the ultimate goal line is, 'Have we produced action to restore U.S. competitiveness?' I don't think we have made as much progress as I would have liked on that count. But if you were to ask, 'Are many more people informed on this topic and are they inspired to take action?' I think we have accomplished that in a way that we have rarely have tried. And it gives us hope."
No less crucial, perhaps, is how the project has encouraged research and work among faculty across many disciplines. "The strength of our school is that we can bring a systemic view on problems," Nohria points out. "That is what we teach our students. If you just learn to think about a problem from the standpoint of finance, that is an incomplete view because you also need to understand how this will impact the human side of the organization. In the same way, we think the U.S. competitiveness conversation has too often been narrowed into a discussion that just reflects macro policy but it is not just that. It is (Professor) David Moss saying there is something deeply broken about democracy in America. It's about our K-through-12 education system. It's people asking about fiscal discipline and the fiscal cliff. It's others talking about our financial system and asking in what ways is it strong and in what ways has it become hijacked."
The success of the project has led Nohria to turn the school's next research focus on women and leadership in conjunction with this year's 50th anniversary of the first female MBA students at Harvard. A third issue to get similar treatment is healthcare innovation, the subject of a recently convened forum on campus between HBS and Harvard Medical School.
Half of the HBS cases written in 2012 were global
Another priority was making the school more international. Nohria inherited the school's seven research centers in Shanghai, Tokyo, Hong Kong, Mumbai, Paris, Buenos Aires, and Silicon Valley that have been used to help faculty do more global research and to globalize the MBA curriculum. In the last year, 50% of the roughly 250 case studies written at Harvard have been global, up from less than 5% a decade ago.
"I take no credit for that," concedes Nohria. "That is the amazing legacy I have inherited from my predecessors. We remain committed to that strategy. We don't want to build campuses. We will lead with a large intellectual footprint as opposed to a physical footprint. But now we are starting to use the research centers not merely to bring knowledge in or support our faculty as they were doing research outside. We are now trying to get these centers to support students going to FIELD. We are using these relationships to create more active engagement in the region by students. We are doing a little executive education, again with the goal of not trying to make that some revenue-enhancing move but because it is the best way of knowing what is going on in that country.
"You can teach people about China in Boston and they will accept anything you say because they don't know China. But if you are forced to teach an aspect of China in China, then you know that it's real. If those people tell you this is not the way it actually works, you know you've got it wrong. We are trying to do some exec ed mostly to put more discipline in our own thinking and to continue to form relationships with local companies that might be FIELD companies or become case sites where we see innovation occurring."
Confronting some tough issues on campus 
Arguably, the more challenging issue has been one that Nohria put on the table early: inclusion. His interest in the topic occurred before he became dean when the Women's Student Association discovered that proportionally more men than women receive academic honors at Harvard and that has been the case for many years (see Why Men Outperform Women at HBS). Nohria called for a study of the issue and of student culture generally to get to the bottom of the problem.
"We wondered whether this was happening because we are engaging in some rare form of affirmative action, that the quality of the women we were admitting was not good," says Nohria. "That turns out to be absolutely not true. Whether you measure by test scores, GPA, the quality of work experience, whatever metric you can think of, the quality of our men and women are comparable. But we tested that. We didn't say that as a matter of faith.
"It was not a question of selection," he adds. "It was subtle things that were happening: the calling patterns of faculty members, women not leaning forward to get more attention, women feeling anxious about being too smart and feeling less desirable. There was this likability and competence tradeoff that women suffer much more than men. There is a lot of research that shows it is harder for a woman to be both well liked and competent than it is for a man. So when it comes to women, we tend to see them as either competent but not likable or likeable but not competent. We have a harder time placing them in the category of being both, and women intuitively understand that and therefore sometimes may have been saying that at Harvard Business School I want to be liked so I don't want to be the person who is the smartest in the class. Men didn't have that issue."
Software to encourage faculty to grade women more fairly
The school began doing more coaching on the front end to encourage women to step up in class, but it also made faculty more aware of the problem so they could actively address it. Among other things, Harvard created a grading tool that allowed professors to keep track of their calling patterns in class. The software program, says Nohria, "will tell you if you are calling evenly on men and women or if there is a bias to who you call on. Are you grading your women more harshly than your men? You enter your grades in this tool very day and it will analyze the class. It is a small thing that makes you mindful. We have elevated the mindfulness of people because there is no willful bias. This is not discrimination that looks like the days of discrimination when people said women are inferior or African Americans are inferior. We have none of that. If it's happening, it's happening in these subtle ways and we realized that which is reassuring."
Nohria did not shy away from confronting another sticky issue that emerged last year when a female MBA student disclosed an off campus sexual assault that involved "unwanted groping" of her breasts. The incident was part of a broader pattern of Mad Men-like behavior at HBS, including excessive drinking and behavior that many would consider sexual harassment. One female first-year student had been informed that the men in her section had voted her to have "the second best rack"  (see Concern Over HBS' 'Man Men' Culture).
As part of the school's leadership development exercises, the school began a session devoted to the incidents and asked student leaders to facilitate the conversations. "We have been more willing to explicitly confront this issue than anybody else," says Nohria. "Are we at a place where our culture is fully inclusive? No. We have work to do but with great determination we are working on every piece of this.
Getting to the bottom of success rates for women faculty
"We are doing similar and thoughtful analysis on the faculty culture. If you look at the success rate of women faculty at HBS, particularly junior faculty, it is has not been the same as men. We have more tenured women than any other business school. One in three of our incoming faculty are women so we are now at least getting women into the pipeline. Our greatest challenge is how do we allow them to succeed after that first promotion from assistant to associate professor. After that it seems they all have roughly the same success rates as men."
As for Norhia's final I in his five priorities—integration—he points to the success of Harvard's Innovation Lab, which opened in November of 2011 as a central place where students, entrepreneurs and local businesses work together to share knowledge and collaborate on ideas. When the iLab opened on Harvard's Allston campus, adjacent to the business school, some expressed worry that the university's undergrads would rarely take advantage of the place because it was located across the river from the main campus.
Located on the first floor of Batten Hall at 125 Western Ave. on Harvard's Allston campus, adjacent to the business school campus, the i-lab reactivates the building that once housed WGBH-TV's studios (see Harvard Opens New Innovation Lab).
"Everyone was nervous whether anyone from the other side of the university would come," admits Nohria. "It was the known edge of the universe. like Harvard Business School itself was considered to be this forbidding deep place so that people thought they were not welcome on the HBS campus."
However, two-thirds of the users of the lab have come from students outside the business school. The initial hope was that by the end of the first year of operation, roughly a third of the students would be non-MBAs. "Every time we have created some metric for success, it has gone off the charts," adds Nohria. "When we announced the President's Challenge, we said if we had 20 teams that would be victory. We had 130 teams. The first year we have exceeded every expectation we had on success. It is a testament to the excitement that exists on this campus about innovation. We have been able to unlock it and I feel we are just beginning."
'The fantasy of leadership'
All in all, it has been a highly productive year for Dean Nohria, a year of unusual achievement, even though it was also marked by tragedy. But even in the saddest moment of this past year in the job, Nohria instinctively knew what to do and how to do it.
"We tried to make sure that the family knew that while at some point this is a grief that you will have to live with, you should always know that we are a part of that extended family and we will be helpful to you every step of the way," says Nohria.
"Sometimes, these things look like you exercise leadership," he muses. "People think you were decisive. You knew what to do. It's the fantasy of leadership. That is so far from the truth. The instincts of so many people at this institution made me feel fortunate to be dean of a place where our collective instincts were right."
DON'T MISS: 2011 DEAN OF THE YEAR: DARDEN'S ROBERT BRUNER or THE REINVENTION OF HARVARD BUSINESS SCHOOL
If you liked this article, let John Byrne know by clicking Like.