What Surprises Harvard MBAs About Harvard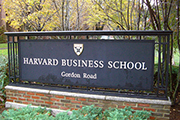 What most surprises Harvard Business School students once they arrive on campus and dive into classes?
The answer depends on whom you ask.
Tom Humphrey, a second-year MBA student who had worked for an online company in Australia, says his first year at HBS was so intense he didn't read a single book or watch a single movie.
Bob Evans, a former McKinsey consultant in London, noted how much more relaxed the competition was among classmates. "Coming from law school, everyone was just trying to beat the guy next to them, but it's so unlike that (at HBS)," he says.
Their reflections are captured by The Harbus, the student newspaper at the school, in a series of interviews with current MBA candidates called Cold Call.
Excerpts:
Tom Humphrey, formerly worked for a tech company in Australia:
"The biggest surprise for me was, you hear all the time about how intense it is, but looking back I didn't read a single book, or watch a single movie, I went to the cinema once. You end up sacrificing a lot of things sub-consciously without really noticing it, so my advice would be to find balance. Lock it in on the calendar to do those things, otherwise they won't get done."
Bob Evans, former McKinsey & Co. consultant:
"For me, I expected everyone to be way more competitive in the academics. Coming from law school everyone was just trying to beat the guy next to them, but it's so unlike that. My piece of advice would be the sooner you realize the person sitting next to you is not someone you have to beat, but is just your mate, the better."
Chris Sumner, formerly senior director of business development for EMI Music in New York:
"I think it's been better than what I expected – I came feeling quite skeptical, despite everyone who'd told me it would be an amazing time. I felt like I was leaving a lot, and was rather wedded to EMI and the music industry. But the last few weeks have changed my mind in that the people are genuinely awesome, really interesting, and a bit more diverse than I originally expected. I expected tons of people from finance, and while there are a lot of people from finance, they're pretty interesting finance people, and there are so many others who were doing more eclectic things.
"Secondly, I was quite skeptical of the speed at which you're meant to learn in this environment, and I think it's worked reasonably well. I've had some classes here where even though you don't know that much about the topic, you can certainly still have an informed debate, which is quite different from my undergraduate model of more in-depth study of a single bigger question."
Diane Chang, formerly with Google:
"I didn't really expect how long it would feel like I had been here, having been here for literally seven seconds. The funny thing is how quickly you get used to your classmates. Like with your discussion group, everyone has certain habits that you think you already know. I didn't anticipate also how full-on it would be from the beginning, and to never have one minute to yourself, one minute of pause. You're always scrambling or late for something."
If you liked this article, let John Byrne know by clicking Like.