Early Optimism for 2013 B-School Hires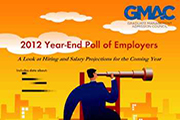 Job prospects for 2013 are looking up for a broad spectrum of business school graduates, with a greater percentage of employers reporting plans to hire these candidates next year compared with actual hiring in 2012, according to a survey of 201 employers conducted by the Graduate Management Admission Council (GMAC) published today on Dec. 9.
Survey responses show that recent MBA graduates will be the most sought-after candidate type among all business school graduates, with 3 out of 4 (76%) companies indicating that they plan to hire an MBA candidate in 2013. GMAC said that this is up seven percent from 2012, when 69 percent of these companies hired MBA graduates.
76 percent of employers expect to hire MBA graduates (up from 69% in 2012). 43 percent plan to hire Master in Management candidates (up from 33%).
40 percent intend to hire Master of Accounting graduates (up from 32%).
39 percent project to hire Master of Finance candidates (up from 32%).
46 percent plan to hire other specialized business master's graduates (up from 34%).
More than two-thirds of companies that plan to hire recent business school graduates in 2013 expect to maintain or increase their hiring levels compared with 2012.
Details on 2013 headcount plans:
80 percent of employers plan to maintain (57%) or increase (23%) new MBA hires.
78 percent expect to maintain (60%) or increase (18%) new Master of Accounting hires.
68 percent intend to maintain (49%) or increase (19%) new Master of Management hires.
73 percent plan to maintain (57%) or increase (16%) new Master of Finance hires.
68 percent expect to maintain (49%) or increase (19%) new graduate hires from other specialized business master's programs.
Salaries in 2013 Expected to Increase at or Above Inflation Rate
A majority of responding employers (between 55% and 64%) plan to increase annual base salary levels for new hires either at or above the rate of inflation in 2013. Specifically, about 1 in 8 companies plan to increase average annual base salary levels above the rate of inflation for MBA, Master of Finance, and bachelor's degree candidates as well as experienced hires in 2013. Roughly 2 in 5 employers will keep starting salaries for all candidate types the same as in 2012.
Internships Plentiful for MBAs
The vast majority (85%) of employers offer internships to graduate business students and 65 percent intend to offer MBA internships in 2013. Among companies that plan to offer internships next year, most intend to keep the projected number the same as or higher than those offered in 2012.
GMAC said respondents also expressed trepidation about the current economic situation around the world, which could impact their ability to hire new employees. In fact, 40 percent of participating companies are still attempting to overcome economic challenges.
Percentage of Employers Expecting to Hire New Candidates in 2013, by Candidate Type 
Source: GMAC
If you liked this article, let John Byrne know by clicking Like.