Where Kellogg MBAs Work & What They Do
Where do Kellogg MBAs work and in what industries?
With its wealth of membership data, LinkedIn is now providing a glimpse into this answer. Of course, not all Kellogg MBAs are registered with the professional networking site so it's an obviously incomplete list. Even so, the data provides an interesting window into the most likely employers of Kellogg MBAs as well as the most likely industries that attract its graduates.
Of the top MBA employers, Northwestern University's Kellogg School of Management grads are the only ones where the number employed by McKinsey happen to be equal to the number employed by another major corporation. In this case, Microsoft. Both firms have 324 LinkedIn members with Kellogg MBAs who currently work for them.
As you might expect, marketing looms large among the alumni base at Kellogg. After finance, it's the biggest area of professional work, with 3,422 Kellogg MBAs. Next comes business development, which claims 2,569 Kellogg grads who are LinkedIn members, and consulting, with 2,255 LinkedIn members.
Source: LinkedIn membership data
The school's top 12 employers, according to LinkedIn data, are significantly different than many mainstream MBA schools, with such companies as Abbott, Motorola, and PepsiCo in the mix. Consulting, which has taken the lion's share of recent graduates out of Kellogg, also looms large. After McKinsey, Boston Consulting Group and Deloitte are the No. three and four employers. Bain & Co. enters the list as the eighth largest employer of Kellogg grads.
And then there is a big surprise: Some 138 Kellogg MBAs have listed a company called Mondelez International as their current employer with LinkedIn.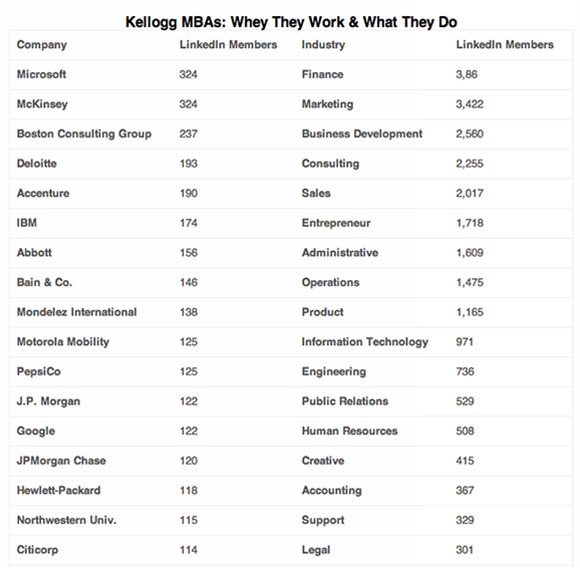 Source: December 2012 LinkedIn membership data
Related Stories:
Where Columbia MBAs Work & What They Do
Where Tuck MBAs Work & What They Do
Where Booth MBAs Work & What They Do
Where Wharton MBAs Work & What They Do
Where Stanford MBAs Work & What They Do
Where Harvard MBAs Work & What They Do
If you liked this article, let John Byrne know by clicking Like.