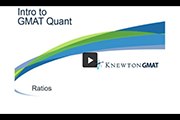 In the fifth and final installment of Knewton's Intro to GMAT Quant Lesson, expert teachers Jess and Rich give you a chance to try out some tricky Data Sufficiency questions involving ratios.
They'll also talk about proportions, and give you a list of common powers and common decimal-fraction-percentages equivalencies to memorize in order to save time on test day.
If you missed any of the previous lessons, be sure to check them out:
If you liked this article, let Knewton know by clicking Like.