Wharton's Team-Based Discussions: More Thoughts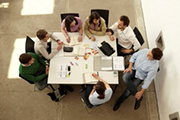 Last week Wharton Admissions Director Ankur Kumar posted an update on how Wharton's team-based discussions went during Round 1. It sounds as though the experience has been very positive so far, both for the school and for applicants. While we were quite skeptical when Wharton officially rolled out the team-based discussions, and still wonder how authentic the setting truly can be, it's worth revisiting now that we have some real data coming in.
The feedback we have been hearing from students is that the discussions have not turned out to be the shark tanks as some people had feared (us included).  If anything, the opposite has occurred, with applicants going out of their way to show how courteous they can be. Multiple outlets and our own clients have reported seeing this effect in action as the discussions have taken place.
According to Kumar on the Wharton Admissions Blog:
It was wonderful to observe our candidates connecting with one other – both inside and outside of the team based discussion. We saw you exchange contact information for future business endeavors, continue to discuss the question posed to your team far after the exercise came to a close, and we noticed a few groups that headed out for celebratory dinner or drinks after the interview was complete. The most heartwarming part for us was to see how much you invested in and supported one other; waiting for everyone in your group to be done, high fiving each other, laughing together, this is the true hallmark of Wharton's culture of collaboration and something we look forward to your bringing to the program.
Even the most collaborative MBA classrooms normally don't have such jolly camaraderie, although we know that the stakes are much higher with these admissions discussions than they are in a typical business school classroom on any given day. Our take is that some candidates are indeed overdoing it, and going out of their way to show that they're not jerks or sharks.
At the same time, we have heard that some applicants definitely felt a need to speak up, lest they be drowned out. This is fairly normal — this same pressure exists in the business school classroom, especially at case study-based schools such as Harvard and Darden — but this is the sort of thing that we're sure Wharton wants to downplay as much as possible.
While we may still sound skeptical, we definitely laud Wharton for taking such a big risk in the admissions process. They, along with other schools that have significantly cut down their essays in some cases, are advancing the state of the art in the MBA admissions process. We're reserving judgment, however, until we can better measure how performance in these discussions correlates with admissions success.
For more advice on getting into Wharton, download our Essential Guide to Wharton, one of our 15 guides to the world's top business schools. If you're ready to start building your own application for Wharton and other top business schools, call us at 1-800-925-7737 and speak with an MBA admissions expert today.
If you liked this article, let Veritas Prep know by clicking Like.