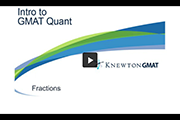 In the fourth installment of our Intro to GMAT Quant lesson, Knewton teachers Jess and Rich give you a solid introduction to fractions on the GMAT.
Get (re)acquainted with proper and improper fractions, mixed numbers, and reciprocals, and learn the best way to compare and convert fractions on the test.
Stay tuned for the next installment, and if you missed any of the previous parts of the lesson, check them out here:
If you liked this article, let Knewton know by clicking Like.