Winners & Losers In The 2012 BW Ranking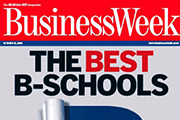 According to Bloomberg BusinessWeek's new ranking of the best business schools, North Carolina State's Jenkins Graduate School of Management has the least satisfied MBA students in the world. Perhaps even worse, Jenkins' career services office ranks dead last among 114 business schools in the U.S., Europe and Asia, whose graduates BusinessWeek surveyed. You'd think a business school's full-time MBA program couldn't get more negative publicity than that.
But at least Jenkins managed to be ranked by BusinessWeek on Nov. 15 when the magazine published its 2012 ranking of the best full-time MBA programs. Jenkins is 63rd on a list of 63 U.S. schools. An even worse fate? Falling off BusinessWeek's ranking altogether. This year, five schools disappeared from the magazine's list of the best full-time MBA programs, including two schools that had ranked in the Top 50 the last time BusinessWeek published its list of the best business schools. Tulane University's Freeman School, ranked 35th in 2010, didn't warrant a mention.
Neither did William & Mary's Mason School, which had been ranked 47th two years ago. Ditto for No. 57 ranked Buffalo, State University of New York, No. 54 Pittsburgh's Katz School, or No. 51 Case Western University's Weatherhead School of Business. All are gone from BusinessWeek's ranking. It's not clear whether those schools disappeared because BusinessWeek couldn't get a minimum response rate on the school from either the Class of 2012 or corporate recruiters. In any case, it's bad news.
Tulane's Freeman School, ranked 35th in 2010, disappeared altogether
Tulane would have had to fall 29 places, for example, to do its disappearing act. That's quite an unexplainable plunge for a first class university's business school.
Every ranking brings winners, who are among the most likely to promote a newly published list and their standing on it, and losers, who quietly ignore the latest news. The new 2012 Bloomberg BusinessWeek ranking is no exception. For while five schools fell off the ranking, there were 10 schools that had not been ranked last time but cracked the 2012 list. This happy group was led by UC-Irvine's Merage School which placed an impressive 43rd on the list, meaning it had to rise by a minimum of 15 spots to make it. In 2010, BusinessWeek put numerical ranks on 57 U.S. schools versus 63 this year.
Other newcomers to the BW list were No. 46 Texas Christian University's Neeley School; No. 48 the University of Florida's Hough School; No. 53 University of Iowa's Tippie School; No. 55 Syracuse University's Whitman School; No. 56 the University of Missouri's Trulaske School; No. 58 Fordham University; No. 60 University of Tennessee at Knoxville; No. 62 University of South Carolina's Moore School, and No. 63 North Carolina State's Jenkins.
Other significant winners and losers, of course, are those who stay on the list year after year but move up or down, especially in double-digit movements. The two biggest winners were the University of Maryland's Smith School of Business and Vanderbilt University's Owen Graduate School of Management. Smith jumped a remarkable 18 places to rank 24th among the best U.S. schools, up from a lowly 42nd in 2010. Owen rose 12 places to rank 25th, up from 37th only two years ago.
A peek under the hood of the results of two of the biggest winners this year
How did they do it? A look at the underlying results pretty much tells the story. Maryland went from a rank of 33rd on BusinessWeek's student satisfaction surveys in 2010 to a rank of 6th this year. That's an almost unheard of turnaround from one survey to the next, especially because BusinessWeek combines the results of three student satisfaction polls in 2012, 2010, and 2008 to come up with the ranking. The latest poll gets 50% of the weight, while the other two polls each get 25%. Still, rising 27 places is nearly a red flag event. Maryland also gained considerable ground in the corporate recruiter part of the methodology, moving up ten places to rank 44th from 54th two years ago.
The school is so pleased with the result it shot out a media release on Nov. 15th to spread the news. "We're so pleased to see our commitment to our students and our investments in our programs recognized with this ranking," said Dean G. "Anand" Anandalingam in a statement.  "We have been focused on strengthening the learning experience for our students. We have some of the best researchers in the world who truly excel at translating their work in the classroom for our students. And we've made significant investments to transform our career services offerings to help our students develop as strong leaders."
The Smith School said it completed a multimillion-dollar revamp of its Office of Career Services in fall 2011, introducing a host of new student programs and a state-of-the-art physical space for interviews that have attracted many additional employers to campus. The office's "innovative offerings include a series of improvisation workshops led by a Broadway actor and soft-skills leadership training." The school says "the MBA student experience is a top priority for the school, both in the classroom and through the six-credit, required Smith Experience program. Renowned researchers serve not only as top teachers, but as mentors and leaders for the experiential learning program's consulting projects and global study trips."
Is Maryland's MBA experience better than Harvard, Stanford, Wharton, Chicago and Kellogg?
Is that all it takes to lift a school 27 places on a key element of the BusinessWeek ranking? It's certainly possible because the customer satisfaction scores are so closely clustered together that in many cases they are statistically meaningless. But Maryland's ranking on student satisfaction means that it is better than Harvard (ranked 12th), Stanford (ranked 8th), Wharton (16), Kellogg (13), Chicago (11), among many other schools. That is just a hard pill to swallow.
Then, there is Vanderbilt's Owen School. The rise here is far more understandable because the numbers went up in somewhat more acceptable fashion. Owen's student satisfaction rank improved to 24th from 30th, a rise of six spots. Where Owen really made tracks was on BusinessWeek's recruiter survey, rising to 31st from 43rd, a 12-place gain. That's a big jump in one survey, but nothing like the 27-place run up for Maryland in the magazine's student satisfaction poll.
Both schools, it should be pointed out, did less well in BusinessWeek's intellectual capital ranking, which measures the published articles of a school's faculty in key academic and practitioner journals. Maryland, in fact, fell 11 places to 13th from 2nd in 2010. Vanderbilt slid just three spots to a rank of 36th this year from 33rd two years ago. But this part of BusinessWeek's methodology accounts for only 10% of the ranking. The student satisfaction and corporate recruiter pools each account for a dominating 40% weight or a total of 80% of the ranking.
A change in methodology resulted in a 17-place plunge for SMU's Cox School
Then, there are the biggest losers, outside of the schools that completely disappeared this year. At the top of this list is Southern Methodist University's Cox School of Business. Largely due to a change in the way BusinessWeek calculates its corporate recruiter poll, Cox plunged 17 places to finish 29th from a lofty perch of 12th in 2010. In an interview with Poets&Quants prior to the publication of the new rankings, BusinessWeek's MBA rankings guru and editor Lou Lavelle explained that the change in methodology was a direct result of Cox's strong showing two years ago.
"Everyone was saying it didn't pass the smell test," explained Lavelle. "We looked at why that was happening and the reason was we had some schools, like SMU, that had very few recruiter mentions—not a really deep base of recruiters—but that small base was wildly enthusiastic about the school." The change is rather complicated, but the bottom line is that schools with few recruiter mentions that are all highly positive no longer have an advantage over schools with many mentions. This change alone, according to BusinessWeek, impacted the rankings of 31 U.S. programs.
For Cox, it meant an absolute free fall in its corporate recruiter ranking from 6th in 2010 to 36th this year–a shocking 30-place drop. But even that doesn't tell the full story of the punishment BusinessWeek doled out because the rank of 6th last year was readjusted according to the new methodology along with Cox's 2008 rank and then cranked into the latest result.
Cox claims Businessweek's change arguably favors larger business schools
The school quickly responded to the downturn. "We continue to move forward, our employers are still 'wildly enthusiastic' about the graduates they hire … and our graduating students are still very satisfied with the education and experience they have received at SMU Cox," says Marci Armstrong, associate dean of graduate programs at Cox. "In short, the only thing that's changed is the methodology, and we are pleased to see that despite a new emphasis on the number of recruiters, which arguably favors larger schools, we are still ranked in the Top 30 in 2012.  By the way, under the old methodology, we were ranked below 30 until 2008, when we moved to number 18 and then 12 in 2010."
There were two other notable schools that lost significant ground this year: the University of Georgia's Terry School, which plunged 16 places to a rank of 52 from 36, and Michigan's State Broad School, which stumbled 15 spots to a rank of 35 from 20th just two years ago. How did these schools fall out of favor?
The Terry College of Business also fell victim to the methodology change as well. Two years ago, the school's corporate recruiter ranking was a highly inflated and questionable 10. At the time, it was a ranking that put it ahead of such schools as UC-Berkeley, MIT Sloan, and the University of Virginia's Darden School. This year, BusinessWeek's corporate recruiter ranking for Terry was 52–a stunning decline of 42 places. The school's rankings on student satisfaction and intellectual capital were roughly the same. It ranked 54th on student satisfaction this year, down one place from a rank of 53 two years ago, and it ranked 44th on intellectual capital, up three spots from 47th.
It's a somewhat different story at Michigan State whose student satisfaction scores fell badly to a rank of 33 this year from 13 in 2010–a 20-place decline. The school also lost six places on the recruiter side of the BusinessWeek ranking, dropping to 38 from 32.
How did Columbia and Haas each drop five places in the new survey?
Columbia Business School and UC-Berkeley's Haas School, both of which declined five places each this year, are in an entirely different category. Those two schools, regarded as among the top seven or eight MBA programs in the world, had the steepest falls of any of the truly elite schools. On one level, this is a head-scratching change because the underlying index scores for both schools improved.
This year, Columbia was ranked 14th with an index score of 87.5. Two years ago, Columbia was ranked 9th, with an index score of 84.5. So even though the school had a consequential improvement of 2.2 in its index number (generally anything over 1 should be considered significant), the school fell five places. It is a similar story with Haas. This year, Haas was ranked 13th, with an index number of 87.6. Two years ago, Haas placed 8th, with an index score of 84.9. The school improved on BW's index by 2.7 points, even though it fell five places.
How is this remotely possible? First off, the entire list is dynamic. From one survey to the next, all these numbers are changing so any school-specific change needs to be assessed within the framework of the total. Based on what BusinessWeek is reporting, however, Columbia's decline appears more understandable. The school's standing declined in two of three of the magazine's key metrics: student satisfaction and intellectual capital. The biggest drop was in student satisfaction where Columbia lost 10 places to finish 20th this year versus 10th last year. It fell seven places in intellectual capital to 19th from 12th. Those are fairly significant falls in the space of one survey.
Surprisingly, given the collapse of finance, Columbia managed to increase its recruiter rank to 8th from 9th in 2010. This is counter-intuitive. Here's why: BusinessWeek weights the responses of each individual recruiter based on the number of MBAs they hire. The finance firms that are so crucial to Columbia have decreased the number of hires and therefore their overall influence in the recruiter survey. Yet Columbia was able to surmount this problem and still rise in BW's recruiter poll.
Haas, meantime, fell six places in the student satisfaction poll to 10th from 4th two years ago, two places in the recruiter poll to 13th from 11th, but rose two places in the less important intellectual capital section of the methodology, to third from fifth. The drop in student satisfaction is likely the result of new curriculum changes that require the test of time and slightly lower teaching scores which reflect the school's emphasis on research productivity over masterful teaching. We suspect that BusinessWeek's change in methodology had something to do with Haas decline because the more consequential fall in student satisfaction wouldn't have resulted in a five-place drop. Those scores are so closely clustered together that it could not have triggered the decline. Because the recruiter poll naturally weighs more heavily on the overall result and Haas is a smaller school with a smaller base of recruiters, it was likely a victim of the change.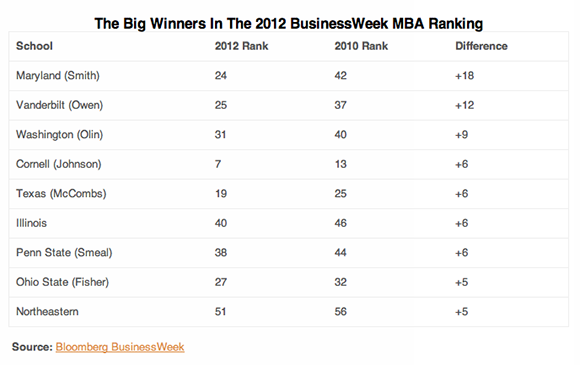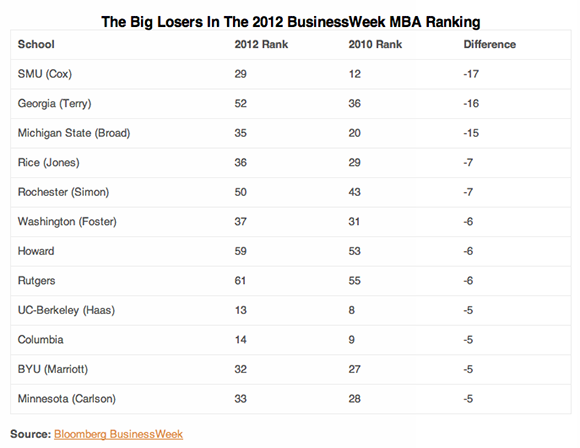 DON'T MISS: BOOTH RETAINS NO. 1 RANKING IN 2012 BUSINESSWEEK RANKING or BUSINESSWEEK'S MBA RANKING GURU
If you liked this article, let John Byrne know by clicking Like.