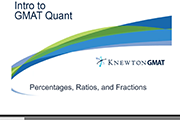 In part three of Knewton's Intro to GMAT Quant lesson, Jess and Rich provide a primer on percentages, ratios, and decimals on the GMAT.
They start with the basics — like the difference between "percentage of" and "percentage increase/decrease" — then test your skills with some practice problems.
Stay tuned for the next installment of the lesson, and if you missed the previous videos, check them out here:
If you liked this article, let Knewton know by clicking Like.