Booth Remains No. 1 In New BW Ranking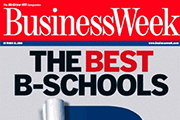 For the fourth consecutive time, the Unversity of Chicago's Booth School of Business hit the rankings jackpot, retaining its number one title for having the best full-time MBA program in the U.S., according to Bloomberg BusinessWeek.
Following Chicago Booth is a familiar cast of elite business schools. Harvard Business School retained its No. 2 rank from 2010 in the biennial MBA sweepstakes by BusinessWeek. The University of Pennsylvania's Wharton School was No. 3 again, while Stanford's Graduate School of Business and Northwestern University's Kellogg School of Management played musical chairs for the No. 4 and No. 5 positions.
The magazine's 2012 ranking, published today (Nov. 15), contains many surprises, however. The Johnson Graduate School at Cornell University, for example, jumped six places to rank seven from 13th in 2010. Carnegie Mellon's Tepper School rose four spots to 11th from 15th, and Indiana University's Kelley School of Business also saw a four-place gain to rank 15th from 19th. The University of Texas' McCombs School rose six places to finish 19th from 25th in 2010.
In a separate ranking of the best MBA programs at non-U.S. business schools, BusinessWeek ranked London Business School No. 1, moving aside INSEAD which fell to second place. IE Business School in Spain was third, followed by Queen's College in Canada and Oxford University's Said School in fifth. For Oxford, the rank of fifth represented a 11-place climb from 2010 when it was ranked 16th.
Columbia and Haas lose ground in Businessweek's new ranking
The losers? Columbia Business School and UC-Berkeley's Haas School of Business both fell by five places to 14th from 9th and 13th from eight, respectively.
The BusinessWeek ranking, initially launched in 1988 and often considered the most influential in the U.S., is based on three core measurements: a student satisfaction poll, an MBA recruiter poll, and a measure of a school's intellectual capital. Polls of students and recruiters are each given a weight of 45% in the overall methodology, while the remaining 10% comes from the magazine's measurement of published articles by a school's professors in key academic and practitioner journals.
The BusinessWeek ranking is like no other. Most other rankings include such things as average GMATs, grade point averages, starting salaries, and percentage of graduates employed at graduation and three months later. Instead, the BW listing is the closest one can get to a "customer satisfaction" ranking.
Like other rankings, this one is hardly flawless
Like any other ranking of business schools, it is not flawless. Though BusinessWeek employs statisticians to comb through the data to verify its integrity, students come to each of these schools with very different expectations that can result in significantly different grades they award their institutions. There is also concern of widespread cheerleading by students who want to push their schools ahead in the rankings so their degrees have more prestige. These issues alone are in all probability what has kept Harvard and Stanford from ever placing first in the BusinessWeek survey.
Those students come to campus with high expectations and are less likely to care about how a ranking impacts the status of their degree. So they are prone to be more demanding and more honest in their answers to BusinessWeek's questions. They graduate with the highest starting pay packages and know that a Harvard or Stanford MBA can pretty much open any door in the world.
Even so, Harvard and Chicago are separated by a slim 2.5 index points in the BW methodology. Unlike some publications, such as The Financial Times, BusinessWeek publishes the underlying index scores for each numerical rank, allowing users to see whether the actual ranking is meaningful. In many cases, the differences are so slight that they are statistically irrelevant even though BusinessWeek assigns a rank to 63 U.S. schools and 19 non-U.S. schools this year.
Explained Gloeckler during the online chat: "The international rank is interesting in that you have the top two schools, LBS and INSEAD, that are very close together in terms of total score, then you have the rest of the schools, that are quite far behind. For the U.S. Schools, Chicago is pretty far out front, then the next seven schools are grouped closely together. After Ross there is a dip."
Chicago's win now ties it with Wharton which also has been number one in BusinessWeek's ranking on four different occasions. The only business school that has done better is Chicago rival Kellogg, which has one five No. 1 rankings from BusinessWeek in the 13 times the magazine has published its list of the best full-time MBA programs.
Bigger changes in the ranking occurred further down the list
As is common in rankings, this year's gains and losses were even greater when you look further down the list. The University of Maryland's Smith School of Business zoomed up 18 places to rank 24th from 42, while Vanderbilt University's Owen School jumped 12 spots to rank 25th from 37th. "The big reason for Maryland's jump was increased student satisfaction," said Gloeckler during today's online chat. "They were sixth overall for the three-year period, but second for 2012 alone. Based on the comments we collected, students really appreciated how quickly their concerns or complaints about the program were addressed by administrators."
On the downside, Southern Methodist University's Cox School slid a remarkable 17 positions due to a methodology change largely prompted by the school's surprising surge in BusinessWeek's ranking to 12th in 2010. The change in how the magazine calculates its recruiter scores, led to a fall to 29th this year. It was the biggest single drop for any U.S. school that had been among BusinessWeek's Top 20 in 2010.
The school quickly responded to the downturn. "We continue to move forward, our employers are still 'wildly enthusiastic' about the graduates they hire, to quote (MBA rankings guru at BusinessWeek) Louis Lavelle in a previous Poets & Quants' article, and our graduating students are still very satisfied with the education and experience they have received at SMU Cox," says Marci Armstrong, associate dean of graduate programs at Cox. "In short, the only thing that's changed is the methodology, and we are pleased to see that despite a new emphasis on the number of recruiters, which arguably favors larger schools, we are still ranked in the Top 30 in 2012.  By the way, under the old methodology, we were ranked below 30 until 2008, when we moved to number 18 and then 12 in 2010."
The 'Ted Snyder' effect has yet to be seen in the Businessweek ranking
In some cases, of course, the fact that a school's rank failed to change at all may be newsworthy. Consider Yale University's School of Management. It recruited superstar Dean Edward "Ted" Snyder who had been paid more than $700,000 in his final year at Chicago Booth. Though at SOM for 16 months now, the school didn't budge in the new BusinessWeek ranking, the same ranking where he led Chicago to its number one position for the first time in 2006. "Students seem VERY excited about Ted being there," explained editor Gloeckler. "It's the employer score that's keeping Yale down."
In fact, Gloeckler got his facts mixed up. Yale ranked 19th in the student satisfaction survey this year, down one spot from its 18th ranking in 2010. The school, however, significantly improved its recruiter ranking, moving up 10 places to 27th from 37th two years ago. But what it gained there was offset by a slide to 17 from 9 on intellectual output, or at least how BusinessWeek measures scholarly research. The bottom line: Although Yale saw no improvement in the first test of Snyder's tenure as dean, there was a big underlying gain in corporate recruiter sentiment. The big surprise is that there wasn't an equivalent bounce on the student satisfaction side. Still, Yale's underlying index numbers showed a healthy rise to 74.6 versus 66.1 two years ago, setting the stage for significant upward movement next time BusinessWeek does its survey.
What's also surprising about Yale's inability to move up is that increases in BusinessWeek's recruiter scores usually have far more weight in the overall methodology. That's because the difference among those scores are far greater than the differences in the student satisfaction poll where the results tend to cluster closely together. So gains on the recruiter side of the ledger generally bode well for a school. Why a 10-place jump failed to favorably impact Yale is somewhat puzzling and may have something to do with the magazine's change in methodology.
Consider, for example, Indiana University's Kelley School of Business. It leaped from a ranking of 26th in student satisfaction two years ago to achieve the rank of No. 1 this year. Despite a rather incredible 25-place rise since BusinessWeek's last survey, however, the school only managed to eke out an overall gain of four places in the ranking to place 15th from 19th in 2010. That is still an impressive rise, but it tells you how closely clustered those student satisfaction scores actually are. If they weren't, Indiana would have jumped into the top ten. Instead, the school held back from additional gains by BusinessWeek's recruiter ranking which actually fell to 20 from 18 two years earlier.
Roughly ten of BusinessWeek's 63 ranked U.S. schools had not been ranked the last time the magazine did the survey. They include such schools as UC-Irvine's Merage School, which debuted at a rank of 43, the highest rank achieved by any newcomer on the list, and Texas Christian University's Neeley School, which placed 46th.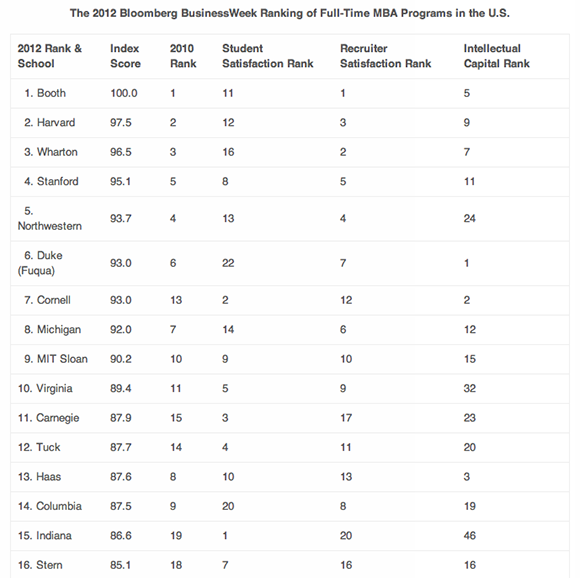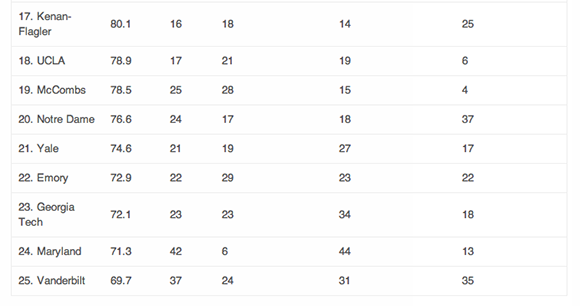 Source: Bloomberg BusinessWeek
If you liked this article, let John Byrne know by clicking Like.